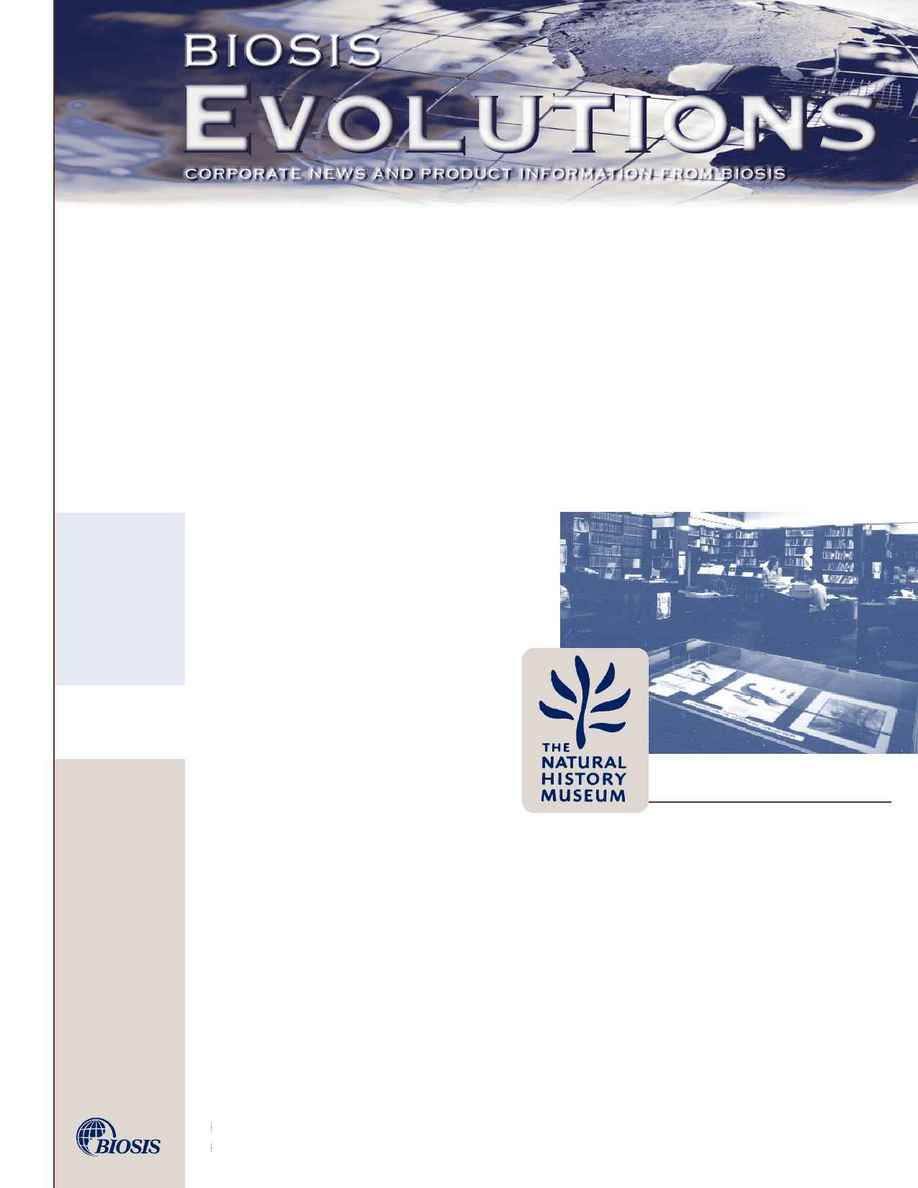 Now
V
ol. 7 Issue 4 2000
In this issue
1
Customer Profile:
The Natural
History Museum
2
Zoological Record
Adds CSA as a
Vendor Partner
2
Zoological Record
Is Seeing Stars
3
Mankind, Moas,
and the Mihirung
4
Search Tips:
Using Common
Names in
Zoological Record
5
BIOSIS Expands
Presence in Asia,
Australia, and the
Middle East
Many natural history museums share Zoological
Record
's (ZR's) commitment to further animal science
research, but only one museum shares a common
ancestry. The Natural History Museum, the United
Kingdom's national museum of natural history,
originated at the British Museum, the same
institution where the idea for an annual bibliography
of zoological literature ­ what was later to become
ZR
The natural history section of the British Museum
grew from the collection of London physician
Sir Hans Sloane, entrusted to the museum in the
mid-eighteenth century. Soon, however, the world
would see the rapid growth of interest in the natural
sciences, and the museum's collection quickly out-
grew available space. In 1881, The Natural History
Museum opened its doors at its current location
in the South Kensington section of London, but
it was not officially separated from the British
Museum until 1963.
Like Zoological Record, the museum is more than
just a historical collection, but instead a working
tool of scientific research. Much of this research ­
again like Zoological Record ­ can be found in the
libraries at The Natural History Museum.
The museum's Department of Library and
Information Services is the largest library of its kind
in the world, and remains a vital part of the ongoing
research community at the museum. Divided into
zoology, botany, entomology, general, and earth
sciences subject libraries, the department supports
about 400 active researchers at the museum.
According to Ann Datta, zoology librarian, Zoological
Record
is absolutely vital to their work. "It was, after
all, initiated by Dr. Albert Gunther who later became
Keeper of Zoology at the British Museum." The museum
maintains a collection of Zoological Record in print
dating back to 1865, and a networked collection of
Zoological Record
Librarians mostly use the networked CD version of
Zoological Record
, but a complete set of the printed
copy is kept in the General and Zoology Libraries
and the Earth Sciences Library. Scientists and
librarians use the printed version mostly for author
searches, and the CD version for finding various
citations and new areas of research. Librarians also
use the CD version for verifying references, tracking
down bibliographical details, and demonstrations to
museum staff.
Although the library carefully maintains its connection
to the past, it has been unafraid to enter the Computer
Age. "We take advantage of the latest innovations
where they enhance the traditional services we
provide, for example, by acquiring the CD version of
Zoological Record
and networking it to the libraries
in The Natural History Museum," said Datta.
When asked what makes up the jewels of the
library's collection, Datta replied, "the collections
and the staff." As she explained, "The comprehensive
collections, the knowledgeable library staff, and the
expertise of the scientists enable us to operate as a
one-stop information shop for natural history."
To learn more about The Natural History Museum,
visit their Web site at www.nhm.ac.uk.
www.biosis.org
www.
biosis.
org
The Reading Room of the General and Zoology Libraries.
Seated at the center desk is Paul Cooper, Assistant
Librarian, Zoology Library and standing is Carol Gokce,
The Natural History Librarian.
www.nhm.ac.uk
Customer Profile: The Natural History Museum