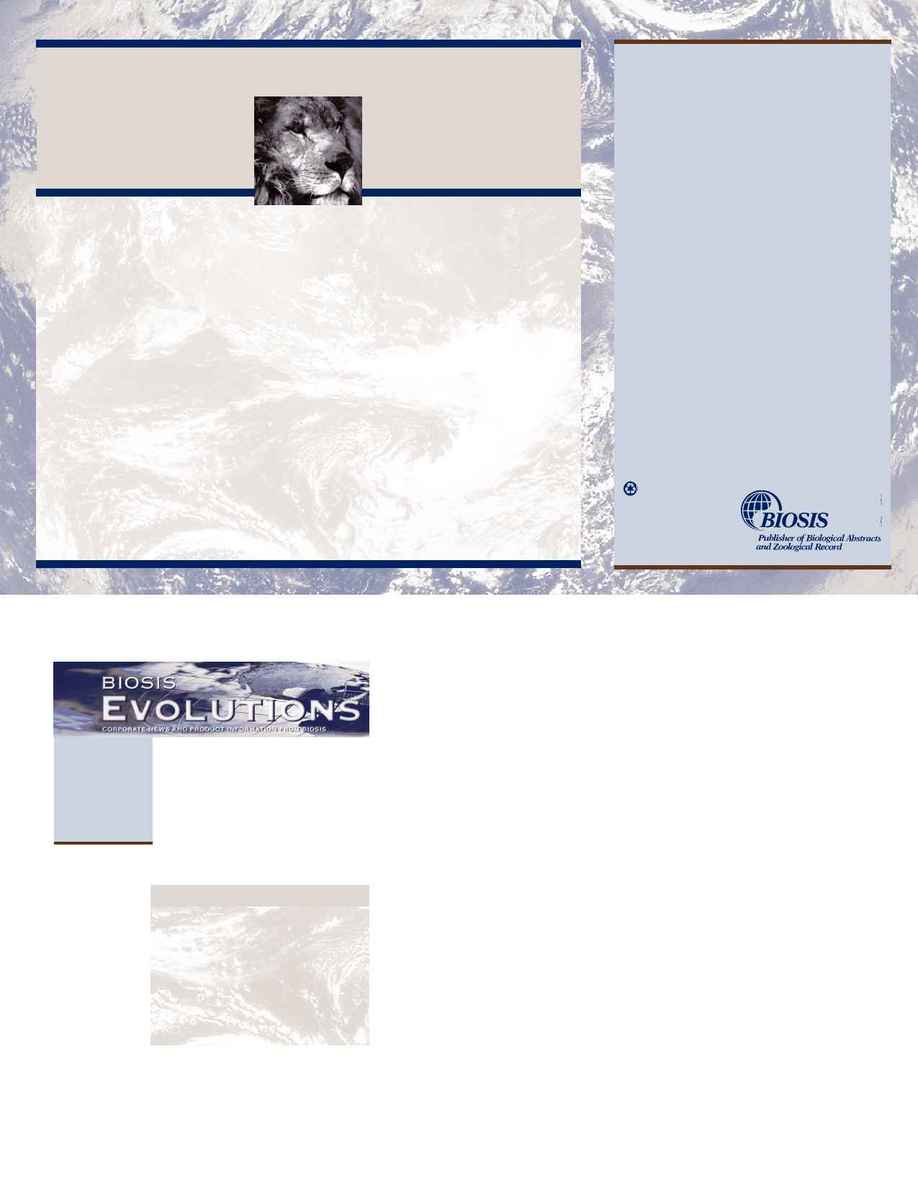 will be published six times this year. It is a free
information service for users of BIOSIS products
and services.
Send comments, suggestions, or changes of
address to:
BIOSIS Evolutions Editor, Marketing
BIOSIS, Two Commerce Square
2001 Market Street, Suite 700
Philadelphia, PA 19103-7095 USA
Toll free: 1.800.523.4806, press 1
(USA and Canada)
Tel.: +1.215.587.4800 (Worldwide)
Fax: +1.215.587.2016
E-mail: info@mail.biosis.org
World Wide Web: www.biosis.org
The contents of this publication are not
copyrighted and may be reproduced provided
credit is given.
BIOSIS is a not-for-profit organization dedicated
to serving the needs of the world's life science
community since 1926.
BIOSIS is a registered trademark of Biological
Abstracts, Inc.
Other products and services herein are for
identification purposes only and may be
trademarks of their respective companies.
Printed on
recycled paper.
www.
biosis.
org
What is
Zoological Record (ZR) ?
Why, It's The Natural Selection, of Course
ZR
Zoological Record provides an expansive index
to animal science research literature through
online, CD, Web, and print formats. Since
1865, Zoological Record has covered all of
modern animal science research ­ from
biochemistry to veterinary medicine, including:
· 78,000 new articles each year, selected
by experienced biologists
· 4,500 active serials from 100 countries
· 1.5-million-record archive available
through CD, Web, and online formats
If it is animal science, then it must be in
Zoological Record. Through exhaustive
coverage of the literature, Zoological
Record has long served as the unofficial
global "register" for taxonomic name changes.
In fact, the database covers many subjects
throughout animal science research, such as:
· Conservation and Environmental Science
· Marine and Freshwater Biology
· New Geographical and Fossil Records
of animals in land, freshwater, and
marine areas
· Parasitology, including new parasite and
new host records, and diseases
· New Techniques ­ from the laboratory
and the field ­ associated with the study
of animals
Now available...
Zoological Record
(ZR) Plus
on CSA's
(Cambridge Scientific Abstracts)
Internet Database Service