GrandCanyonHiker.com Hiking The Grand Canyon p Page 1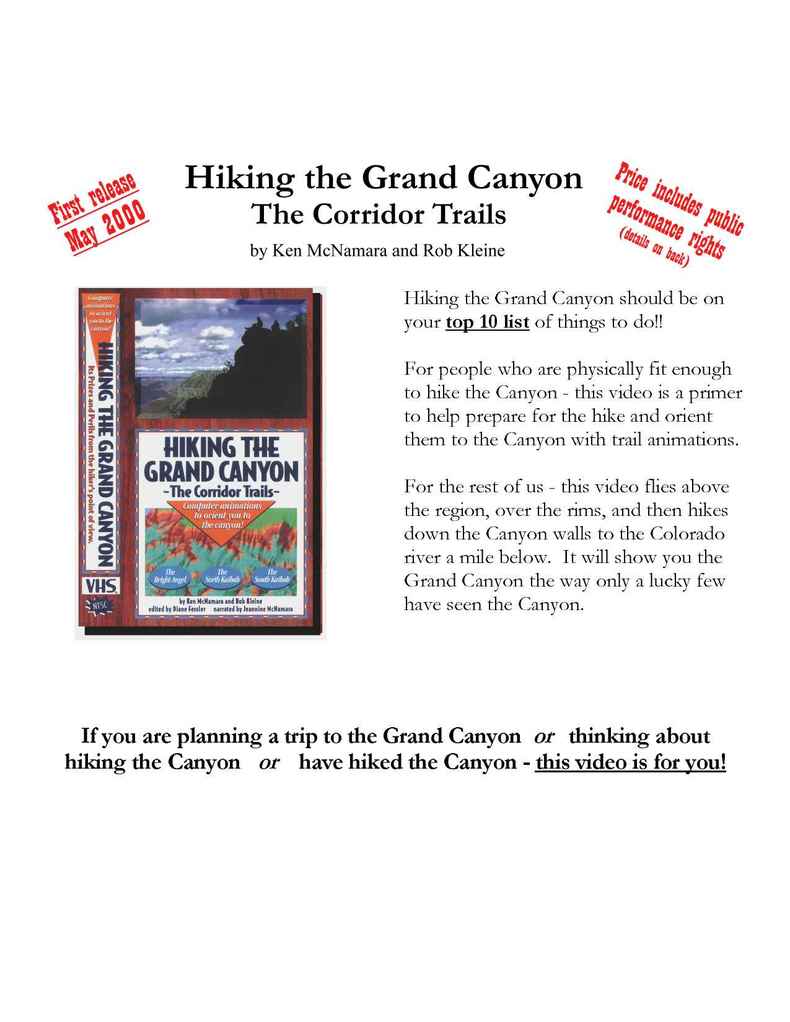 `This video is a good introduction to the Grand Canyon and I've been
using it to show my friends the Canyon from my point of view."
Harvey Butchart - author and world renowned Grand Canyon hiker.
+LNLQJ WKH *UDQG &DQ\RQ VKRXOG EH RQ
\RXU WRS OLVW RI WKLQJV WR GR
)RU SHRSOH ZKR DUH SK\VLFDOO\ ILW HQRXJK
WR KLNH WKH &DQ\RQ WKLV YLGHR LV D SULPHU
WR KHOS SUHSDUH IRU WKH KLNH DQG RULHQW
WKHP WR WKH &DQ\RQ ZLWK WUDLO DQLPDWLRQV
)RU WKH UHVW RI XV WKLV YLGHR IOLHV DERYH
WKH UHJLRQ RYHU WKH ULPV DQG WKHQ KLNHV
GRZQ WKH &DQ\RQ ZDOOV WR WKH &RORUDGR
ULYHU D PLOH EHORZ ,W ZLOO VKRZ \RX WKH
*UDQG &DQ\RQ WKH ZD\ RQO\ D OXFN\ IHZ
ISBN 1-55838-190-2 $14.95
for more details see our website:
63 min - actual trail video
www.grandcanyonhiker.com
Email: conmara@grandcanyonhiker.com
,I \RX DUH SODQQLQJ D WULS WR WKH *UDQG &DQ\RQ 47 WKLQNLQJ DERXW
KLNLQJ WKH &DQ\RQ 47 KDYH KLNHG WKH &DQ\RQ WKLV YLGHR LV IRU \RX
What does it take to hike the Grand Canyon? What are the hazards? How should a hiker prepare for the hike?
Why are there 450 search and rescue operations in the Canyon every year? Some within a few miles of the rim.
What makes Canyon hiking more difficult and dangerous? What is so deadly about the dry desert heat?
How can knowing the basic geology of the Grand Canyon enrich your hike and make your hike safer?

Order direct:
ConMara Publishing, Inc., 6022 E. 1000 N., Pittsboro, IN 46167 - FAX 877-488-1698
Distributed by:
Follett Audiovisual Resources 220 Exchange Drive Suite A, Crystal Lake, IL 60014
Phone: 888-281-1216 FAX: 888-281-7708