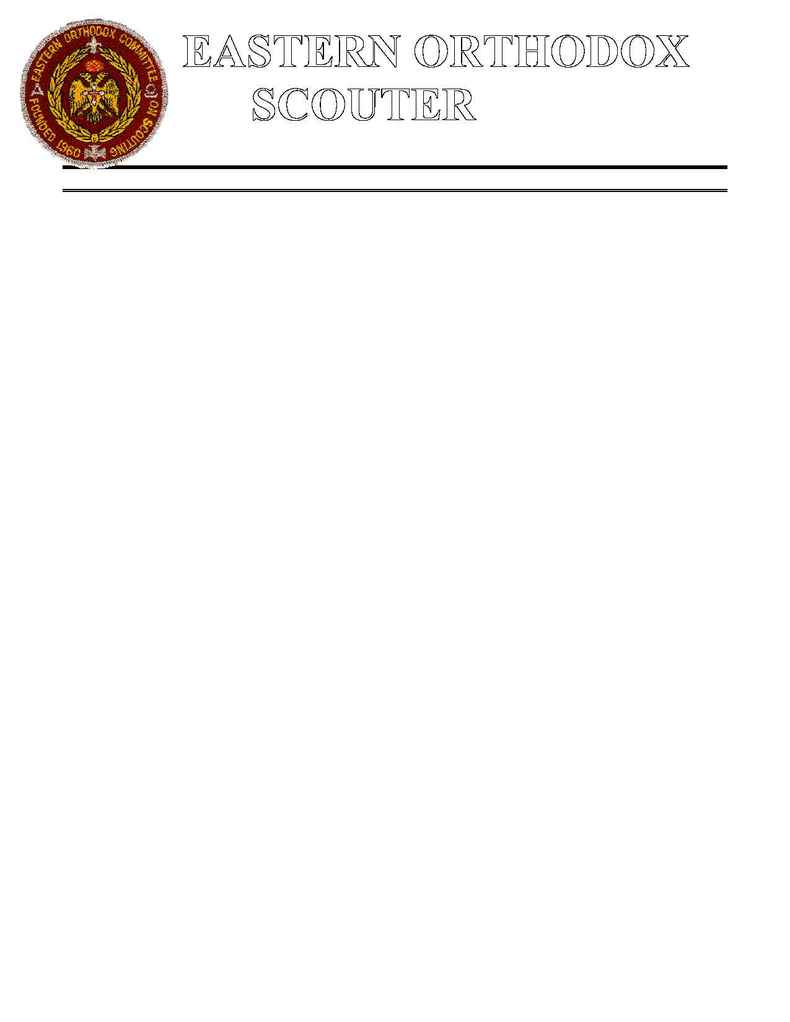 EASTERN ORTHODOX
SCOUTER
The Newsletter of the National Eastern Orthodox Committee on Scouting

Winter
2004
Volume
II
Issue
III
E.O.C.S. PRIORITIES
Attract more Eastern Orthodox Christian
Youth into Boy and Girl Scouting
Encourage more Eastern Orthodox Churches
to sponsor Scout Units
Enlist more Eastern Orthodox adult
volunteers to the Scouting program on local
and regional levels
Encourage and train more Eastern Orthodox
Priests in working with our youth in the
Scouting Religious Awards Program
NORTHEAST EOCS ANNUAL CAMPOREE
The Eastern Orthodox Committee on Scouting held it's
35
Annual Camporee as a historical hike, The
Lackawanna Valley Heritage Trial Hike, instead of the
traditional Scouting activities and competitions held at
Saint Basil Academy, Garrison, New York. In addition
Eastern Orthodox Girl Scout units were included.
There were 206 Orthodox Boy and Girl Scouts
participating in this marvelous event from as far as
Virginia, Pennsylvania, New Jersey, New York and New
England. Some units traveled 6 hours to attend. The hike
was 8 miles long and included descending into a coal
mine, Scranton Iron Furnaces, Steamtown National
Museum of Steam Trains, a ride on the old Scranton
Trolley, the Anthracite Museum, and numerous historical
churches and sites.
The Scouts were required to research and answer various
questions along this historical hike and at the conclusion
were awarded a trial patch and the commemorative hike
medal.
All the Scouts camped out at St. Tikhon's Orthodox
Monastery and Seminary, South Canaan, Pennsylvania as
guests of Archbishop Herman, the Metropolitan of the
Orthodox Church in America and tented in his back yard.
His Beatitude, Metropolitan Herman, opened all the
facilities to the Scouts including the famous Icon Museum.
Not only was the Metropolitan a wonderful host, he
conducted a special Liturgy Sunday morning for the
Scouts and spent a great deal of time mingling with them.
All units arrived at various hours during Friday evening
and in spite the heavy dense fog they all found the
monastery and were ready to roll by 6 AM Saturday
Morning. Buses took all the Scouts to the National
Steamtrain Museum for the opening ceremonies by EOCS
Chairman, George N. Boulukos and an introduction by the
museum ranger. At the conclusion of the hike buses
returned the Scouts to St. Tikhon's for a Lenten Dinner
followed by a traditional campfire of Scout songs and
skits. The camporee closed Sunday morning after the
Hierarchical Divine Liturgy celebrated by Archbishop
Herman and over 200 Scouts received Holy Communion
from his Beatitude.
EOCS board member Dr. Larry Sherman chaired the event
and recruited from local BSA Council the staff that
coordinated and delivered a superb event during the
weekend.
Besides the activities mentioned, the participants had the
opportunity to tour the monastery grounds, the Icon
Museum and visit with members of the Monastic
Community. The weekend was very rewarding and all
units express an interest to return to St. Tikhon's to see
everything they were unable to include on this short busy
weekend. The EOCS sponsored a similar event 6 years
ago and plan to include the camporee on their agenda
every 5 years.

SIXTH ANNUAL ST. LOUIS AREA RETREAT
Panteli Dalianis, the youth director of the Assumption
Orthodox Church in Town and Country, MO reported that
the Sixth Annual St. Louis Area Retreat/Camporee was
extremely successful. Under the chairmanship of Tyler
Burch, the weekend was full of many activities, including
an art project, religious discussions by Father Joseph
Strzelecki, and work on the Orthodox Religious Scout
Awards, all of which made it a fun and educational
weekend. The organizers, including the originator and
EOCS area Outreach Coordinator, Lenny Cook, contacted
all area Eastern Orthodox Churches and rounded up both
Boy and Girl Scouts for this fun and religious weekend.

44
th
EOCS NORTHEAST RETREAT
Father Gerasimos Makris, Director of Student Life at Holy
Cross College and Seminary along with 17 students and
seminarians drove five hours to conduct the 44
Retreat at St. Basil Academy. The retreat opened with a
Prayer by Bishop Demetrios, the Executive Secretary of
SCOBA the EOCS sponsor. There were 197 Boy and Girl
Scouts participating under the theme" God's Promise" and
a number of priests volunteered their time for confessions.
The traditional evening Scout Campfire with skits & songs
was enthusiastically lead by the Holy Cross Students.