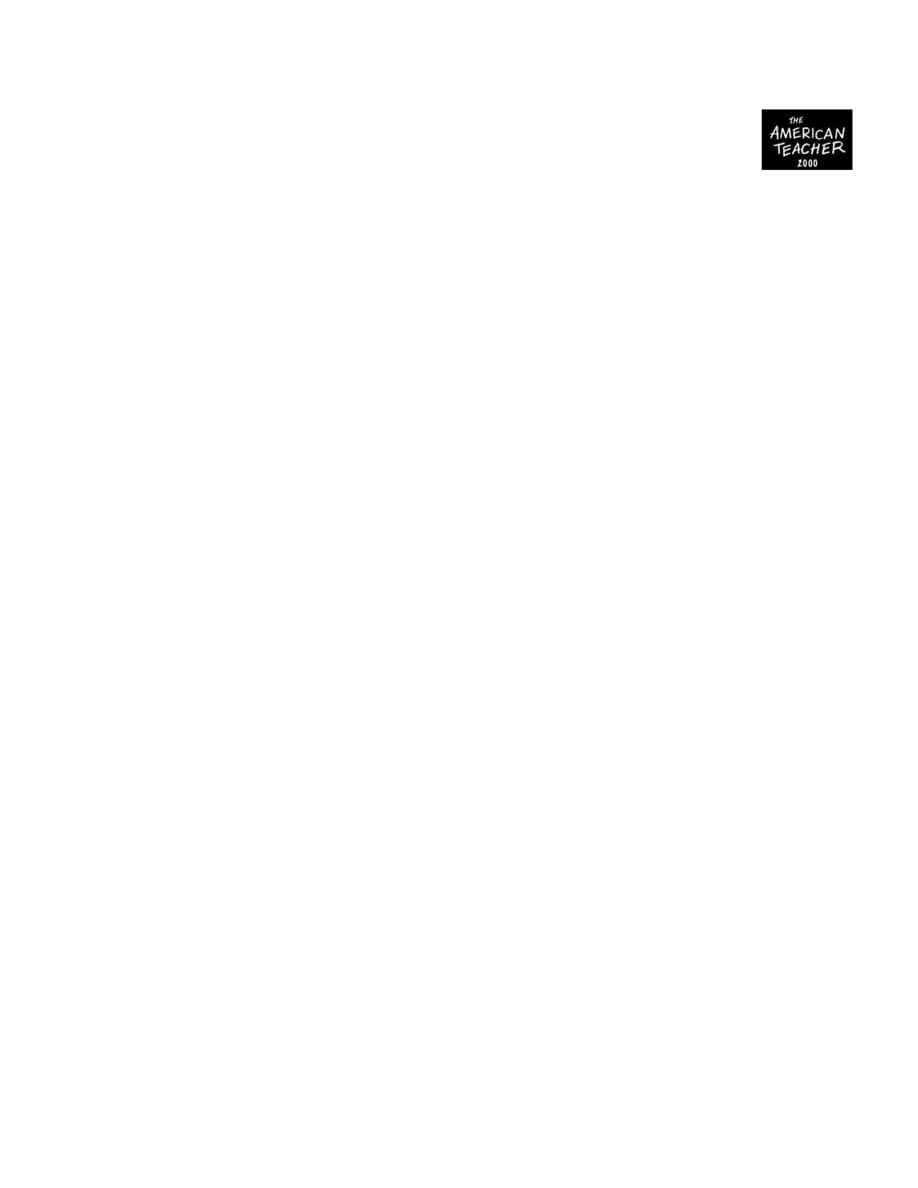 E X E C U T I V E S U M M A RY
As a new generation of adults enters a new century, how well-prepared are they? Will
they have a solid foundation in basic subjects such as English, math and science? Are
they learning about different careers and job opportunities that will offer them the
most potential? Will they have the educational background to pursue the careers they
want? How will they manage work and personal goals? Do they value and have an
interest in being involved in their community? The common thread that underlies
all of these questions is the role of teachers and schools in ushering today's teens into
adulthood. The Metropolitan Life Survey of the American Teacher, 2000 investigates
these issues from the perspectives of those most involved -- teachers, parents and the
teens themselves.
The views of these three groups differ on several important issues, including
teens' sources for guidance and support and the nature of responsibility. Teachers,
parents and students offer competing voices, each often overemphasizing their own
role in comparison to the roles of others. Teachers' views contrast with those of teens
and their parents in their apparent pessimism. Yet upon closer examination, these
findings may reflect more realism on teachers' parts. The competing voices of teach-
ers, parents and students do converge on some issues. All three groups agree on the
importance of education and that students' academic preparedness for the future
is better in some areas than others.
All three groups of stakeholders express a strong belief in the importance of edu-
cation. When parents and teachers are asked about the most important issue facing
America today, the most frequent response is improving the quality of education in
schools. For students, this issue is second only to having people get along with each
other. In addition, better education is a key reason why many students believe that
their lives will be better than their parents' lives, with seven in ten teens saying they
plan to attend a four-year college.
How well are schools doing in preparing students? Overall, schools are earning
a "B" average. Teachers, students and parents think schools are doing better at teach-
ing basics such as English, math and science than they are at teaching more general
life skills such as knowing about current events, knowing how to solve problems,
learning about different jobs and careers, being a good citizen and getting along with
other people. But who is most responsible for a student's getting a good education?
The good news is that all three groups -- parents, students and teachers -- feel
invested in this goal. The challenge is that parents and students each feel that they
are most responsible, while teachers are divided as to where this responsibility lies.
The teen years are difficult to navigate -- for parents and teachers of teens, as
well as teens themselves. The survey pinpoints a gulf that exists among all three
groups' views on important issues such as responsibility and students' sources of sup-
port for academic and emotional situations. These differences call to mind the para-
ble of the three blindfolded men who set out to describe an elephant -- each group's
perspective is limited by their specific vantage point.
So, are parents discussing education with their teens? Six in ten parents of teens
say they talk about school every day with their child. However, according to students,