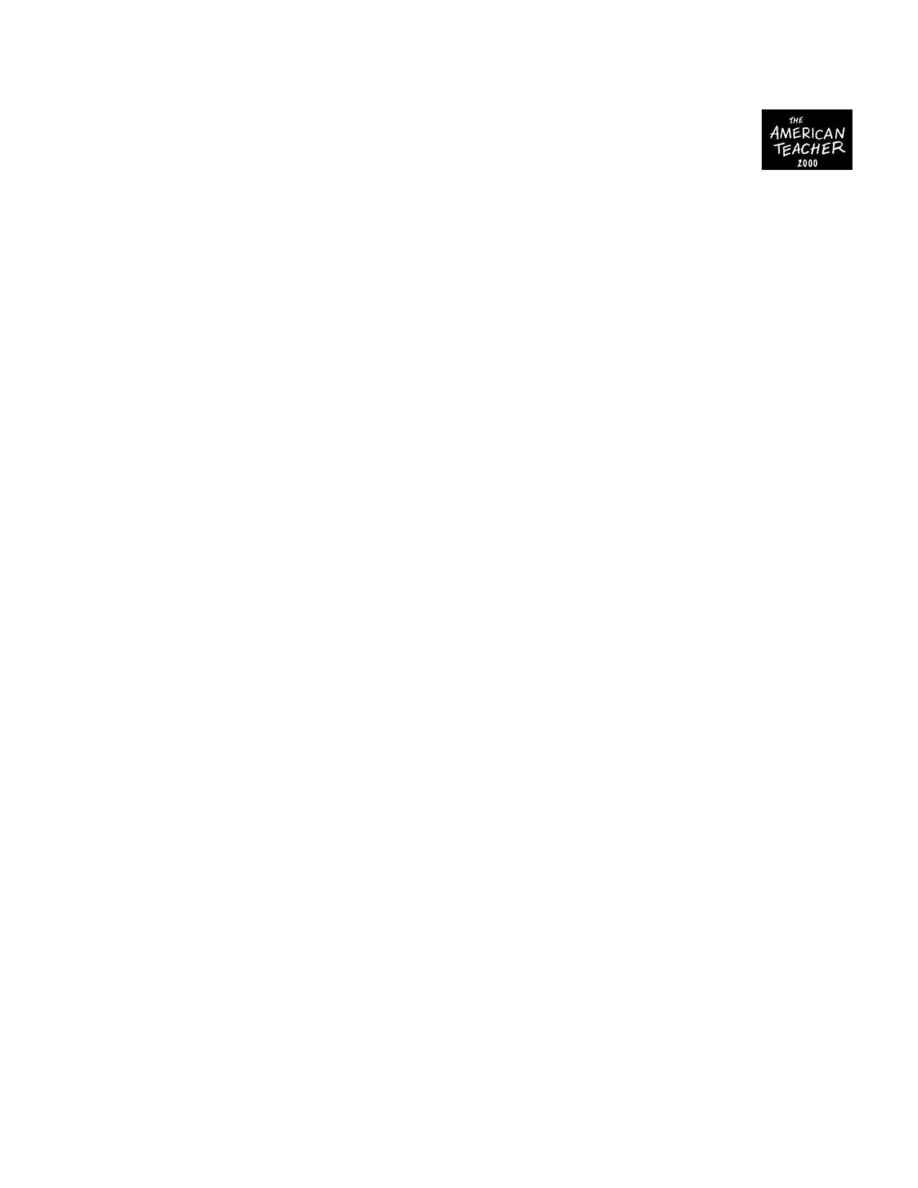 The Metropolitan Life Survey of the American Teacher, 2000 appears at a time when
improving education is a top priority of the American public. The survey reveals that
education is a particularly important issue for its key stakeholders; parents and teach-
ers believe that improving the quality of education in schools is the most important
issue facing America today. This year's survey has implications for teachers, students,
parents and others for whom education is a top concern.
The 2000 survey has a special focus on the secondary school experience. In pre-
vious years, The Metropolitan Life Survey of the American Teacher has indicated that the
high school years are associated with a lower level of enthusiasm for going to school
and higher levels of teacher disinterest -- from both the teacher and student per-
spective (1988). This year's survey reveals that four in ten secondary school students
feel that what they think doesn't count very much at school and three in ten feel left
out of things going on around them at school.
The current survey also extends these findings, showing that this is a vulnerable
period for parents as well. Parents of secondary school students are twice as likely as
those of primary school students to be among those parents feeling most alienated
from their child's school. These converging findings highlight the transition between
primary and secondary school as a critical time for students, teachers and parents.
Concerns about low levels of parental involvement exist among both teachers
and parents. A majority of teachers feel that students spend too little time with their
parents; half of parents agree. Although most parents of teens say they talk about
school every day with their child, only one-quarter of teens say such discussions hap-
pen every day. Previous reports in the MetLife series have highlighted the important
impact that talking about school has on students' lives. Discussing homework and
other things that go on in school was related to students' paying attention in class,
looking forward to going to school and doing well in school (1988, 1998).
In addition to its relation to student performance, parental involvement also
affects teachers' job satisfaction. Previous editions of the MetLife series have consis-
tently shown this effect. In 1985, more than half of teachers believed that having
more parent involvement with the schools would help a lot in keeping good people
in teaching. In 1987, teachers who reported excellent parent-teacher relations were
more satisfied in their jobs and were less likely to have considered leaving teaching.
In 1992, new teachers who said they were likely to leave the teaching profession in
the next five years most often cited lack of parental support as a major factor in their
decision. Finally, half of teachers in 1993 said that the highest priority in public edu-
cation policy in the next few years should be strengthening parents' roles in their chil-
dren's education. The findings from this year's survey indicate that this issue still
resonates.