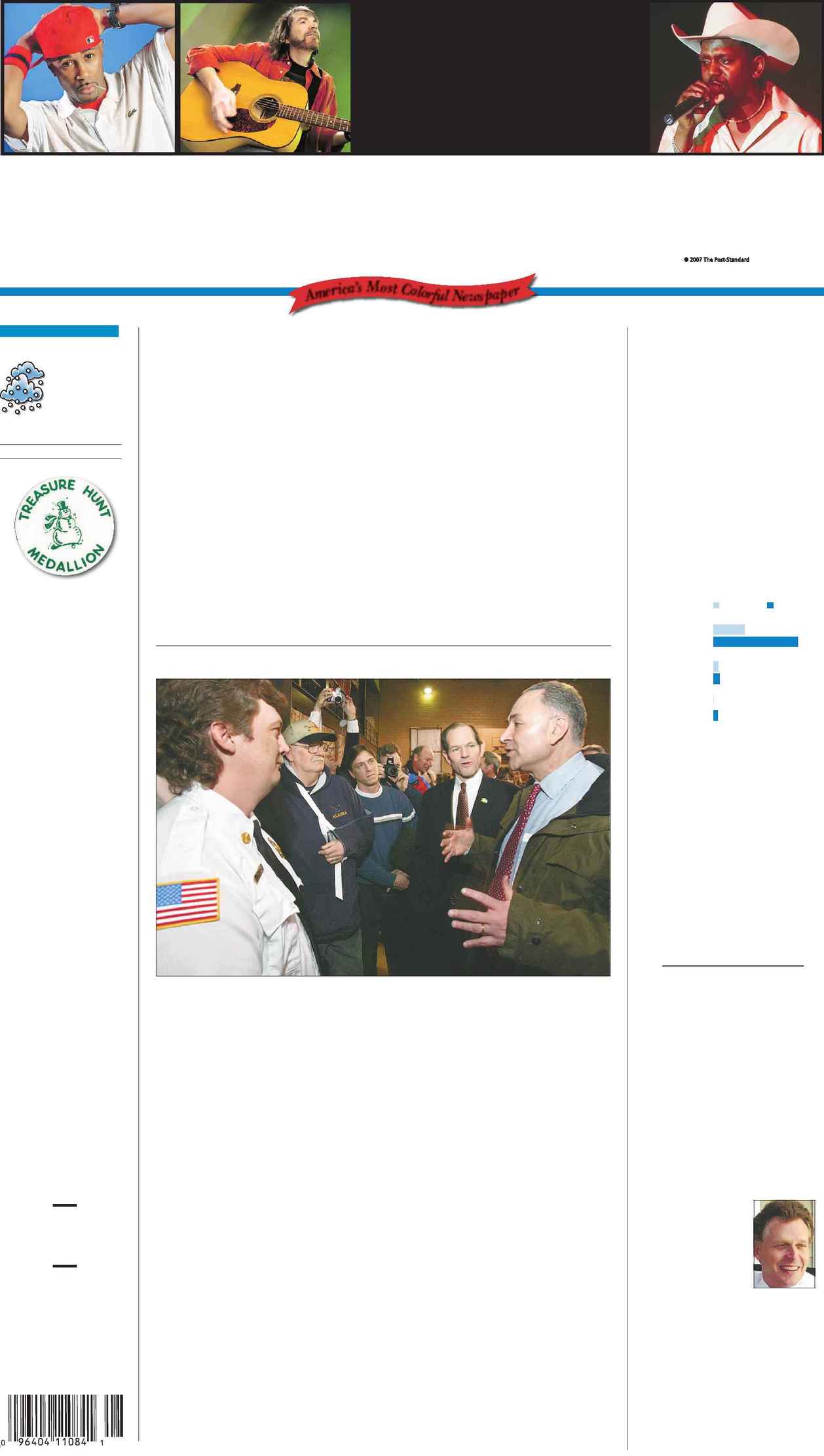 Americ
a's Most Colorful Newspaper
The Post-Standard
www.syracuse.com/musicscene
Your complete guide to CNY music
THURSDAY, FEBRUARY 22, 2007 · FINAL EDITION
SYRACUSE, N.Y. · 50 CENTS
SU students
rank 12th in
illegal music
downloads
GOOD MORNING
SNOW RETURNS
It will be cloudy
with snow cross-
ing the area
throughout the
day. The wind
will pick up this evening as
snow showers continue.
HIGH:
37
LOW:
17
What the withdrawal plans
of Britain, Denmark and others
mean for the U.S.-led coalition in
Iraq.
List of coalition contributors
What are Britain's plans?
U.S. opens its own investiga-
tion into Iraq rape case; Cheney,
Pelosi exchange words through
the media; and other updates.
Explosive devices attached to
chlorine containers kill for a
second day in Baghdad.
By Borzou Daragahi
Baghdad, Iraq -- For the second
time in two days, suspected Sunni
Arab insurgents Wednesday targeted
civilians with a crude chemical
weapon: a bomb attached to chlorine
gas canisters that killed two people,
sickened 25 and injured eight others.
The attack was the third in a
month involving a combination of
explosive devices and chlorine. Al-
though all three attacks were appar-
ently botched, they hint at an omi-
nous
insurgents to subvert a Baghdad se-
Violence around the country left
at least 40 Iraqis dead. A U.S. sol-
dier was reported killed in a small-
arms fire attack a day earlier in
Baghdad, and a U.S. Black Hawk
helicopter was forced to make a hard
landing north of the capital amid re-
ports of ground fire, the military
said.
The chlorine gas attack took place
on the road leading to Baghdad's air-
port. A car filled with chlorine gas
cylinders exploded near a fuel sta-
tion in a religiously mixed neighbor-
hood.
The tactic was used the day before
NINE, PAGE A-6
By Miyoko Ohtake
Syracuse University students are among
the most frequent online music copyright
violators in the country, says the Recording
Industry
12 in a rank-
ing of univer-
s i t i e s
have received
t h e
number of vi-
olation
tices from the
trade
for the largest
music
in the coun-
try.
c r a c k i n g
down on stu-
dents.
the RIAA is
sending thou-
sands
violation no-
tices to uni-
versities this
school
last year as it
targets music
it says is illegally downloaded over campus
computer networks.
``One of the misconceptions that some
people may have is that when you are eng-
aging in illegal downloading and uploading
of music, it's anonymous. It's not,'' said
RIAA spokesman Jonathan Lamy. ``You're
on a public network distributing files on
your hard drive to millions of strangers.
That's not anonymous activity.''
ILLEGAL, PAGE A-8
WIN UP TO $2,000
CLUE, PAGE E-4
Around CNY
The number of notices sent
out to students for illegally
downloading music,
according to the Recording
Industry Association of
America:
What are the top
25 schools? / A-8
If you want to hear CNY
musicians, the downloads
are all legal at:
Note: Numbers unavailable for
other CNY colleges
Carousel mall stores seek
redress from high court
Carousel Center are asking the
U.S. Supreme Court to consider
hearing an appeal of a lower
court decision that allowed their
lease rights to be condemned so
that the mall can be expanded.
BUSINESS, PAGE C-1
Forum heated as Clinton,
Obama supporters clash
supporters of Democratic presi-
dential candidates Hillary Rod-
ham Clinton and Barack Obama
nearly drowned out a forum with
most of the party's White House
hopefuls. The dispute centered
on harsh comments by a former
Bill Clinton supporter who now
backs Obama.
STORY, PAGE A-9
Syracuse conference helps
teams plan for disasters
workers from across the state are
gathering this week for the annu-
al winter conference of the New
York State Emergency Manage-
ment Association in Syracuse.
They are planning how to handle
worst-case scenarios like pan-
demic flu outbreaks, floods and
chemical attacks.
LOCAL, PAGE B-1
Iran continues enrichment
despite sanctions threat
Iran called for talks with the
United States, but despite a U.N.
Security Council deadline it did
not budge on council demands
that it mothball its uranium en-
richment program or face harsh-
er sanctions.
STORY, PAGE A-5
Corrections
Call Deputy Executive Editor Tim Bunn at
470-2240 to discuss a correction on a
news story. Subscription questions? Call
470-NEWS (470-6397).
``IT'S JUST AMAZING WHAT YOU DID''
David Lassman / Staff photographer
ON A SUNNY Wednesday morning, Sen. Charles Schumer (right) and Gov. Eliot Spitzer (second from right) pay
a visit to Oswego County. In Parish they met with (from left) Parish Fire Chief L.J. Harvey, retired Parish fire-
fighter Wayne Graham and Allen Manwaring, manager of the Big M Grocery in Oswego.
Terry McAuliffe
not welcome at
Bishop Ludden
`Everyone admired the grit'
Support for abortion rights forces
cancellation of book talk to group of
alumni at alma mater.
By Ren
ee K. Gadoua
The Syracuse Diocese has canceled a
book talk by Terry McAuliffe after the 1975
Bishop Ludden graduate said on a national
radio show that he supports abortion rights.
``I am pro-choice, no question about it,''
McAuliffe, chairman of Sen. Hillary Rod-
ham Clinton's presidential campaign and
author of a New York
Times best-selling mem-
oir, said in a Jan. 29 inter-
view with Hugh Hewitt.
about 100 Ludden alumni
about ``What a Party! My
Life Among Democrats:
Presidents,
Donors, Activists, Alliga-
tors and Other Wild Ani-
mals'' at 11 a.m. Saturday, said Danielle
Cummings, assistant chancellor and dioce-
san spokeswoman. But his public statement
violates diocesan policy, she said.
``Any person who publicly supports abor-
tion or who holds that abortion is a right or
a matter of choice, may not be invited to
speak at diocesan functions or in its
POLICY, PAGE A-8
Schumer, Spitzer drop in on Oswego County
By Charles McChesney
and Douglass Dowty
The cost of cleaning up this
month's snowstorm -- at least $4
million -- might come from fed-
eral and state coffers depending
on a decision due out of Washing-
ton in the next day or two, said
U.S. Sen. Charles Schumer dur-
ing a visit Wednesday to Oswego
County.
Gov. Eliot Spitzer last week
filed an application, asking Presi-
dent Bush to declare a federal
emergency for Oswego, Ononda-
ga, Madison, Oneida, Jefferson
and Lewis counties. On Wednes-
day, Schumer said he had spoken
with the head of the Federal
Emergency Management Agency
who told him a decision would
come soon for Oswego County.
``They expect it to happen in a
couple of days,'' Schumer said
after getting off the phone with
FEMA Director R. David Pauli-
son while driving from Oswego
County Airport in Volney to the
city of Oswego.
A Schumer spokesman said he
expected decisions on other coun-
ties would likely be made later.
In Oswego, Schumer spoke in
front of a pile of snow city work-
ers and contractors had gathered
from roads. As Schumer spoke
Wednesday, the pile grew as a
steady stream of dump trucks de-
livered more snow.
The aid -- 75 percent from the
federal government, 25 percent
from the state -- would go to
towns and cities and the county to
cover the extra costs brought on
by the storm.
Communities spent at least $4
million on overtime, salt, sand
and other snow-related expenses,
according to a preliminary esti-
mate, said Patricia Egan, head of
the county's office of emergency
management. The storm dumped
several feet of snow on much of
the county, and more than 10 feet
in a few spots.
Schumer and Spitzer got to-
gether at one of those spots
Wednesday, making a joint ap-
pearance in the Parish gym.
While sunshine poured down out-
side and temperatures remained
above freezing, the two thanked
around
drivers, emergency workers and
officials who gathered.
Spitzer thanked everyone in-
volved for pulling together and
doing the work, and he said, ``you
did it with a smile.''
He said the can-do attitude that
showed up in national television
coverage showed a certain New
York attitude. ``We New Yorkers
know how to deal with a crisis,''
he said.
Schumer said he heard from
states. ``Everyone admired the
grit
county residents showed as the
snow piled higher and higher.
Mathew Lutz, 73, of Parish,
was invited to the rally by county
Democratic officials. ``This is
small-town America,'' he said be-
fore Spitzer spoke. ``I'm not
looking for any help or handouts.
It's a sunny day, and I'm out with
my fellow neighbors.''
Federal assistance would be a
big help, Lutz said. ``We could
use it after two weeks of being
snowed in here. We've had a lot
of snow, a lot of problems --
leaky roofs, cars stuck.''
Charles McChesney can be reached at
cmcchesney@syracuse.com and Douglass
Dowty at ddowty@syracuse.com or either
one at 592-7140.
Index
C-1
E-6
F-1
E-6, 7
E-1
E-6, 7
B-1
A-12
A-13
B-1
A-2
Weekend
A-10
B-4
D-1
C-3
E-7
E-5
On the Web
Read a transcript of the radio interview
at www.townhall.com