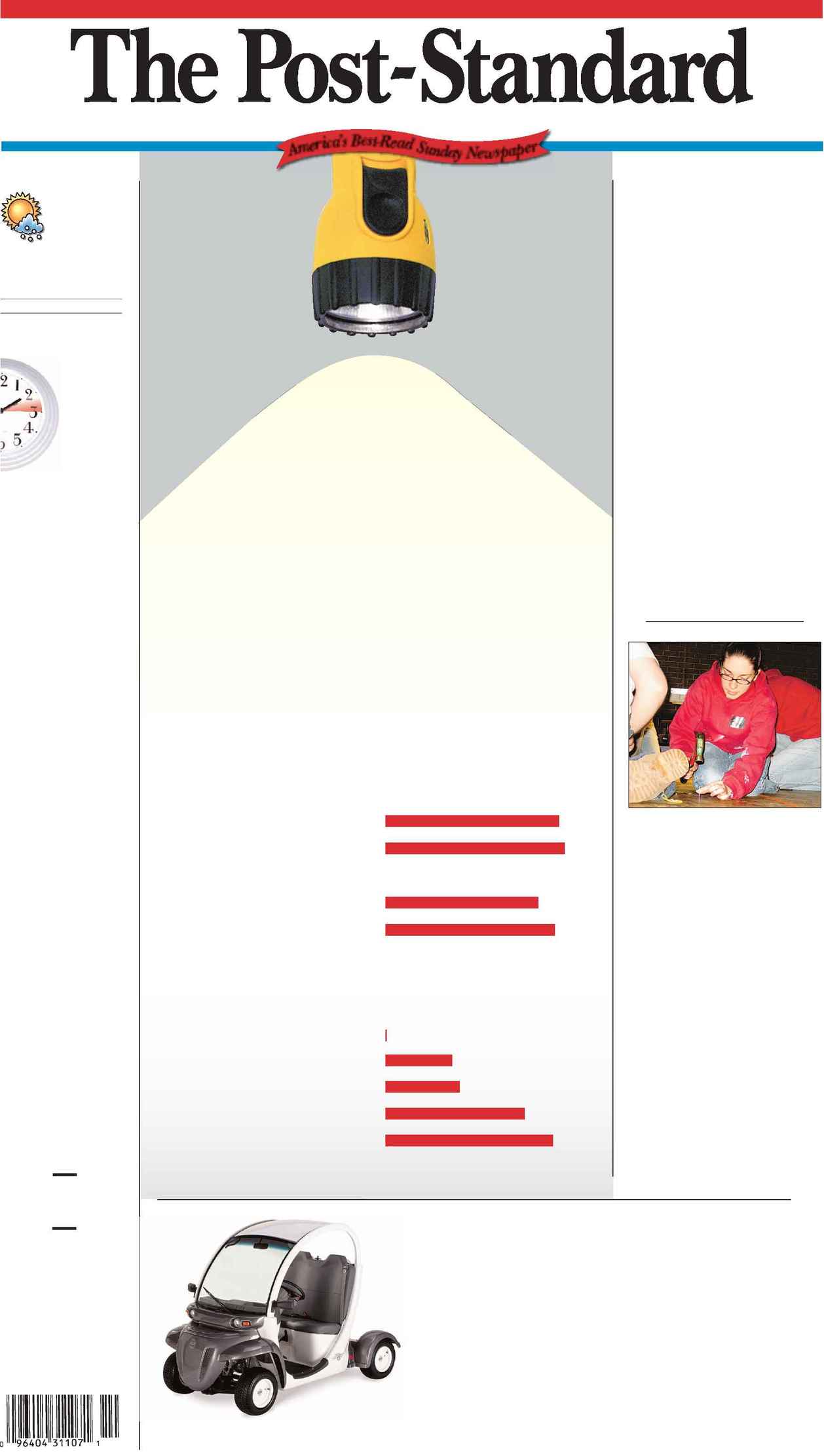 OF NATIONAL GRID
A DIM
VIEW
A DIM
More profits
National Grid, which bought Niagara Mohawk
in January 2002, has steadily increased the
profitability of the business.
NET INCOME (IN MILLIONS)
More outages ...
POWER FAILURES PER 100 CUSTOMERS PER YEAR
... for longer
AVG. POWER FAILURE DURATION (HOURS)
Note: Data excludes major storms
Source: National Grid
Why National Grid is under scrutiny
National Grid, which bought Niagara Mohawk in
2002, is seeking permission to buy its second New
York utility, KeySpan Corp.
The state Public Service Commission is gathering
input from interested parties, including its own
professional staff, who have raised alarms about
the deal, in part because National Grid's service
has "deteriorated" since it bought Niagara
Mohawk.
More customers in the dark more often
but company's profits are sunnier than ever
A
m
e
ri
ca
's Bes
t
-
Rea
d Su
n
day New
s
pa
p
e
r
S U N D A Y
Photo by Gloria Wright / Staff photographer
Photo illustration by Autumn Heep / Staff artist
SUNDAY, MARCH 11, 2007 · FINAL EDITION
How to pry
information from
your government
SPRING AHEAD
Today starts
cloudy, but peaks
with sunshine and
40-degree temper-
atures. We'll see
50s on Monday. It's enough to
give the winter-weary warm
thoughts of what's just around
the corner.
HIGH:
42
LOW:
23
By Delen Goldberg
As a citizen, you are entitled by law to many
public documents. That doesn't mean you al-
ways get them.
Onondaga County officials recently denied a
request for the county's Comprehensive Emer-
gency
hazards and assesses local
responders' ability to react
to them.
Federal and state law re-
quire the document be made
available to anybody who
asks for it. When requested,
five other counties in Cen-
tral New York released their
plans. But staff at the Onon-
daga County Department of
Emergency Management de-
nied a reporter's Freedom of
Information
and failed to provide a com-
plete copy of the report.
The request was part of a
national effort by journalists to test the transpar-
ency of government and the accessibility of pub-
lic documents. Reporters across the country re-
quested the same document, with varying results.
In New York state, more than half the counties
released the document.
Kathleen Dougherty, deputy attorney for
OTHER, PAGE A-18
Sunshine Week
Today marks
the kickoff for
the third annual
Sunshine Week,
a national
initiative in
which journalism
organizations
band together for
a dialogue about
the importance of
open government
and freedom of
information.
MORE COVERAGE:
PAGE A-18
DON'T
FORGET
TURN
CLOCKS
AHEAD
1 HOUR
Hoyas take Big East
Georgetown wallops Pitts-
burgh 65-42 to take the Big East
Tournament Championship.
SPORTS, C-4
Iran talks contentious
A one-day conference with
Iraq, Iran and U.S. envoys was
punctuated with harsh words,
blaming over the crisis in Iraq.
STORY, A-8
Time to guess your best
March Madness is upon us,
and you can use our NCAA
men's basketball brackets to
track your favorite teams.
SPORTS, C-2
Ruminating on the Orange
What are the possible scenar-
ios and the hometown team's
chances in the NCAA tourney?
SPORTS, C-1
An NCAA tourney primer
Check out our special section
on the upcoming men's college
basketball tournament.
COMING MONDAY
Flights of fancy no more
Month. Today, we introduce
Kelsey Daucher, a senior at Liv-
erpool High School, and Martha
Christiano, a charter pilot for
USAirports Air Charters.
LOCAL, B-1
Jonathan Safran Foer
The author of ``Everything Is
Illuminated'' comes to Syracuse
this week as a guest of the Rosa-
mond Gifford Lecture Series.
STARS
Education is the key
A Hamilton professor and for-
mer welfare recipient writes
about what it takes to help peo-
ple stand on their own two feet.
OPINION, E-1
Explosion splits house
A propane tank exploded and
split a Scriba home in two.
LOCAL, B-1
Corrections
Call 470-2240 to discuss a correction on a
news story. Subscription questions? Call
470-NEWS (470-6397).
By Tim Knauss
Since National Grid bought Niagara Mohawk
five years ago, the utility's electric rates have
gone up and so have its profits.
But rising prices and profits have not been
matched by better service.
Instead, customers have been left in the dark
more often and for longer periods than they were
before National Grid took over.
That record is setting off a chorus of criticism
as National Grid seeks permission to buy a sec-
ond major New York utility, KeySpan Corp.
Utility regulators, politicians and others de-
mand that National Grid improve its service if
the KeySpan deal is allowed to go through.
``The quality of Niagara Mohawk's electric
service has deteriorated since it merged with
Grid,'' said a panel of staff analysts at the state
Public Service Commission. ``The commission
should not consider allowing Grid to expand its
operations in New York until the problems . . .
are affirmatively addressed.''
U.S. Sen. Charles Schumer, D-N.Y., last
week urged the PSC to reject National Grid's
proposal to take over KeySpan, saying it puts
Long Island consumers at risk of ``skyrocketing
monthly bills and shoddy service.''
National Grid officials dispute many of the
criticisms that have been leveled at them, includ-
ing allegations by union officials and PSC staff
that they have undercut service quality by cut-
ting the company work force and neglecting to
fix equipment.
But utility officials concede that their electric
system ``needs to improve,'' according to testi-
mony filed with the PSC last week in response
to the critics.
``We're clearly not happy with what we are
achieving today,'' Cheryl Warren, director of
asset strategy and performance, said in an inter-
view Friday.
Warren said National Grid faces service prob-
lems that are common throughout the industry.
The problems stem from aging equipment, wors-
ening weather patterns and other factors, not
from Grid's lack of commitment, she said.
In any case, the attention resulting from Na-
tional Grid's quest to buy KeySpan appears like-
ly to result in beefed-up efforts to improve its
PSC, PAGE A-17
ELIZABETH OLSON, president of Le Moyne Col-
lege's Habitat for Humanity chapter, joins
other Le Moyne students last month to add a
second floor to a Habitat for Humanity ware-
house in Rocky Mount, N.C.
Students skip
the carousing
to serve others
Hundreds of CNY college students spend
spring break doing community service.
By Rebecca James
Up in the rafters of a Habitat for Humanity
warehouse in Rocky Mount, N.C., three Le
Moyne College students surrounded a floorboard
with hammers and pounded nails.
The nail gun had broken, but senior Elizabeth
Olson considered that a blessing. And, the Cor-
coran High School graduate added, the students
actually worked faster without power tools.
``We just came together and were trying to get
the job done,'' Olson said of the February trip.
``It was really awesome.''
Hundreds of college students in Central New
York are heading to more than a dozen states to
dive into community service projects for spring
LE MOYNE, PAGE A-12
Index
I-7
G-1
I-8
D-1
F-1
I-1
B-1
E-2
I-6
E-3
B-1
A-14, 19
B-4, 5
E-1
H-1
C-1
A-16
A-9
B-8
I-4, 5
A-4 - 8
TV Week
STARS
Parade
Destiny's free electric cars
Psst!
By John O'Brien
The electric-car division of DaimlerChrysler
was giving away 7,000 cars in 2003, and the peo-
ple planning to build the Destiny USA megamall
wanted some.
But the carmaker was donating cars only to
nonprofit groups and governments, and Destiny
was neither. No problem. DaimlerChrysler gave
Destiny 24 of the cars and, six weeks later, the de-
velopers registered a charity group -- Destiny
USA Foundation. The new nonprofit claimed a
$221,000 donation, records show.
The Destiny executives say they had hoped the
foundation, and the cars, would promote the proj-
ect's environment-friendly agenda.
It didn't work out that way. The Destiny USA
Foundation has done almost nothing since accept-
ing the cars -- except to sell or give away all but
six of them.
In 2005, shopping mall operator Robert Con-
gel, who runs the Destiny project, bought three of
the 2002 four-seat vehicles for $4,000 apiece
from his nonprofit group. When new, the cars
were valued at $9,000 apiece. They now have a
market value of $6,000 if in good condition, said
a spokeswoman for Global Electric Motorcars,
BALDWINSVILLE, PAGE A-18
Global Electric Motorcars
DESTINY HAS six cars remaining of the 24 it received: two
at Savannah Dhu, two at Carousel Center mall and two at
company headquarters in Clinton Square.