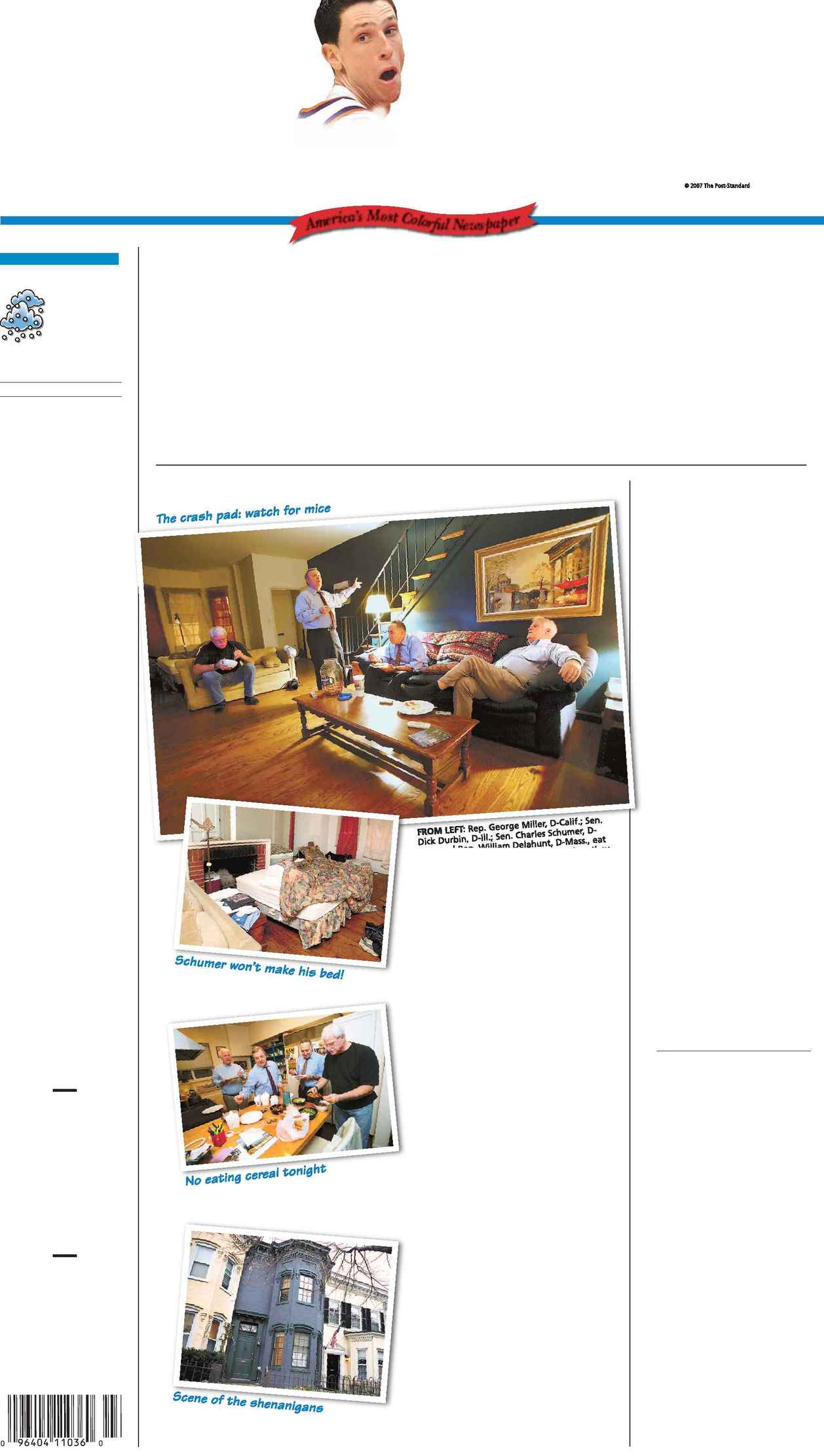 FROM LEFT: Rep. George Mil
Dick Durbin, D-Ill.; Sen. Charle
in the Capitol Hill home the
THE EMPTY
CHINESE TAKEOUT
THE BLUE row hou
Photos by The New York Times
ANDY RAUTINS WANTED TO PLAY AT SU SINCE HE WAS A SMALL BOY
Americ
a's Most Colorful Newspaper
The Post-Standard
SATURDAY, JANUARY 20, 2007 · FINAL EDITION
SYRACUSE, N.Y. · 50 CENTS
GOOD MORNING
FEELING THE EFFECT
snow blows in
today on a windy,
colder morning.
The snow contin-
ues through midday, giving
way to a clear, but cold and
breezy night.
HIGH:
24
LOW:
7
Justice: Boyfriend Can't Be Tried
If new evidence, Oswego County DA can revive abuse charges, justice says
By Douglass Dowty
Prosecutors can no longer try the boy-
friend of Sheila Shortslef on charges that
he beat her a day before relatives found
her dead because the Oswego County
District Attorney's Office refused to
press the case in a timely fashion, a town
justice says.
Shortslef, 40, of 434 Middle Road,
was found dead in her bed on April 25,
2006. The day before, she had called au-
thorities to accuse Thomas A. Perrin, 41,
of kicking her down a flight of stairs,
threatening her with a knife, and punch-
ing her while throwing her around ``a
rag doll'' at their apartment.
If new evidence is offered, the abuse
case can be restarted, said Scriba Justice
Kenneth Adkins.
No arrests have been made in the
Oswego County prosecutors quickly
tried to dismiss misdemeanor assault,
menacing and criminal possession of a
weapon charges against Perrin after
Shortslef's death, according to court re-
cords.
When that request was denied, prose-
cutors refused to move forward on the
case, said Scriba Justice Kenneth Ad-
kins.
Nine months after his arrest, the do-
mestic violence charges against Perrin
are stuck in limbo because a speedy
trial didn't take place, the justice said.
The U.S. Constitution guarantees de-
ASSISTANT, PAGE A-5
300 members of 174th
arrive home this morning
Nearly 300 members of the
174th Fighter Wing returned
home from Iraq and Afghanistan
early this morning to Hancock
Field.
LOCAL, PAGE B-1
Biodiesel plant aims
for production this year
plant is scheduled to be built
soon in Volney and should begin
producing biodiesel from soy-
bean oil by mid-year.
BUSINESS, PAGE C-1
Lacrosse players tied to
CNY make it to Garden
When the National Lacrosse
League makes its debut at Madi-
son Square Garden tonight, it
will include players linked to
Central New York.
SPORTS, PAGE D-1
Crude oil price drop
doesn't show up at pump
Oil prices have fallen 15 per-
cent this year, but other factors
mean the price at gas pumps has
barely dipped.
BUSINESS, PAGE C-1
Onondaga County to test
salty solution for roads
Onondaga County is about to
test how well brine works to
keep ice from roads.
LOCAL, PAGE B-1
Unions criticize agency's
railroad safety guidelines
Two railroad workers' unions
called for greater regulation over
remote-control locomotives.
LOCAL, PAGE B-1
Rescuers: Time running
out for trapped dolphins
trapped in a shallow creek off
Long Island dropped to three and
the number of fatalities rose to
nine following a weeklong res-
cue effort.
NEW YORK, PAGE A-8
Corrections
Manlius Pebble Hill's Crosby
Helping Hands School Supply
Tug Hill Try-It Cross-Country Ski
Call Deputy Executive Editor Tim Bunn at
470-2240 to discuss a correction on a
news story. Subscription questions? Call
470-NEWS (470-6397).
Senators
to offer
centrist
Iraq plan
Against sending additional troops,
Republican Sen. John Warner
spearheads new bipartisan proposal.
By Carl Hulse
and Jeff Zeleny
New York Times News Service
Washington -- Sen. John Warner, of
Virginia, is drafting a proposal on Iraq poli-
cy with two Senate centrists in an effort to
provide an outlet for lawmakers uneasy with
President Bush's troop buildup but unwill-
ing to back a toughly worded resolution op-
posing the new strategy.
Aides said Friday that Warner, a Republi-
can who just stepped down as chairman of
the Armed Services Committee, was work-
ing with Sens. Susan Collins, R-Maine, and
Ben Nelson, D-Neb., to draw up a Senate
resolution they will unveil Monday as an al-
ternative to another bipartisan plan that flat-
ly opposes troop increases in Iraq.
Warner, Collins and Nelson, in a move
reminiscent of the ``Gang of 14'' meetings
that helped avert a showdown over judicial
filibusters in 2005, began meeting this week
after they saw the language of the initial bi-
partisan resolution.
Some lawmakers who had expressed re-
sistance to the troop increase said the word-
ing was too partisan and went far beyond
MYRIAD, PAGE A-4
Inside: Top aide to al-Sadr arrested; U.S.
general says some troops might be home
by late summer/A-4
By Mark Leibovich
New York Times News Service
ome of the most powerful Democrats
in America are split over a most in-
cendiary household issue: rodents.
``I once had to pick up a mouse by the tail
that Durbin refused to pick up,'' complained
Sen. Charles E. Schumer of New York, re-
ferring to his roommate Sen. Richard J. Dur-
bin of Illinois.
This characterization is not fair to Durbin,
interjected another tenant in the Capitol Hill
row house, Rep. Bill Delahunt of Massachu-
setts. For starters, it overlooks Durbin's gift
for killing rats. ``He will kill them with his
bare hands,'' Delahunt marveled.
``Oh, will you stop with the rats,'' said
the annoyed fourth roommate, Rep. George
Miller of California. He owns the house and
is sensitive to any suggestion that he harbors
pestilence. It's dicey enough that he harbors
politicians.
Think MTV's ``Real World'' with a slo-
venly cast of Democratic power brokers.
While Washington may have more than its
share of crash pads for policy-debating
workaholics, few, if any, have sheltered a
quorum as powerful as this one. About a
quarter-mile southeast of the Capitol, the in-
elegantly decorated two-bedroom house has
become an unlikely center of influence in
Washington's changing power grid. It is
home to the second- and third-ranking sena-
tors in the new Democratic majority (Dur-
bin, the majority whip, and Schumer, the
vice chairman of the Democratic caucus)
and the chairman of the House Democratic
POWER BROKERS, PAGE A-3
Will government
consider lack of
snow a disaster?
By Rebecca James
The government has declared all sorts of
weather-related disasters: floods, tornadoes,
earthquakes, hurricanes, mudslides, even
extreme heat that knocked out power in
New York City last summer.
But is weather many regard as balmy and
beautiful really a disaster?
An effort by several counties, including
Onondaga and Cortland, to seek a disaster
declaration because of warm winter weather
may get a chilly response in Washington.
A similar mild winter in 1979-80 led the
U.S. Small Business Administration to ap-
prove the designation that allowed low-in-
terest loans for 14 states, including New
York. But the Reagan administration and
Congress objected.
In 1981, laws were repealed to ban disas-
ter declarations for so-called ``economic
dislocations.'' At the time, not only mild
weather, but the gas shortage of 1979 trig-
gered disaster declarations.
Congress clarified the law again in 1988
to define what was meant by disaster, said
Carol Chastang, speaking for the SBA.
The conference report specifically said
that the intention was not to allow disaster
COUNTIES, PAGE A-3
Index
C-1
E-10
E-5
E-10, 11
E-10
B-1
A-6
E-4
E-1
A-7
B-1
A-2
E-4
A-8
B-4
D-1
C-3
E-11
E-12
B-6