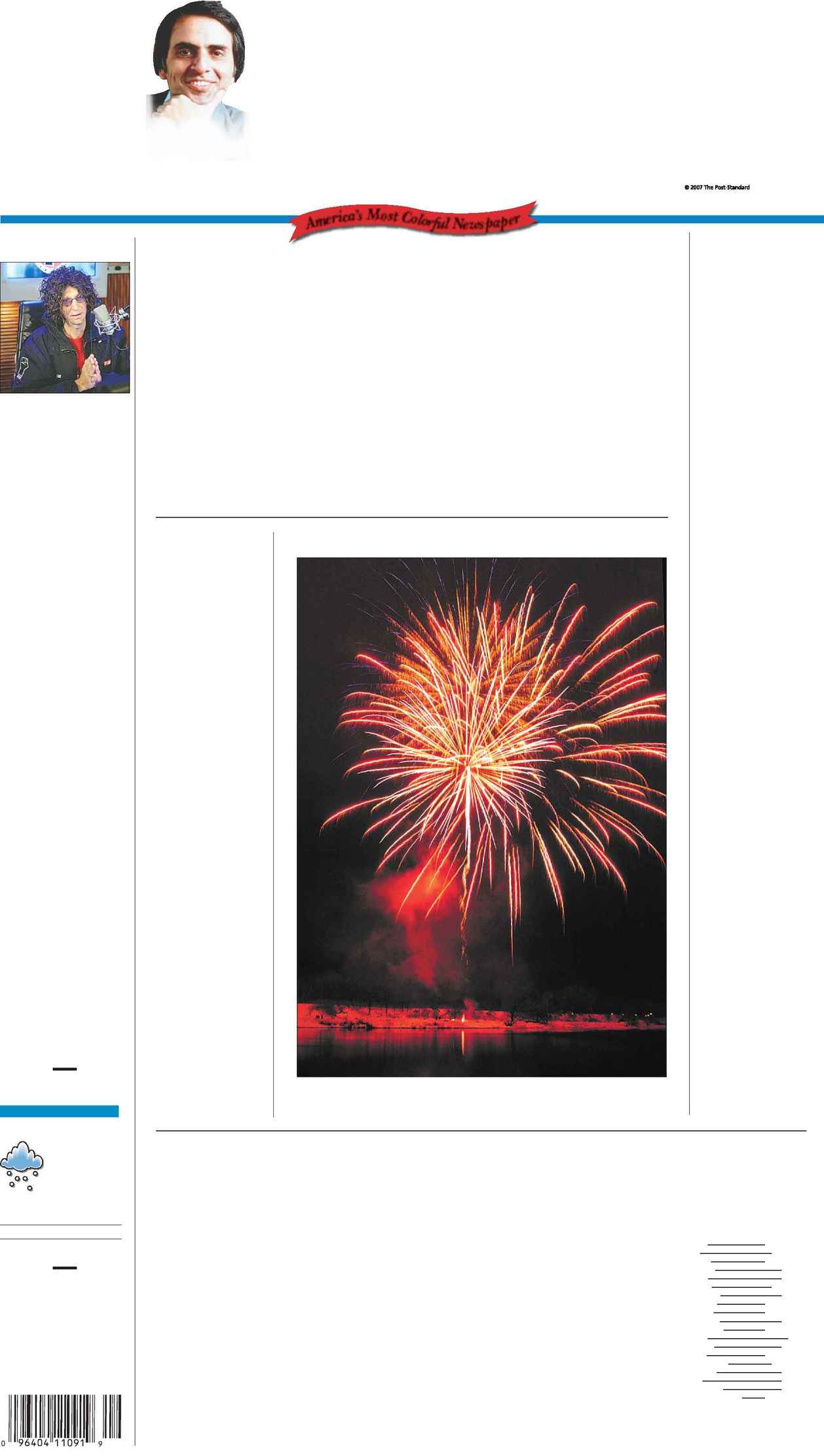 Americ
a's Most Colorful Newspaper
The Post-Standard
Searching for God with the late, great scientist.
RETURN OF CARL SAGAN
MONDAY, FEBRUARY 26, 2007 · FINAL EDITION
SYRACUSE, N.Y. · 50 CENTS
Numbers
on public
assistance
escalating
TOPPLED
More than one in six people
rely on some form of
government aid.
By Stephen Ohlemacher
Washington -- The welfare
state is bigger than ever despite a
decade of policies designed to
wean poor people from public
aid.
The number of families re-
ceiving cash benefits from wel-
fare has plummeted since the
government imposed time limits
on the payments a decade ago.
But other programs for the poor,
including Medicaid, food stamps
and disability benefits, are burst-
ing with new enrollees.
The result, according to an
Associated Press analysis: Near-
ly one in six people rely on some
form of public assistance, a
larger share than at any time
since the government started
measuring two decades ago.
Critics of the welfare overhaul
say the numbers offer fresh evi-
dence that few former recipients
have
moved from welfare to work.
They say the vast majority have
been forced into low-paying jobs
without benefits and few oppor-
tunities to advance.
``If the goal of welfare reform
was to get people off the welfare
rolls, bravo,'' said Vivyan Adair,
a former welfare recipient who is
now an assistant professor of
women's studies at Hamilton
College in upstate New York.
``If the goal was to reduce pov-
erty and give people economic
and job stability, it was not a
success.''
Proponents of the changes in
welfare say programs that once
discouraged work now offer sup-
port to people in low-paying
jobs. They point to expanded eli-
gibility rules for food stamps and
Medicaid, the health insurance
program for the poor, that enable
people to keep getting benefits
even after they start working.
``I don't have any problems
with those programs growing,
and indeed, they were intended
to grow,'' said Ron Haskins, a
former adviser to President Bush
on welfare policy.
NUMBERS, PAGE A-4
Much of Bragman's went for wining, dining
By Mike McIntire
New York Times News Service
When Michael J. Bragman, a onetime
Assembly majority leader, retired from
the New York State Legislature in 2001,
his campaign committee had about $1
million in the bank. Six years later, Brag-
man is still retired, and $400,000 of that
money is gone.
Bragman did not run for office again.
But he did pay his wife $24,000 a year to
work for a campaign committee that did
no campaigning. And he spent thousands
on wine, meals at a yacht club, Christmas
gifts and office rental payments to a com-
pany that he appears to control.
Bragman, a Democrat who represented
a district in the Syracuse area for 21
years, offers an unusually vivid example
of how New York's campaign finance
laws allow former candidates to keep
spending contributions long after their
campaigns have ended. And he is not
alone.
A review of campaign expenditures at
the State Board of Elections found other
former officeholders whose unused cam-
paign cash has been put to uses that their
contributors probably never envisioned
-- and with little or no scrutiny from
state regulators.
`THE RULE, PAGE A-7
Who's the top radio
talk host in America?
according to the trade magazine
Talkers. He dropped from first to
12th. Find out who ranks above
him.
CNY, PAGE D-4
Louis Farrakhan gives
last major speech
Louis Farrakhan, the Nation
of Islam leader, delivers what is
billed as his final major address.
``Our lips are full of praise,
but our hearts are far removed
from the prophets we all claim,''
he said Sunday in Detroit.
``That's why the world is in the
shape that it's in.''
STORY, PAGE A-3
Sharpton ancestors were
Thurmond family slaves
The Rev. Al Sharpton is a de-
scendant of a slave owned by
relatives of the late Sen. Strom
Thurmond -- a ``shocking'' dis-
covery, Sharpton said Sunday.
STORY, PAGE A-2
Sean Kirst on the death
of a 16-year-old
``As the weeks went by and
no one died, cops and teachers
and others who are engaged in
the daily quest to save young
lives began speaking of the
streak only in quiet voices, in the
fashion of people trying not to
drop a piece of fragile glass.''
SEAN KIRST, PAGE B-1
NASCAR bounceback
for Matt Kenseth
Driver Matt Kenseth had a
good weekend, winning Nextel
and Busch races in Fontana,
Calif., even though his crew
chief was sitting at home after
being suspended for cheating.
SPORTS, PAGE C-1
Guide to tackling taxes
Prepare yourself with the
MONEYWISE
Corrections
Call 470-2240 to discuss a correction on a
news story. Subscription questions? Call
470-NEWS (470-6397).
Oscar
surprise:
`The
Departed'
A WINTER BLAST
News service reports
``The Departed,'' a story of
Boston mobsters that was in-
spired by a Hong Kong action
film, won the best-picture Oscar
Sunday night.
Martin Scorsese won best di-
rector for ``The Departed.''
Helen Mirren won best actress
actor for ``The Last King of
Scotland.''
``Happy Feet'' won over
``Cars'' for feature-length ani-
mation.
should I say?' They said, `Thank
all the men for wearing penguin
suits,' '' said ``Happy Feet'' di-
rector George Miller.
Sound engineer Kevin O'Con-
nell, who worked on ``Apoca-
lypto,'' extended his losing
streak to 19 nominations without
a win, a record for Oscar futility.
The sound engineers from
``Dreamgirls'' took it from him
this time.
``An Inconvenient Truth,'' a
chronicle of Al Gore's campaign
to warn the world about global
warming, was picked as best
documentary.
Winners had 45 seconds of ac-
ceptance-speech time on stage,
and could thank the little people
later on the new, backstage Web-
based ``Thank-You Cam.''
www.syracuse.com/
photos/entertainment
Online: See the News Tracker
blog at blog.syracuse.com/
newstracker for links to:
4
Income
4
Mike Greenlar / Staff photographer
FIREWORKS ON Sunday night brought the 2007 Winterfest to a close. The two-week cele-
bration of winter featured more than 300 events ranging from sports to wine-tasting in
locations across Onondaga County.
GOOD MORNING
A LITTLE SNOW
It will be mostly
cloudy today with
a few snow show-
ers passing
through at times
bringing a couple of inches of
accumulation.
HIGH:
30
LOW:
23
Property tax exemption deadline Thursday
Exemptions add up
Property exemptions in 2005*
reduced taxable property
values in Onondaga County by
$27.47 billion. Here is the
breakdown in millions, except
where noted:
By John Doherty
Property owners across Central New
York have until Thursday to apply for
any one of many exemptions that can
lead to lower school and local tax bills.
If the deadline is missed, a property
owner must wait until next year to apply,
said Don Long, assessor in the Onondaga
County town of Lysander.
In the six-county Central New York
area, exemptions accounted for keeping
property worth more than $57 billion off
the 2005 tax rolls, according to the state
Office of Real Property Tax Services
Web site. The latest year for which num-
bers are available is 2005.
Of the nearly 440,000 properties in
Cayuga, Cortland, Madison, Oneida,
Onondaga and Oswego counties, more
than 278,000 received one or more of the
approximately 386,000 exemptions is-
sued that year.
The exemptions lead to reductions in
the level at which a property is assessed
and translate into savings in what an
owner pays in property taxes, sometimes
hundreds or thousands of dollars.
``This week is our busiest. A lot of
people wait until the last minute to file,''
Long said.
Thursday's deadline is for property
owners in all Central New York towns
and in the cities of Fulton and Sherrill.
Filing dates for other cities vary.
Dozens of exemptions are available in
New York state, including ones for vol-
unteer firefighters, military veterans, the
clergy and even the owners of apple or-
chards. However, municipalities have
some latitude and not all exemptions are
available in every town.
Most common exemptions
related exemption on a primary resi-
dence. Apply once.
tax-related exemption for senior citizens.
Apply yearly.
Senior citizen exemption:
those 65 or older with low incomes.
Apply yearly.
who served during war time. Apply once.
those with disabilities. Apply yearly.
Volunteer rescuer exemption:
able to members of volunteer fire depart-
ments and ambulance corps. Apply year-
ly.
New business construction exemp-
Available to business owners with
new construction. Apply once.
the owners of working farm land. Apply
yearly.
owned by the clergy. Apply yearly.
For all the details
A complete list of exemptions is avail-
able at the state Office of Real Property
Tax Services Web site:
Where to call
Contact your assessor's office at town
John Doherty can be reached at
jdoherty@syracuse.com or 470-2249.
* Latest year for which statistics
are available
Source: New York State Office of
Real Property Tax Services
Index
D-6
E-1
D-6, 7
D-1
D-6, 7
A-8
A-9
B-1
A-2
D-2
D-4
A-6
B-4
A-10
B-1
C-1
D-7
D-5