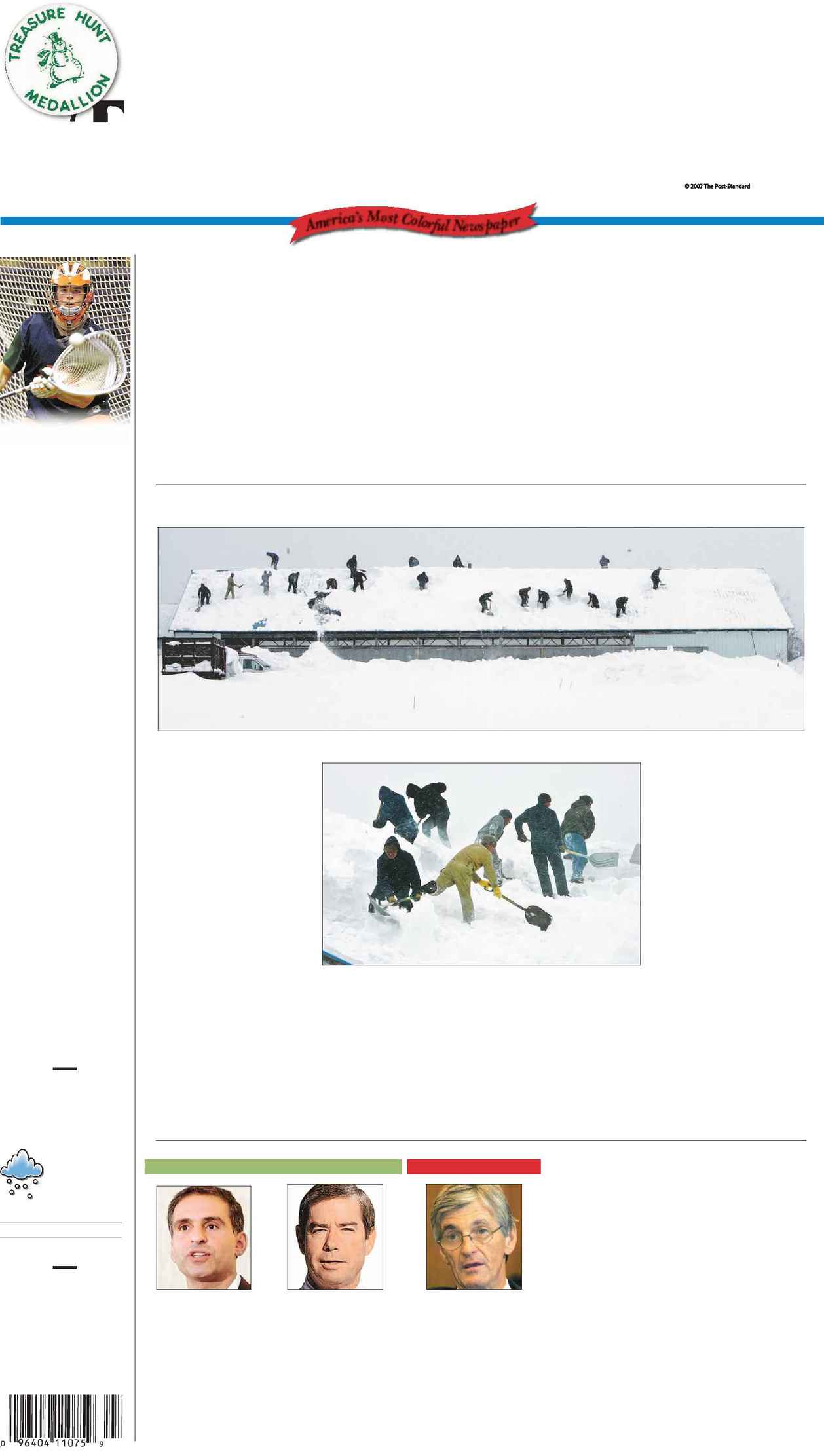 Americ
a's Most Colorful Newspaper
The Post-Standard
$2,000
THE POST-STANDARD TREASURE HUNT STARTS TODAY
FRIDAY, FEBRUARY 16, 2007 · FINAL EDITION
SYRACUSE, N.Y. · 50 CENTS
Seven Salmonella Cases in CNY
It's the same strain but not yet linked to recalled peanut butter
Inside
Questions and answers/A-4
Updates: Get the latest from
The Associated Press at
www.syracuse.com/newsflash
By Delen Goldberg
At least seven people in Cen-
tral New York have become sick
with a strain of salmonella re-
cently linked to potentially taint-
ed peanut butter, health officials
said Thursday.
The patients include three
people in Onondaga County --
including one who had to be
hospitalized -- two in Cortland
County and one each in Oneida
and
Health Department spokesman
Marc Carey said.
The cases date back to July
31, 2006, and all were confirmed
by the state Health Department's
Wadsworth Laboratory in Al-
bany, Carey said.
Commissioner Dr. Cynthia Mor-
row said her staff identified a
fourth patient who came down
with Salmonella Tennessee this
year. Salmonella Tennessee is
the strain of salmonella associat-
ed with the outbreak. Last year,
60 people came down with vari-
ous strains of salmonella in
Onondaga County, Morrow said.
``We have four cases of Ten-
nessee that go back to 2006, but
we cannot confirm that they are
associated with peanut butter,''
Morrow said Thursday. ``We're
still getting all the food histories
involved. I'm not saying they're
not linked with peanut butter,
but I'm not saying they are, ei-
ther.''
As of Wednesday, 288 people
in 39 states had become sick,
federal health officials said.
REFUNDS AVAILABLE, PAGE A-4
STORM-STRUCK MEXICO IS BLESSED BY MENNONITES
Syracuse wheels ready
to roll for Kuwaiti sheikh
Kuwaiti Prime Minister H.H.
Sheikh Nasser Mohamed Al-
Ahmed al-Sabah is buying two
$175,000 Zimmer Golden Spirit
cars, custom-made in Syracuse.
BUSINESS, PAGE D-1
Crazy for NASCAR:
Collector shares tips
Dale Crumb Jr., of Hubbard-
sville, part-owner of a NASCAR
shop in Rome, explains how to
start a NASCAR collection.
STORY, PAGE E-8
Grocer losing money;
rebuilding continues
The Penn Traffic Co., P&C
Foods' parent company based in
Syracuse, reported it lost $4.1
million on sales of $1.2 billion
for most of 2006.
BUSINESS, PAGE D-1
Bush calls on NATO for
more help in Afghanistan
allies need to supply more sol-
diers to Afghanistan.
STORY, PAGE A-7
Study: Limit Medicaid
services to save $5B
State taxpayers could save
nearly $5 billion a year if the
state provided service to elderly
Medicaid patients the way most
other states do, a study says.
NEW YORK, PAGE A-10
Corrections
Central New York Boat Show/
Call Deputy Executive Editor Tim Bunn at
470-2240 to discuss a correction on a
news story. Subscription questions? Call
470-NEWS (470-6397).
Dick Blume / Staff photographer
MENNONITE VOLUNTEERS shovel snow off the barn roof at Brenda McAuslan's organic cattle farm Thursday on state Route 104 near Mexico.
Federal help sought
Gov. Eliot Spitzer has asked
President Bush to declare a federal
emergency for Onondaga, Oswego,
Madison, Oneida, Jefferson and
Lewis counties to support state and
local efforts to recover from heavy
snowfall since Feb. 2.
Sens. Hillary Rodham Clinton, D-N.Y.,
and Charles Schumer, D-N.Y., and
Rep. John McHugh, R-Pierrepont
Manor, backed Spitzer's request.
Under a federal emergency
declaration, the Federal Emergency
Management Agency would
reimburse state and local
governments for up to 75 percent of
the cost of snow removal, including
equipment, contracts and overtime.
`It's as much a
blessing for us
as those we help'
By Douglass Dowty
As Army National Guard troops
launched a mission Thursday to wipe
out snow from Mexico, a much differ-
ent sort of army settled in the outskirts
of town to fight the unseen battles of
those who need help most.
While 16 Broome County soldiers
rolled into town on Humvees and pay-
loaders to clear parking lots, a Men-
nonite disaster relief squadron of 45
men swarmed in with shovels and
snowsuits to sweep roofs of large barns
and homes of the elderly across Mexi-
co.
At noon Thursday, the Mennonites
stopped for lunch inside the Mexico
Firehouse, and Alan Horst led the 45
volunteers in silent prayer.
``Let us ask a blessing,'' intoned the
Mennonite from Sandy Creek, trigger-
ing the overall-clad men toting lunch
pails who came from as far away as
Rochester to bow their heads for a min-
ute before a resounding ``Amen.''
Then the hardy crew broke out sand-
wiches and cereal and lined up for
Cam's Pizza in the mess hall of the
volunteer fire department.
``For us, it's just an everyday occur-
rence to help out your neighbor in
need,'' said Delmar Rutt, of Wayne
County, who offered the services of the
Mennonite men by making an im-
promptu visit to the firehouse Satur-
day. ``We feel it's as much a blessing
for us as those we help.''
About 30 men arrived to sweep the
barn roof of Brenda McAuslan's organ-
ic cattle farm Thursday after doing her
neighbor's roof two days earlier.
`ANOTHER DAY, PAGE A-4
Dick Blume / Staff photographer
A MENNONITE volunteer group of 45 men has been clearing snow from roofs
of large barns and homes of the elderly across Mexico.
evacuated/B-6
4
Sean Kirst: Bent or straight han-
dled: What's the best type of snow
shovel?/B-1
On the lighter side: One person
finds a creative way to express
strong feelings about the snow/A-2
Hundreds of motorists are stuck
on Interstate 78 in Pennsylvania for
nearly a day/A-4
SOME SNOW
Snow squalls and
wind will be the
noteworthy ele-
ments in today's
forecast. Satur-
HIGH:
25
LOW:
14
House set to vote on
Iraq resolution today
"It has become
overwhelmingly clear
that the current strategy
to secure the peace in
Iraq is failing. ... I was
not elected to blindly
follow along. I was not
elected to accept the
status quo."
--
D-Utica (Remarks delivered
"The President is the
Commander in Chief. That
is a fact. But he is not the
sole decider. We -- the
other elected leaders of
our government -- have a
responsibility to express the
will of the American people
as we perceive it."
--
Rep. James Walsh, R-Onondaga
(Text entered into official record)
"For all its good intent, this
proposal will not bring a
single soldier home sooner.
... It will not change the
course of a single battle ...
It will say that America has
no stomach for this fight."
--
FOR NO-SURGE RESOLUTION
AGAINST RESOLUTION
Speaker Pelosi says Bush
can't attack Iran without
congressional approval.
By David Espo
Thursday that President Bush
lacks the authority to invade Iran
without specific approval from
Congress, a fresh challenge to
the commander in chief on the
eve of a symbolic vote critical of
his troop buildup in Iraq.
Pelosi, D-Calif., noted that
Bush consistently said he sup-
ports a diplomatic resolution to
differences with Iran ``and I take
him at his word.''
At the same time, she said, ``I
do believe that Congress should
assert itself, though, and make it
very clear that there is no previ-
ous authority for the president,
any president, to go into Iran.''
Pelosi spoke in an interview in
the Capitol as lawmakers contin-
ued through a third day of debate
in the House on a nonbinding
measure opposing the adminis-
tration's plan to increase troop
strength in Iraq -- and as Demo-
crats readied a more provocative
challenge to the president.
That included drafting legisla-
tion to require the Pentagon to
meet certain standards for train-
ing and equipping the troops, as
well as fixing the time that mili-
tary units must be given at home
between deployments.
BUSH, PAGE A-6
Index
D-1
E-6
F-1
E-6, 7
E-1
E-6, 7
A-12
A-13
B-1
A-2
E-4
A-10
B-4
B-1
C-1
D-3
E-7
E-5
Excerpts of their speeches on Page A-6 Full text at newstracker.blogs.syracuse.com
Jim Commentucci / Staff photographer
a young Baldwinsville goalie