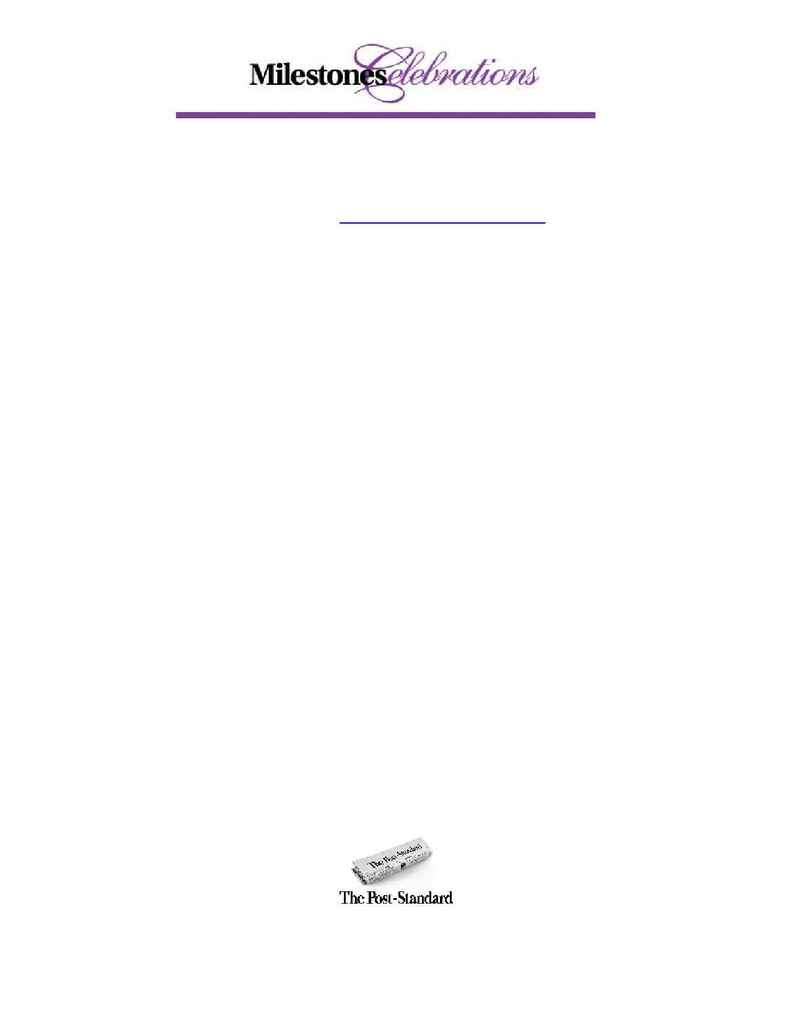 WEDDING ANNOUNCEMENT
To make your announcement as accurate as possible, please type or print all information.
Fill in only those items you would like to include in
your published announcement. Please visit our website at
www.Syracuse.com/Celebrations
to view examples of both no charge and
paid announcements. Please use formal names, complete with middle initials. In the case of servicemen and women, give the rank and branch of
service. If any person mentioned is deceased, please indicate by writing "the late" in front of the name. Street addresses are not necessary. Only city
and state will be published.
Send this along with your signed authorization form, either by fax or mail, to The Post-Standard's Milestones &
Celebrations Desk (see the address and fax number below.)
Bride's full maiden name (1st, middle and last): _________________________________________________________________________
Groom's full name (1st, middle and last): ______________________________________________________________________________
Date of Wedding: _________________________________________
Location of Wedding (City & State):
________________________________________________________________________________________________________________
Officiating Clergy: _________________________________________________________________________________________________
Type/Description of Ceremony: ______________________________________________________________________________________
INFORMATION ABOUT THE BRIDE
Bride's Parents: __________________________________________________________________________________________________
City/State: _______________________________________________________________________________________________________
If divorced or deceased (indicate which):
Father: ______________________________________________________________________ City/State: __________________________
Mother: _____________________________________________________________________ City/State: __________________________
Maternal Grandparents:_________________________________________________________ City/State: __________________________
Paternal Grandparents: _________________________________________________________ City/State: __________________________
INFORMATION ABOUT THE GROOM
Groom's Parents: __________________________________________________________________________________________________
City/State: ________________________________________________________________________________________________________
If divorced or deceased (indicate which):
Father: ______________________________________________________________________ City/State: ___________________________
Mother: ______________________________________________________________________ City/State: ___________________________
Maternal Grandparents:__________________________________________________________ City/State: ___________________________
Paternal Grandparents: __________________________________________________________City/State: ___________________________
Milestones & Celebrations Desk
PO Box 4915, Syracuse, NY 13221