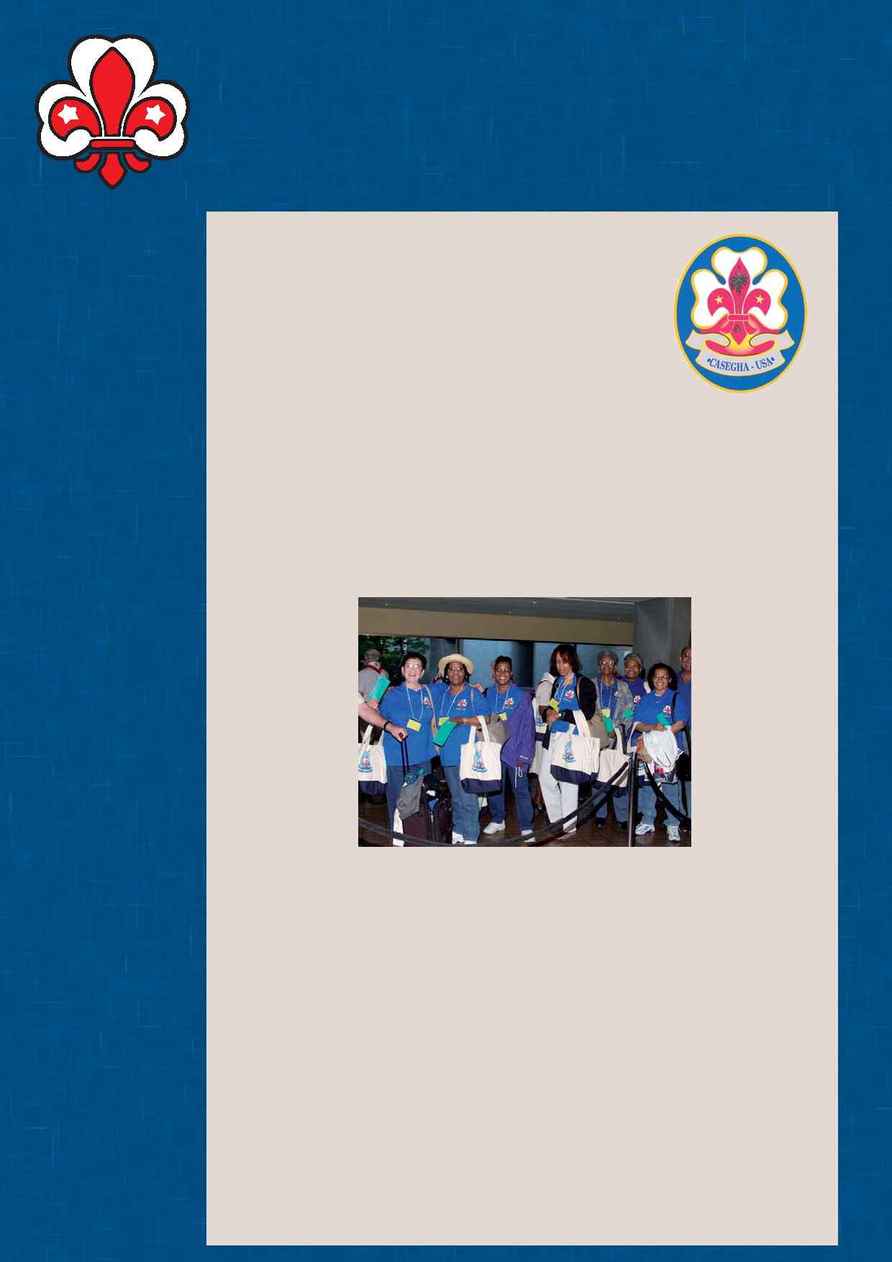 Number 4
December 2006
Features:
News from the International Scout and Guide Fellowship (an organisation for adults) ­ ISGF
CASEGHA-USA is a member of the Central
Branch and has participated since 1979 up till
now in all the ISGF World Conferences starting
with its first delegation to Bergen, Norway.
History of CASEGHA:
On February 25 1975, responding to a meeting
request from Emmanuel Lafond, former Chief
Scout of Haiti, and Monique Blanchard, former
Chief Girl Guide
of Haiti, a group
of former scouts
and former girl
guides of Haiti,
living in New
York, gathered
at a school
auditorium in
Cambria Heights,
New York,
and founded
CASEGHA, the
Club of Former
Scouts and
Guides of Haiti.
But, on January 30, 1982, a general assembly
decided to bring a change to the name of this
organization since the translation from French
into English brought some interpretations which
did not conform to their aims, and the word "Club"
was replaced by "Association". The organization
kept the abbreviated name of "CASEGHA-USA"
since it was already known as such. Also a
temporary board of directors was named and a
decision to extend the membership to the non-
scout spouses of the members of this association
was approved.
Good Turns
During the first 25 years of its existence
CASEGHA-USA, through its membership and
following the principles of Scouting, has devoted
most of its activities to "Good Turns", helping the
needy ones both in the USA and in their home-
land, Haiti.
They continued such an important mission by
helping both active Associations of Scouts and
Girl Guides of Haiti with their needs and their aid
to the Haitian community during the after-effects
of several hurricane devastations. We just men-
tion their last good turn out of many:
Besides the extraordinary job that their Commu-
nity Service Committee is doing in the northern
part of Haiti, this year, however, they provided
assistance in the
South of Tahiti,
in Mersan, a
small town near
the third city
of the country,
Les Cayes. In
fact, a member
of CASEGHA
requested our
help to the
population of
Mersan; then
another member
volunteered to
go there and
provided dental care to the children attending the
schools.
Twinning
CASEGHA has a twinning contact in Germany.
Other activities
CASEGHA-USA put out on a regular basis a
newsletter for its 140 members, which is called
"Entre-Nous". Every year CASEGHA-USA
organizes bus tours in the USA, and sometimes
overseas, especially after attending a World Con-
ference. They have had their office and meeting
place located in Queens Village, New York since
1980.
Their phone number and fax number are the
same (718) 464-0505 and their e-mail address
is: info@caseghausa.org, see also the website
http://www.caseghausa.org
NEWS FROM CENTRAL BRANCH
ASSOCIATION DES
ANCIENS SCOUTS ET
GUIDES D'HAÏTI
CASEGHA - USA