NMA: New Media Age nma media pack jan 06 Page 6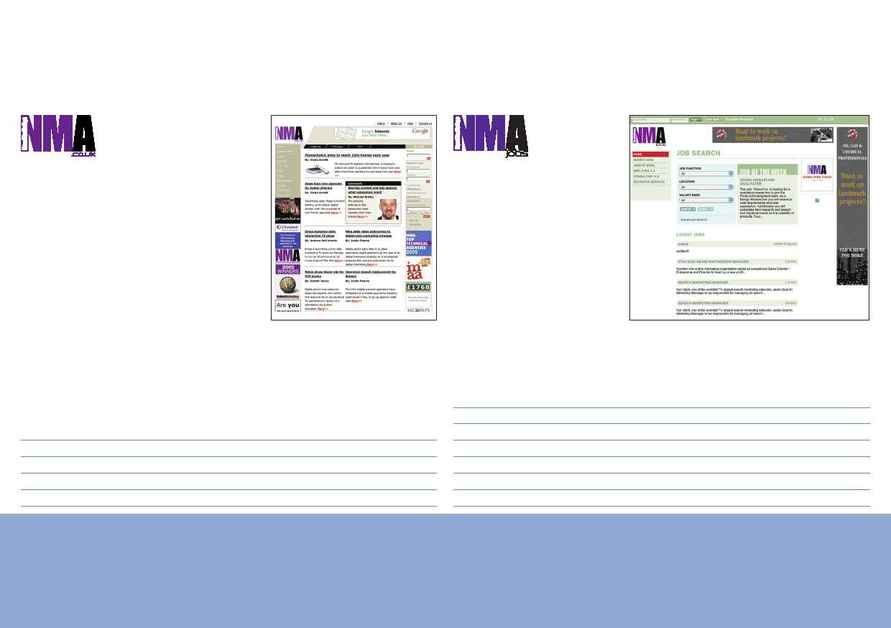 nma.co.uk relaunched in
January 2006 and is a
superb vehicle for your
online budgets as well as a great
information resource. With many new
features and sections, this site is
accessed regularly by the NMA subscriber
base as well as those reading the free
content sections. New features include a
suppliers guide, blogs and the Web
Creative Register. With up to the minute
news stories and a fully searchable
archive going back over ten years this
really is the most important site for those looking for information on the
UK interactive sector. Our daily and weekly email newsletters are
available for sponsorship and offer a great opportunity to get your
message to an eager and attentive audience on the exact day you want
that message to go out.
nmajobs.co.uk
relaunched in
2005 and is
now the UK's only premier
site dedicated to the best
jobs across the interactive
sector. Whether you
adver tise individual
vacancies or use it as a
branding vehicle for your
company, it is a cost-
effective way of reaching
thousands of new media
professionals. We carr y a wide range of job vacancies from business
development and marketing to design and technical.
Package job online, Hyperlink & job logo
Balvinder Bhogal, Group Advertising Manager