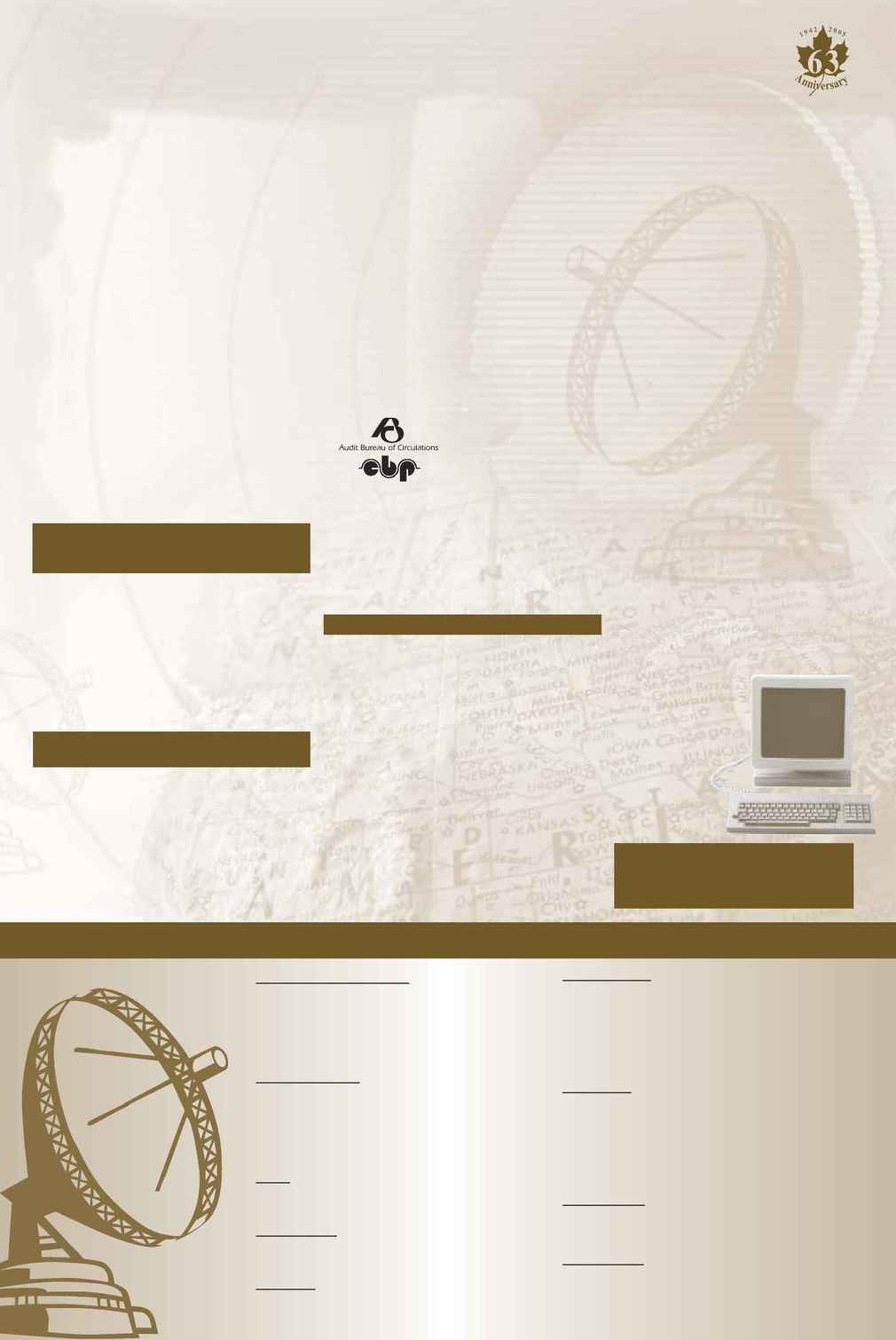 Celebrating 63 years of continuous service to Canada's broadcasting and related industries.
BROADCASTER is the broadcast industry's recognized business publication that serves Canada's intensely competitive and rapidly changing communications industry.
BROADCASTER's time proven and award winning editorial excellence, combined with the most targeted, Audit Bureau of Circulation audited circulation gives
advertisers the most cost-effective promotion medium to reach Canada's communications industry. For over 63 years BROADCASTER, the communication's industry
publication of record, has been the integral media buy to reach your prime target markets in the Canadian communications industry.
AUDIT BUREAU OF CIRCULATION
Qualified subscribers include every Canadian radio and television station, audio
and video production/post-production facilities, telephone companies, wireless
providers, cable operators, OEM's and distributors/dealers, government agencies
(federal and provincial), advertising agencies, national advertisers, Internet
providers and consultants.
BROADCASTER's
circulation is divided between engineering and
management personnel to ensure that advertisements receive exposure to the
industry decision-makers and the people with the buying authority.
BROADCASTER's circulation gives your advertisements exposure to the people
who use the equipment, the people who make the technical purchasing
recommendations and the people who sign the cheques.
BROADCASTER's circulation is audited by the Audit Bureau of Circulation.
ABC provides a reliable, unbiased source of media data prepared
by an independent body whose sole mandate is the auditing
of a publications' circulation list. This verification of total
circulation figures includes name, title, occupation, and
qualification. The benefit of an ABC audit, to an advertiser,
allows a comparison between various publications' audiences
especially those publications which are not ABC audited.
Member/Canadian
Business Press
C A N A D A ' S C O M M U N I C A T I O N S M A G A Z I N E
C A N A D A ' S C O M M U N I C A T I O N S M A G A Z I N E
www.broadcastermagazine.com
2005 EDITORIAL CALENDAR & SPECIAL ISSUES
ADVERTISING IN BROADCASTER MAKES
YOUR MARKETING EFFORTS MORE
Making contact far beyond the reach of your sales
force, direct mail program or e-mail promotion
Creating product awareness among prospects
Creating quality leads for your sales force to follow-up
Building product/brand preference
Increasing your market share
ADVERTISING IN BROADCASTER
The next time an advertising decision is being made,
review what the important criteria are for a successful
advertising campaign and you'll find BROADCASTER
gives you the most complete delivery available.
Independent, ABC audited circulation to decision-
makers in your target markets
Informative and reliable editorial your customers read
and refer to, hence continual exposure to your
advertising message.
Cost-effective advertising which offers exposure to the
greatest number of qualified readers, for the lowest
Advertising support through creative marketing
input and follow-up research and development.
www.broadcastermagazine.com is the number one
website for Canada's broadcast and related industries.
www.broadcastermagazine.com provides the daily,
online industry traffic -- your company supplies the
advertising message -- the result is targeted, frequent
and intense visibility for your company's message.
Weekly on-line news blasts (At Your Personal Request)
Broadcaster's Directory on-line
Keyword search / product search of directory and
Current & archived issues
Career and classified advertisements
On-Line promotion opportunities...
Site-master banner advertising
Home page banner advertising
Single section banner advertising
Keyword banner advertising
Text advertisements on weekly news blasts
(At Your Personal Request
Broadcaster publishes a Directory each May and November. Long referred to as the
"bible" of the industry the Broadcaster Directories are the most comprehensive
information source available on the Canadian communications industry. The Directories
are retained and consulted continuously, by the industry decision-makers. Your
advertising message receives the most cost-effective delivery available.
BROADCASTER's editorial is directed to both management and technical readers in
Canada's communications industry. Each month our award winning editorial staff
provides the best in industry coverage to both the management and technical reader.
The dependable excellence of BROADCASTER's editorial content and diligent
coverage ensures people using the equipment, the people making the technical
purchasing recommendations, the people purchasing programming and the people
approving and paying for these purchases all have exposure to your advertising
www.broadcastermagazine.com connects your
company to Canada's broadcast
professionals..... IMMEDIATELY!!!
jcook@broadcastermagazine.com
JANUARY/FEBRUARY
· Video Issue
· HDTV Update
· Digital Equipment Report
MARCH/APRIL
· NAB Convention Issue
· NAB Exhibitors Profiles
· DTV Update
MAY
· Spring Directory
JUNE/JULY
· Post-NAB Convention Issue
AUGUST
· Products & Services Tabloid
SEPTEMBER
· Television Fall Launch Preview
· Television Equipment Report
· Specialty Services Update
OCTOBER
· CAB, CCBE & WABE Conventions Issue
· Radio Issue
· NAB Radio Show Issue
NOVEMBER
· Fall Directory
DECEMBER
· Products & Services Tabloid
· 2006 Communications Calendar