Proteus Proteus Biocatalysis Page 1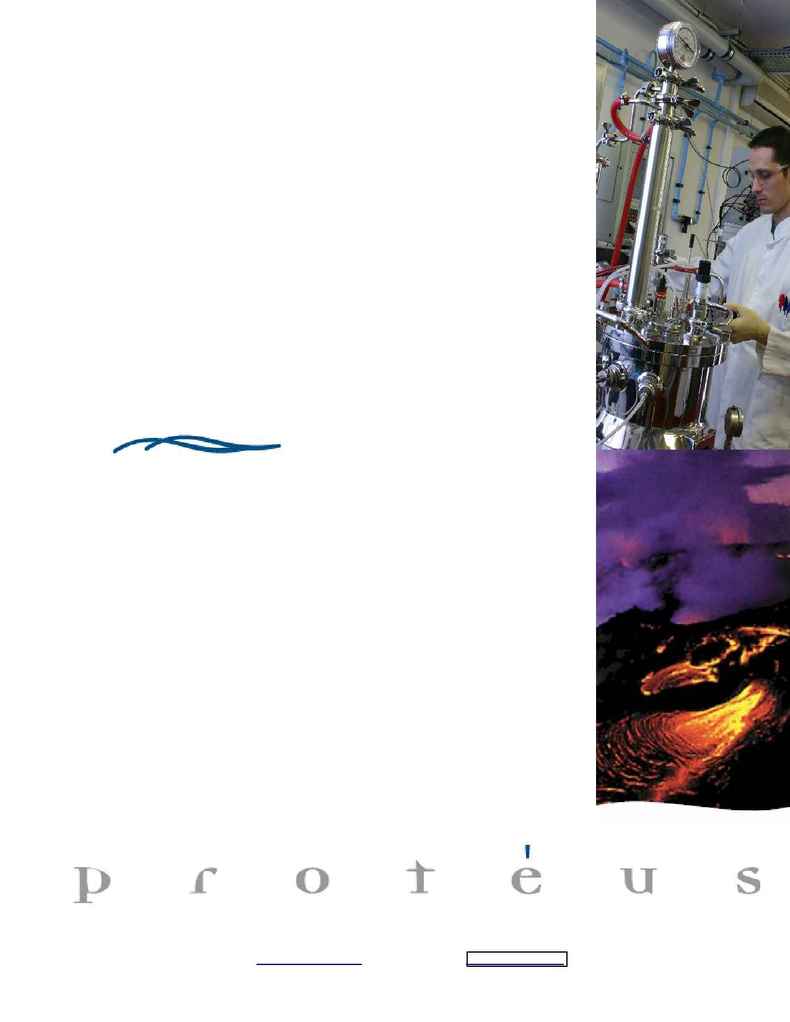 Proteus, S.A. 70, allée Graham Bell - Parc Georges Besse Nimes ­ France
Tel : +33(0)466 70 64 64 Fax : +33(0)466 70 64 60
Today's fierce worldwide competition among chemical makers
creates new challenges. More than ever, reinforcing competitive edge is the
expanding business
in APIs and intermediates, specialty chemicals
Within exclusive partnership agreements, Protéus rapidly design
commercially viable and scalable synthesis routes
your target molecules. The processes developed incorporate industrial
biocatalytic steps
which provide scalability, versatility and a high chemo-,
regio-, stereo- and enantioselectivity.
The new routes provided are aimed at creating brand
new routes
to innovative products or at
improving
the characteristics of currently
marketed chemicals, e.g. decreasing by-products, enhancing purity,
increasing conversion rate and improving overall yield and energy
Processes developed are generally
proprietary
your exclusive portfolio or
extending the lifetime of your existing
intellectual property
Making these new differentiating tools is the mission that Protéus
has successfully fulfilled for years,
adding considerable value
partners' executives involved in R&D, Sourcing and Business Development
within the chemical, consumer care and pharmaceutical industry
Nature has more imagination
than our dreams.