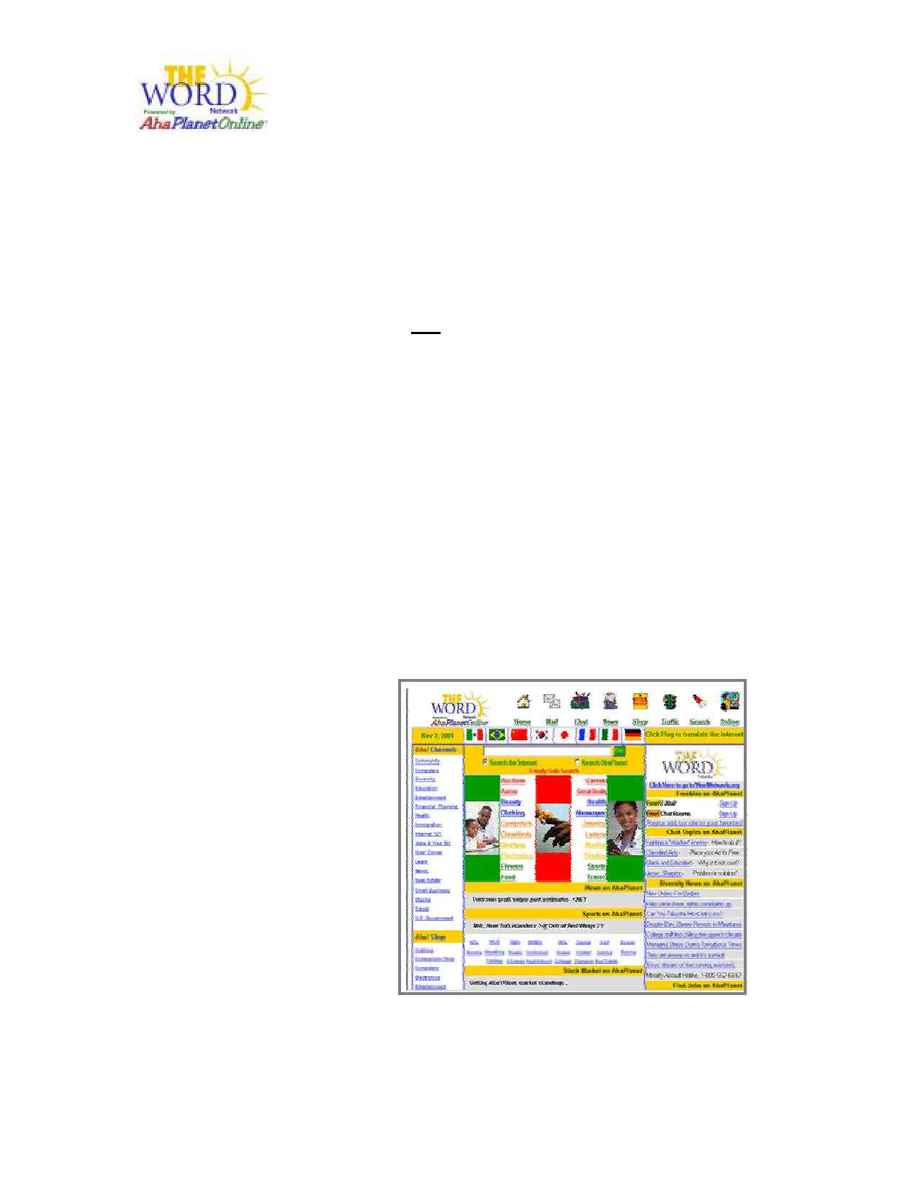 FOR IMMEDIATE RELEASE
THE WORD NETWORK LAUNCHES AN AD-FREE & FAMILY-FRIENDLY
INTERNET ACCESS SERVICE POWERED BY AHAPLANET ONLINE
America's Leading Urban Gospel Network Bridges the Digital Divide with a
Multi-Lingual and Multi-Cultural Service
(Southfield, MI) ­ November 5, 2001 -- The Word Network announced today the launch of a
new Internet access service powered by AhaPlanet Online. Priced at $19.99 a month the service
offers Internet access, a family-friendly Parental Control option, 10 E-Mail accounts, and an
unique gateway for its customers--all delivered in an environment free from ads.
"Earlier this year, we partnered successfully with AhaPlanet.com to add a customized
Internet gateway for Users of our Website--thewordnetwork.org," said Betsy Kellman, Vice
President Marketing of The Word Network. "We later surveyed our Web Users about offering
an ad-free and safe dial-up service and the response was a resounding "Yes". The launch of The
Word Network powered by AhaPlanet Online is our response to the demand from our loyal
viewers and we hope that they will be as pleased with this product as we are".
At the center of this package
is The Word Network powered by
the AhaPlanet Online gateway that
aggregates useful and relevant content
for its Visitors. Filled with hundreds
of links, the gateway points people to
specific Websites and pages within a
Website that may be of interest to
African, Hispanic, and Asian
Americans such as minority job
banks, diversity sites, government,
sites, education sites, immigration
Partial screen shot of The Word Network online service homepage
The gateway also features an innovative application enabling real-time translation of the
entire site at a button click. Users can choose from one of eight language flags--Spanish,
Portuguese, French, Italian, German, Chinese, Korean or Japanese.
Media Contacts
The Word Network: Betsy Kellman 248.357.4566
AhaPlanet.com: Nancy Hom 415.661.2609