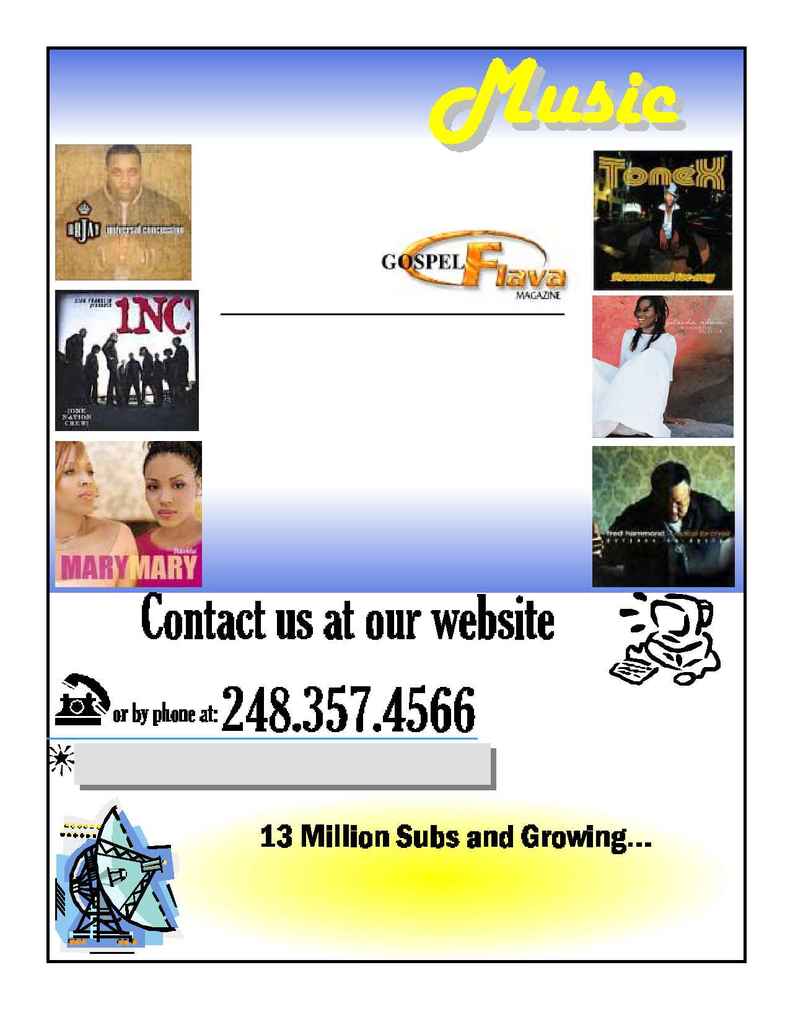 The Word Network would like to welcome the 2 million Central Florida
viewers to our viewing family. Along with DirecTV, AT&T, Time Warner,
Comcast, we also provide programming to our Armed Forces reaching
800,000 men and woman in over 165 countries.
Video Gospel, Gospel Grooves,
Classic Gospel & Testify
Lewis Gibbs, VP Operations
Lewisg@thewordnetwork.org
B etsy Kellman, VP Marketing/Affl. Relations
Betsyk@thewordnetwork.org
John Mattiello, Dir. Marketing/Aff l. Relations
Johnm@thewordnetwork.org
1) Mary Mary ~ Thankful
2)
Yolanda Adams ~ Mountain High Valley Low
3)
BB Jay ~ Universal Concussion
4) Tonex ~ Pronounced Toe-Nay
5) Cross Movement ~ Human Emergency
6) Staci Orrico ~ Genuine
7)
Kirk Franklin Presents 1NC ~ Kirk Franklin
Presents 1NC
8)
Fred Hammond & Radical For Christ ~ Purpose
By Design
9) Kelli Williams ~ In The Myx
10)
Natalie Wilson & SOP ~ Girl Director
Gospel CD's presented by...
The Word Network is proud to bring you the best in contem-
porary and traditional gospel music, including gospel concerts.
Our weekly gospel shows bring a variety of artists sharing
their gift of song:
Watch for some additions to our web site in the coming weeks--"Question of
the Week" and a community bulletin board will be available to our visitors!