The Word Network Urban Religious Channel Jan 2001 Page 1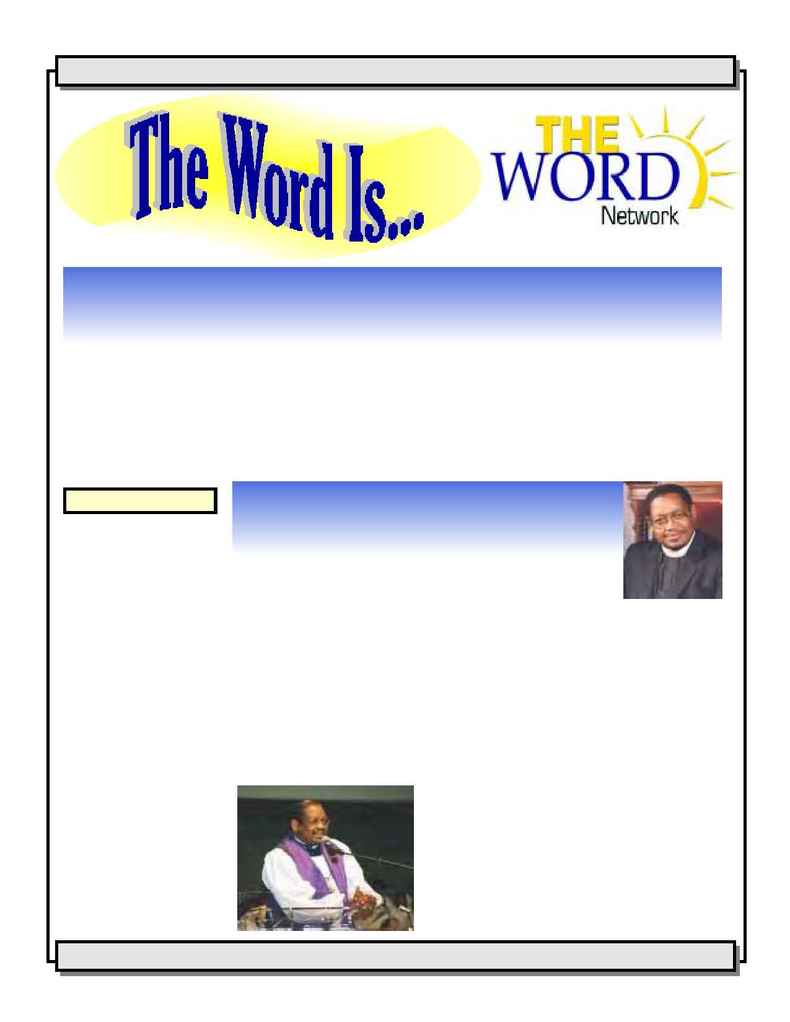 Special points of Interest...
Bishop Gilbert Earl Patterson
tario, Canada on July 30,
Bishop Patterson has stud-
ied at the Detroit Bible Insti-
College in Memphis, Tennes-
He holds an honorary Doc-
He was ordained by Bishop J.
S. Bailey in 1958 as an elder
In 1962, Bishop Patterson
became co-pastor with his
father at Holy Temple Church
of God in Christ in Memphis,
Bishop Patterson has been
married to his lovely wife,
Louise D. Patterson for 33
T
T
T
T
H E
H E
H E
H E
U N D I S P U T E D
U N D I S P U T E D
U N D I S P U T E D
U N D I S P U T E D
S O U R C E
S O U R C E
S O U R C E
S O U R C E
O F
O F
O F
O F
U R B A N
U R B A N
U R B A N
U R B A N
M I N I S T R I E S
M I N I S T R I E S
M I N I S T R I E S
M I N I S T R I E S
A N D
A N D
A N D
A N D
G O S P E L
G O S P E L
G O S P E L
G O S P E L
M U S I C
M U S I C
M U S I C
M U S I C
Bishop Gilbert E. Patterson
Bishop Gilbert E. Patterson
The Word is on the World Wide Web! We officially launched our web site in December and we are delighted to welcome
you, as a guest, to our site. Each week we will list our programming grid so that you can always tune in to your favorite pro-
grams. We will highlight some of the ministers and gospel artists that you have come to enjoy.

We would love to hear from you too! There is a contact page where you can send us messages that we promise to read.
There is a place to ask questions which we promise to answer. And, we have family friendly alliances where you can learn
more about our partners and the services that they provide. So tune in to the TV for your favorite programs and connect to us
The Word Network wishes to congratulate Bishop Gilbert Patterson on
being elected the presiding Bishop of the Churches of God in Christ.

In 1975, Bishop Patterson became founder and pastor of Temple of Deliverance, the cathe-
dral of the Bountiful Blessings in Memphis, TN. Today, Temple of Deliverance Church is
one of the nation's fasted growing congregations with over 12,000 on its membership roll.
The church has three facilities and is described as " One church in three locations."

Temple of Deliverance also serves as the home church base for the rapidly growing Bounti-
ful Blessings Ministries which is viewed weekly on The Word Network, as well as other ca-
ble networks. In addition, Bishop Patterson is the president and general manager of the
Memphis based radio station WBBP (1480 AM), a full time gospel station with over 100,000

Patterson is a 20th century Apostle of J esus Christ. He is
a renowned national speaker, known for his simplistic
messages that trans cend all barriers of race, gender, age
and walks of li fe for peopl e around the globe. One of his
themes, " Be healed, be delivered, and be set free" has be-
come a popular expression.

The Word Network is blessed to assist Bishop Gilbert Pat-
terson spread the Word of God.
www.gepatterson.org
T
T
T
T
H E
H E
H E
H E
U N D I S P U T E D
U N D I S P U T E D
U N D I S P U T E D
U N D I S P U T E D
S O U R C E
S O U R C E
S O U R C E
S O U R C E
O F
O F
O F
O F
U R B A N
U R B A N
U R B A N
U R B A N
M I N I S T R I E S
M I N I S T R I E S
M I N I S T R I E S
M I N I S T R I E S
A N D
A N D
A N D
A N D
G O S P E L
G O S P E L
G O S P E L
G O S P E L
M U S I C
M U S I C
M U S I C
M U S I C