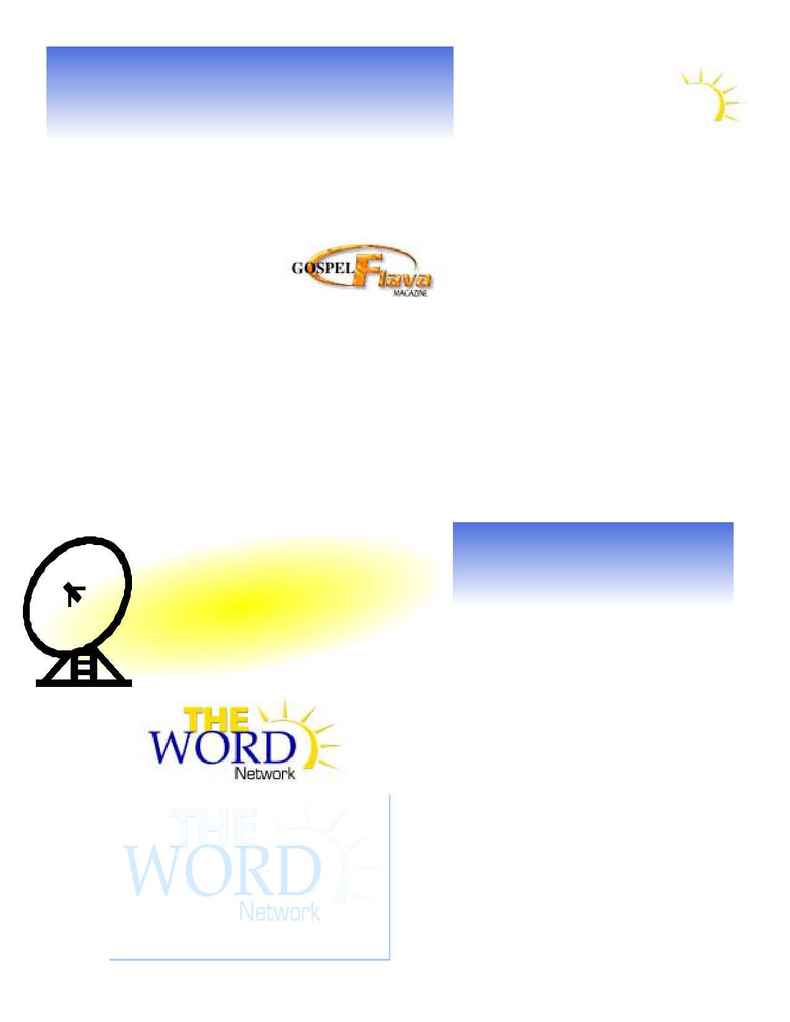 T he Word Network will soon be presenting a
new program called ALL ACC ESS with
Carvin Winans, an exclusive production of
T he Word Network!

ALL ACCESS with Carvin Winans will be a
half hour family based program that entertains,
informs, takes you inside, up-close, an d behind
the scenes, of some of the top artists, produc-
ers, writers, actors and influential personalities
of today.

Featuring personal interviews, new m usic re-
leases, up an d coming artists and specialty seg-
ments including financial tips, celebrity birth-
days, teen features and end of sho w out-takes.

ALL ACCESS with Carvin Winans will in-
troduce the audience to the current state of
family entertainment and the artists that pro-
duce it.
You can contact us at our website
www.the wordnetwork.org
(248) 357-4566
Lewis Gibbs, VP Operations
Lewisg@thewordnetwork.org
Betsy Kellman, VP Marketing/Affl. Relations
Betsyk@thewordnetwork.org
John Mattiello, Dir. Marketing/Affl. Relations
johnm@thewordnetwork.org
Take It To The Bridge--New Year's Day
Monday, January 1, 2001
Ring in the New Year with The Word Network
Don't miss the 5 hour New Year's Day LIVE event
featuring the BEST in Gospel music! Exclusively
on The Word Network

Gospel Extravaganza!
Thursday, January 25th at 8:00 p.m.
The Without Walls International Church in Tampa,
Florida will be hosting a 2 hour LIVE pre Super-
Bowl Gospel Extravaganza only on The Word Net-
work.

NRB Conference--Dallas, Texas
February 2001
The Word Network will be hosting it's First Birth-
day Celebration at the upcoming National Religious
The Word Network is proud to bring you the best in con-
temporary and traditional gospel music, including gospel
concerts. Our weekly gospel shows bring a variety of artists
sharing their gift of song: Gospel Grooves, Video Gospel ,
Classic Gospel and Testify.

TOP 10 Gospel CD's presented by
1) Mary Mary ~ Thankful
2)
The Crossmovement ~ House of Representatives
3)
Kirk Franklin & Nu Nation ~ Nu Nation Project
4)
Wow Gospel 2000 ~ Various Artists
5)
Party Mix ~ Various Artists
6)
Grits ~ Grammatical Revolution
7)
Fred Hammond & Radical For Christ ~ Pages of Life
Chapters 1 & 2
8)
Yolanda Adams ~ Mountain High Valley Low
9)
Donald Lawrence Tri-City Singers ~ Tri-City4.com
10)
Anointed ~ Anointed
Music
Music
10 Million Subs and GROWING...
0 Million Subs and GROWING...
0 Million Subs and GROWING...
0 Million Subs and GROWING...
Look for us on DirecTV (channel 373), Com-
cast Detroit (channel 71) and coming soon to
Time Warner Milwaukee and Intermountain
Cable in Herald, KY. We also provide pro-
gramming to our Armed Forces reaching
800,000 men and woman in over 165 coun-
tries.