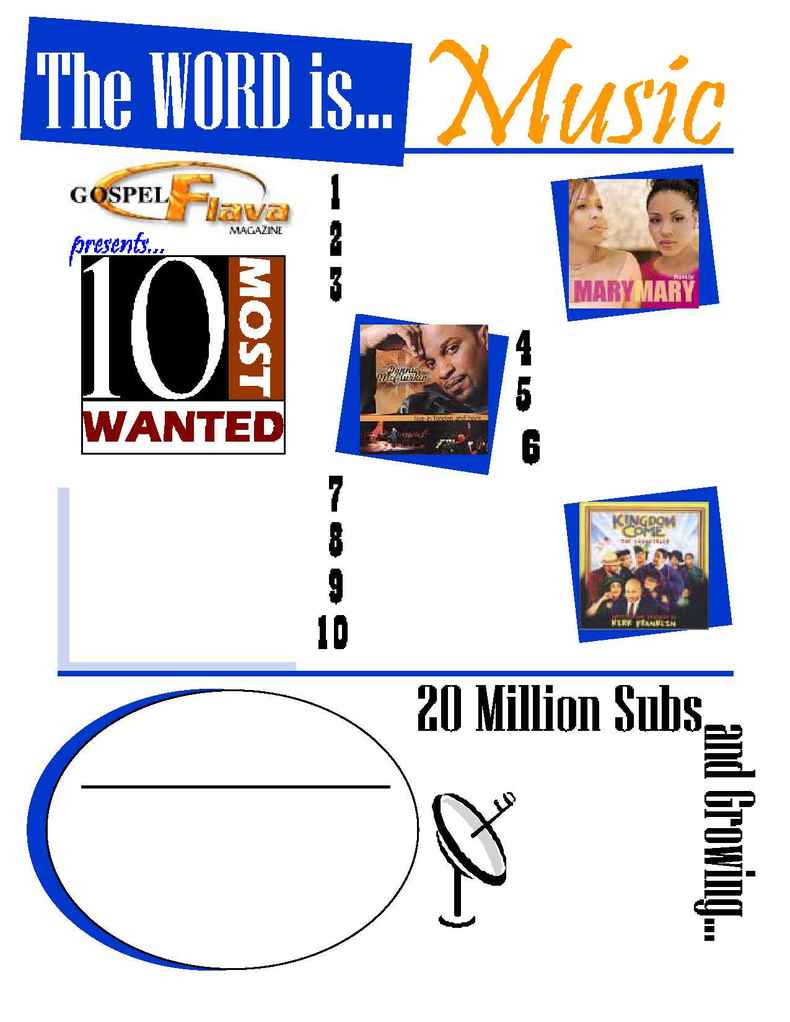 The Word Network is proud to bring
you the best in contemporary and
traditional gospel music, including
gospel concerts. Our weekly gospel
shows bring a variety of artists shar-
ing their gift of song:

Video Gospel, Gospel Grooves
Classic Gospel, Testify &
Bobby Jones Presents...
Donnie McClurkin
Yolanda Adams
Fred Hammond Presents
In Case You Missed It...And Then
Some
MaryMary
Wow Gospel 2001
The Years 30 Top Artists And
Songs
The CrossMovement
Kirk Franklin
Soundtrack
Tonex
Along with DirecT V, AT &T, T ime Warner,
Comcast, Cox, Millennium, Insight and other
cable operators across the country, we also pro-
vide programming to our
Armed Forces reaching
800,000 men and woman in
over 165 countries. We are
providing programming to
the Africa Independent Tele-
vision network serving 75
million viewers in Nigeria
and MultiChoice Africa
serving 50 countries and adjacent islands.
Bishop T D Jakes & The Potters House Mass Choir
Contact us at our website
www.thewordnetwork.org
or by phone at:
248-357-4566
Lewis Gibbs, VP Operations
lewisg@thewordnetwork.org
Betsy Kellman, VP Marketing/Affl. Relations
betsyk@thewordnetwork.org
John Mattiello, Dir. Marketing/Affl. Relations
johnm@thewordnetwork.org
Tricia St. Andre, Dir. Affl. Relations/Marketing
Tricias@thewordnetwork.org
Kymberly Peer, Affl. Relations Manager
kymberlyp@thewordnetwork.org