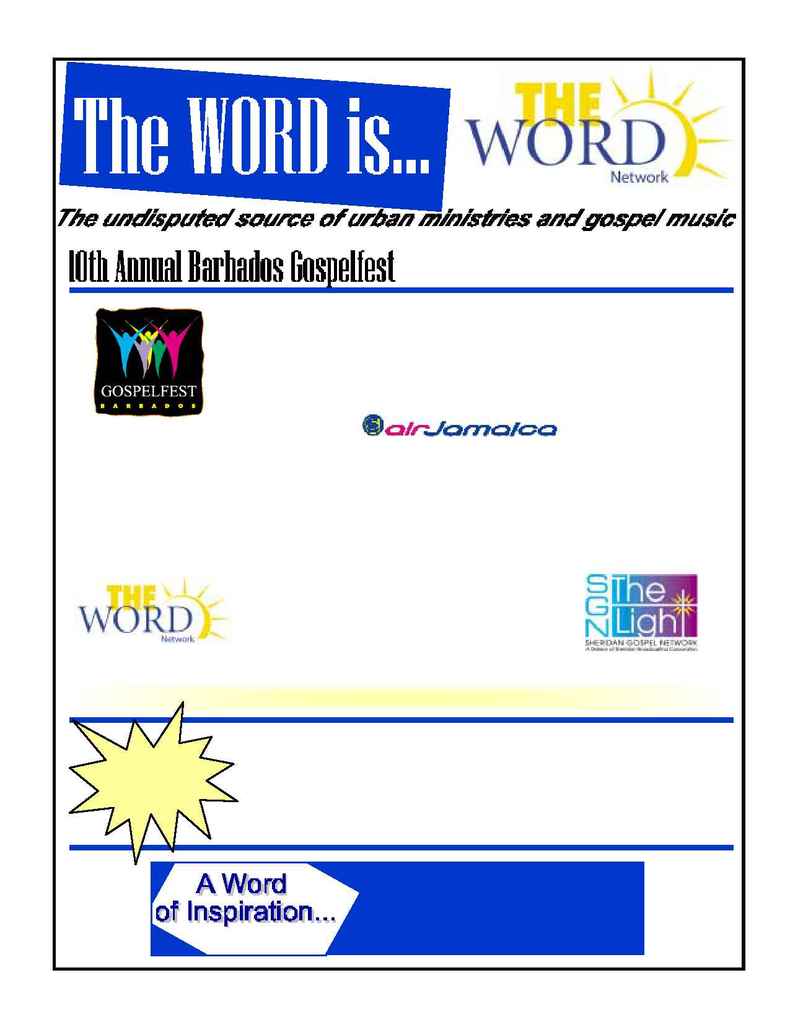 Look for a "Behind-the-Scenes" Special Event on The Word Network!
April 2002
Volume 3, Issue 4
"Love has nothing to do with what you
are expecting to get, it's what you are ex-
pected to give -- which is everything."



~ Anonymous
10th Annual Barbados Gospelfest
May 23--27, 2002
Featuring Donnie McClurkin, Ron Kenoly, Kurt Carr and the Kurt Carr
Singers, The Gospelfest Mass Choir and many more!
That's right...The Word Network, SGN "The Light" and Air Jamaica will send two lucky
people to The Barbados Gos pelfest! You and a friend will get roundtrip airfare, courtesy
of Air Jamaica, VIP seats to the Gospelfest, $1,000 spending money, plus a 4-night stay at
the gorgeous Turtle Beach Hotel & Resort!
Register to win by sending your name, address and phone number to:
The Barbados Gospelfest
c/o/ The Word Network
20733 W. Ten Mile Road
S outhfield, MI 48075
Or register online at ...
www.thewordnetwork.org
Beginning in April, The Word Network will air nContrast--a lifestyle-magazine television
show that goes nDepth with the personalities of our time, is nFocus with the issues that af-
fect our lives, sits front row nEvents that thrill us and sets nPlay the attitudes that power us.
Whether on the set or on location, nContrast offers an unparalleled glimpse into urban en-
tertainment and pop culture in a proven newsmagazine format. Entertaining and informa-
tive, this high-quality, multi-topic, news series showcases entertainers, policy-makers, opin-
ion leaders, athletes and moguls beyond the how to why.