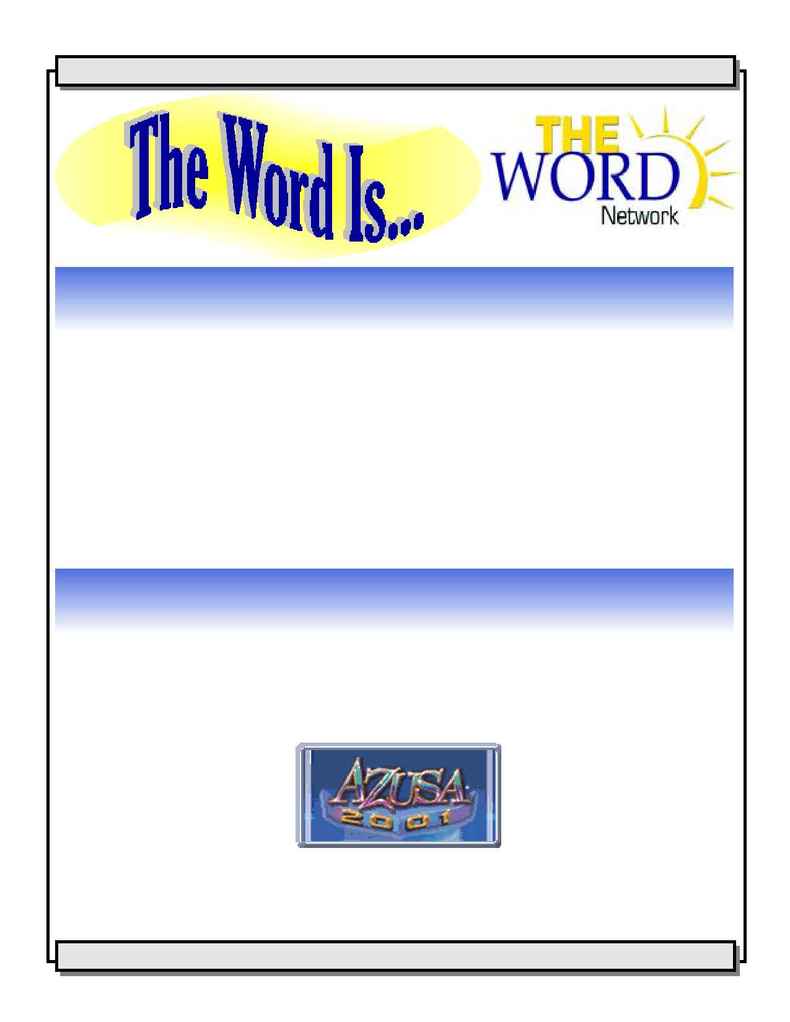 freely and openly, which was exactly what took place on
Azusa Street. In fact, the meetings drew incredible at-
tention from those in the Los Angeles area. Eventually
people from all around the United States and the world
began flocking to Azusa Street to be part of this one-of-
a-kind gathering

Watch highlights from both the evening
sessions of speakers (including Bishop
Carlton D. Pearson, Dr. Leroy Thomp-
son, Rev. Jackie McCullough) and
Special music guests (including Donnie
McClurkin, The McClurkin Project,
T erry T ripp and more)

The Word Network is proud to present special high-
lights from this years event Saturday, April 27th,
8:00 p.m. to 10:00 p.m. ET
The AZUSA Conference is a cross cultural, non-
denominational gathering of people from all around the
world. T he Conference is sponsored by Higher Dimen-
sions Ministries of T ulsa, Oklahoma, under the leader-
ship of Bishop Carlton D. Pearson. AZUSA 2001 will
mark the 14th Annual AZUSA Conference.

The founding purpose of the AZUSA
Conference was to revive the spirit of
unity experienced during the original
"Azusa Outpouring" that took place in
an old livery stable on Azusa Street in
Los Angeles, California, in 1906. Dur-
ing a time when segregation and racism
were the norm, the gathering of Azusa Street consisted
of people from all backgrounds: social, religious, ethnic
and economic. The one common link that each attendee
possessed was the desire to worship and praise God
T
T
T
T
H E
H E
H E
H E
U N D I S P U T E D
U N D I S P U T E D
U N D I S P U T E D
U N D I S P U T E D
S O U R C E
S O U R C E
S O U R C E
S O U R C E
O F
O F
O F
O F
U R B A N
U R B A N
U R B A N
U R B A N
M I N I S T R I E S
M I N I S T R I E S
M I N I S T R I E S
M I N I S T R I E S
A N D
A N D
A N D
A N D
G O S P E L
G O S P E L
G O S P E L
G O S P E L
M U S I C
M U S I C
M U S I C
M U S I C
AZUSA 2001 on The Word Network
AZUSA 2001 on The Word Network
T
T
T
T
H E
H E
H E
H E
U N D I S P U T E D
U N D I S P U T E D
U N D I S P U T E D
U N D I S P U T E D
S O U R C E
S O U R C E
S O U R C E
S O U R C E
O F
O F
O F
O F
U R B A N
U R B A N
U R B A N
U R B A N
M I N I S T R I E S
M I N I S T R I E S
M I N I S T R I E S
M I N I S T R I E S
A N D
A N D
A N D
A N D
G O S P E L
G O S P E L
G O S P E L
G O S P E L
M U S I C
M U S I C
M U S I C
M U S I C
We are delighted at the response that we are getting to our website. We are trying to keep the information fresh and new to
encourage you to participate in The Word Network.
The first week we asked if you would be interested in attending a Christian nightclub that did NOT serve alcohol, but pro-
vided great live gospel music, delicious soul food and possibly Christian comedians. You answered with a resounding
This week (4/2-4/8) we are asking you what kind of role women should play in the ministry. The answers are beginning to
come in and there is more of a divergent opinion on this topic. We will post the results the following week on the site.
We continue to be very interested in your opinions and insights. We would also like to offer you the opportunity to suggest
a question of the week. Send us an e-mail directly through the site and if we use your question we will send you a Word
Network gift. We are always interested in your ideas and suggestions.
So talk to us, we are listening!