The Word Network Urban Religious Channel 4thqtr 2002 Page 1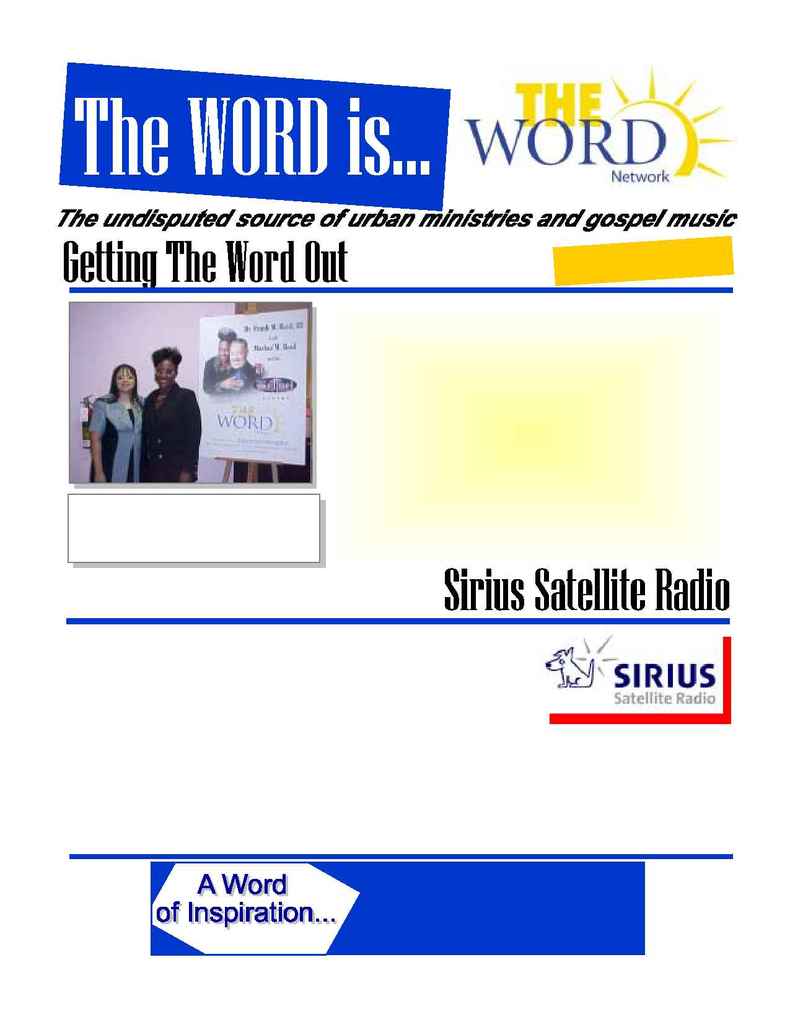 4th Quarter 2002
4th Quarter 2002
4th Quarter 2002
4th Quarter 2002
"A successful person is one who can lay a
firm foundation with the bricks that others
throw at him."
~ David Brink
The Word Network is proud to be a part of the Comcast Baltimore
City digital line-up. We launched in September and have been out
and about letting everyone know.

We joined Comcast at two events in Baltimore City. The first event
was held at the New Psalmist Baptist Church and the second event
was held at Bethel AME Church. These after-worship launch recep-
tions help parishioners know that The Word Network programming
is now available on their local cable digital line-up.

Comcast representatives were at hand taking orders, answering ques-
tions and informing parishioners about their services.

We thank Dr. Frank M. Reid and Dr. Walter Thomas for their sup-
port.
Clara Childs, Affiliate Marketing Manager and
Lady Marlaa' Reid at Bethel AME Church.
You can watch Dr. Frank M. Reid on The
Word Network every Monday at 7:00 a.m. ET
N
N
ow you can take The Word Network along for the ride
ow you can take The Word Network along for the ride
Sirius Satellite radio, the country's premier in-car audio entertainment provider
has just added The Word Network, the undisputed source for urban ministries and
gospel music, to their lineup.

The Word Network channel #158 on Sirius will feature urban ministries, gospel music and exclusive special
events. Programming will include today's leading national and regional ministries, such as Dr. Creflo Dollar, Dr.
Charles Stanley, Bishop Charles H. Ellis, Bishop Paul Morton, Rev. Jesse Jackson and Floyd Flake to name a few.
It will also include the best in contemporary and traditional gospel music with some of the most popular gospel art-
ists and gospel great Bobby Jones.