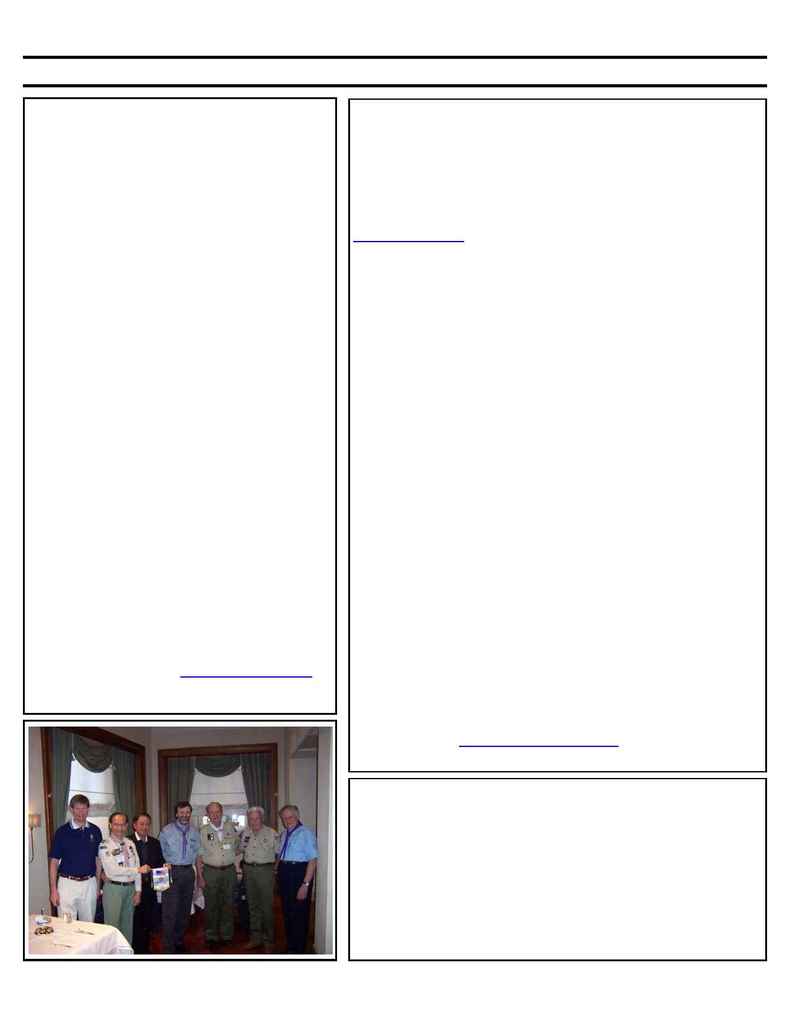 Page 7 Scouting Rotary
Vol. 13, Issue 1
It's Not Too Late to Participate
in Tsunami Scout Aid
Area still needs help - Scouts helping Scouts
You no doubt have followed the horror, which resulted from the
earthquake and tsunami in Asia and Africa. Starting from the earliest days the
World Scout Bureau has been carrying the information available to us on
. This special fund-raising appeal called Tsunami Scout
Aid, launched by the World Scout Committee and the Asia-Pacific Region
Committee, is now expected to go over US$300,000 in donations from Scouts,
Scout groups, and National Scout Organizations. We know that in several
countries the fundraising is continuing and substantial donations are yet to be
announced. (Donations have also been made for Scouts via other channels.)

Working with our Asia-Pacific Regional Office, and national Scout
organizations in several of the affected countries, we would like to communi-
cate the following points

1. Key Principles: a) We encourage all national Scout organizations
to establish a program to raise money, and to coordinate donations nation-
ally. If you want the money to be used by national Scout organizations to sup-
port Scout projects to help affected communities, please consider the options
in 2 below. If you want the money to be used for immediate disaster relief
efforts, please make donations to recognized organizations skilled in this type
of work, such as the Red Cross, or UNICEF, through their national offices in
your country.

2. The Asia-Pacific Regional Committee, and the World Scout Com-
mittee, has launched a special fund-raising appeal globally called "Tsunami
Scout Aid". Several Scout organizations have already started campaigns to
raise money under various titles and themes, such as "Scouts help Scouts",
"one dollar from every Scout", etc. These efforts are much appreciated.
a.) The World Scout Bureau Asia Pacific Regional Office in Manila
is coordinating the program. It is working closely with the Central Office in
Geneva for the worldwide promotion of this campaign, dissemination of infor-
mation, etc.

b.) Money raised for Tsunami Scout Aid will be allocated for specific
projects proposed by national Scout organizations in the countries affected.
Money will be used to help the organizations undertake their work to help in
recovery, and in particular, projects being undertaken by Scouts to help af-
fected communities. Such allocations may be for emergencies, but generally
will be for longer-term recovery projects.

Donations can be done several ways contact www.scout.org/donate.
Thanks to everyone who is helping in this time of need. Please give us your
feedback and news:
worldbureau@world.scout.org
Latest news is provided at
Volunteers Needed
To Weld the Relationship between
IFSR and Girl Guides/Girl Scouts
By Brian D. Thiessen
IFSR's aim is to "develop a strong asso-
ciation internationally between Rotarians who
are or have been active in organizations that are
members of the World Organization of Scout
Movements ("WOSM") or the World Associa-
tion of Girl Guides and Girl Scouts
("WAGGGS").

While we have been quite successful with the former,
including mutual activities and recognitions with WOSM,
WAGGGS has not yet formally `recognized' IFSR and we
need some volunteers who will take this on and actively
make it happen.
If YOU are involved in Girl Guiding or Girl Scouting,
please volunteer to spend some quality time working with
other like-minded IFSR members to establish the neces-
sary meetings and exchange of information with our
WAGGGS sisters and brothers to see how this bridge can
be built. The Committee will work under the overall lead-
ership of IFSR's International Board and Chair David A.
Judge but should be prepared to be proactive so that not
another year goes by without our two great organizations
being in full and formal `recognition'.
IFSR has developed a special Certificate to award girls
in Girl Scouts of the USA who receive their highest
award, the Gold Bar award, but it cannot be implemented
until WAGGGS and the IFSR formally `recognize' each
other and clasp the hands of Rotary and Scouting Fellow-
ship and mutual support.
Is it not YOU that can help make this happen?? If so,
contact David A. Judge at
follow up on this objective. Our thanks if you'll help in
this vital task!
IFSR Members Meet at
World Scout Foundation Event
The World Baden-Powell Fellowship met in Rome April 21-23, 2005 with the
Honorary President his Majesty King Carl XV1 Gustaf of Sweden presiding.
A breakfast IFSR meeting was help Saturday morning with the following
members present: l to r: Jan Olav Aamlid of Thailand, PDG Jones Wong of
Hong Kong, Sutham Phanthusan of Thailand, Eduardo Missoni Secretary
General W.S.B., Ted Olson of USA, Dick Burdick of USA and Jorgen Ras-
mussen of Switzerland.