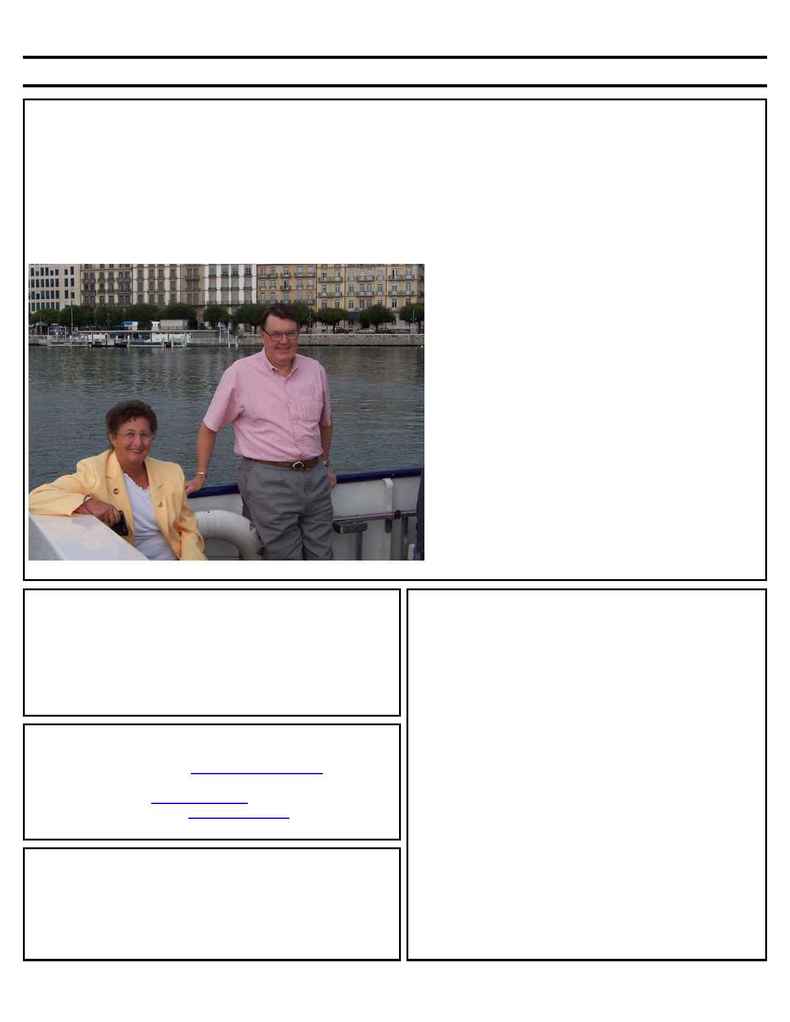 Page 2
Scouting Rotary
Vol. 13, Issue 1
IFSR Comes to Lebanon
Fahed Assaf Assistant Governor

I would like to take this opportunity to thank those persons who
made this become a reality! It all started with an idea at the Rotary
Leadership Institute when Lebanon Division Chairman, PADG
Michael Jaxxar asked me as a founding member of the RLI-LD,
and as a Scout's leader to arrange at the coming spring seminar for
all Rotary Clubs in Lebanon the opportunity to learn about Scout-
ing.
From that start, I contacted IFSR leaders and on September 7,
2004, I received the appointment from PDG David A. Judge of
D1240 the IFSR World Chairman, to start establishing the IFSR in
the region and in D2450 in specific. On October 19, 2004 District
2450 Governor Mounir Sabet gave his approval and blessing in
starting the IFSR in our area. From there it then became a reality.
We need to also thank N. L. `Bud' Allison, IFSR World Treasurer,
a great supporter of what we were attempting who provided me
with specifics on how to proceed. Our thanks to Chief Roukoz
Kassis- Chairman of the Lebanese Scouts Federation for his help
and participation in the forthcoming 2005 seminar which will be
held this Spring. We look forward to being a valued member of the
international IFSR family of Scouting Rotarians.
Check Your Mailing Label
Your Label will show your current dues status. Any delin-
quent members at year's end will have their membership
dropped for non-payment. Please stay current. We value
your participation!
Chairman's Column:
IFSR World Chairman's Parting Message
IFSR Scouting Rotarians is a Great Fellowship which is underused by many of us. Through IFSR we have the opportunity to repay Scout-
ing for much of what we initially learnt as youngsters about "Service to Others".
I shall shortly complete three years as IFSR World Chairman, a term of office Christine and I have thoroughly enjoyed together. We have
aimed to put back our efforts in appreciation of the memorable times we had in Guiding and Scouting.
One of our hobbies is traveling together around the world. As we traveled we tried to promote and encourage Scouting Rotarians wher-
ever we visited. There have been very prestigious highlights like being the only "Brits" in the Golden Royal Pavilion at the opening of the
World Scout Jamboree in Thailand by The Crown Prince of Thailand.
Also the award in The 2004 Birthday Honours list of Queen Elizabeth II, of the MBE, with the London Gazette publishing a rare triple
citation- "MBE to David A. Judge for services to Rotary Inter-
national, Scouting Worldwide and the community of Essex".
Followed by the Investiture by Prince Charles, wearing the uni-
form of an Admiral of the Fleet. I wore my Sea Scout Uniform.

On a more personal, but highly satisfying level we
"discovered" a Scout Troop of just 10 Scouts run by a 14 year
old at Joe Homan's Boys Town in Southern India and were able
to personally support them. This small Troop encouraged the
many thousands of pilgrims on a pilgrimage who passed The
Boys Town to hand over their plastic bags for recycling in ex-
change for a strong biodegradable paper bag. The Scouts raised
funds and sponsorship to distribute 10,000 paper bags and col-
lected more plastic bags for recycling and not polluting the
countryside.
Additional to these events has been so very many more
where we have been so lucky to meet and be hosted by wonder-
ful Scouting Rotarians around the world. Please, all IFSR mem-
bers "Be Prepared to put Service Above Self" and get active
in this wonderful International Fellowship of Scouting Rotari-
ans.
David and Christine Judge
Our World Officers
World Chair: David A. Judge
Vice Chair: Marcus Crotts, mcrotts@crottsandsaunders.com
Vice Chair: Ted Olson
Treasurer: N. L.(Bud) Allison
Secretary: Marshall Hollis mehollis2@bellsouth.net
Plan Now for the 2007 World Jamboree
Each member needs to NOW get their District or District Governor
to begin planning and promoting and support funding of the Centen-
nial Scout Project for the World Jamboree in 2007. This project can
have a big impact on the Rotary-Scouting relationships. For further
information, contact the IFSR Chairman, David A. Judge at
david.a.judge@virgin.net.