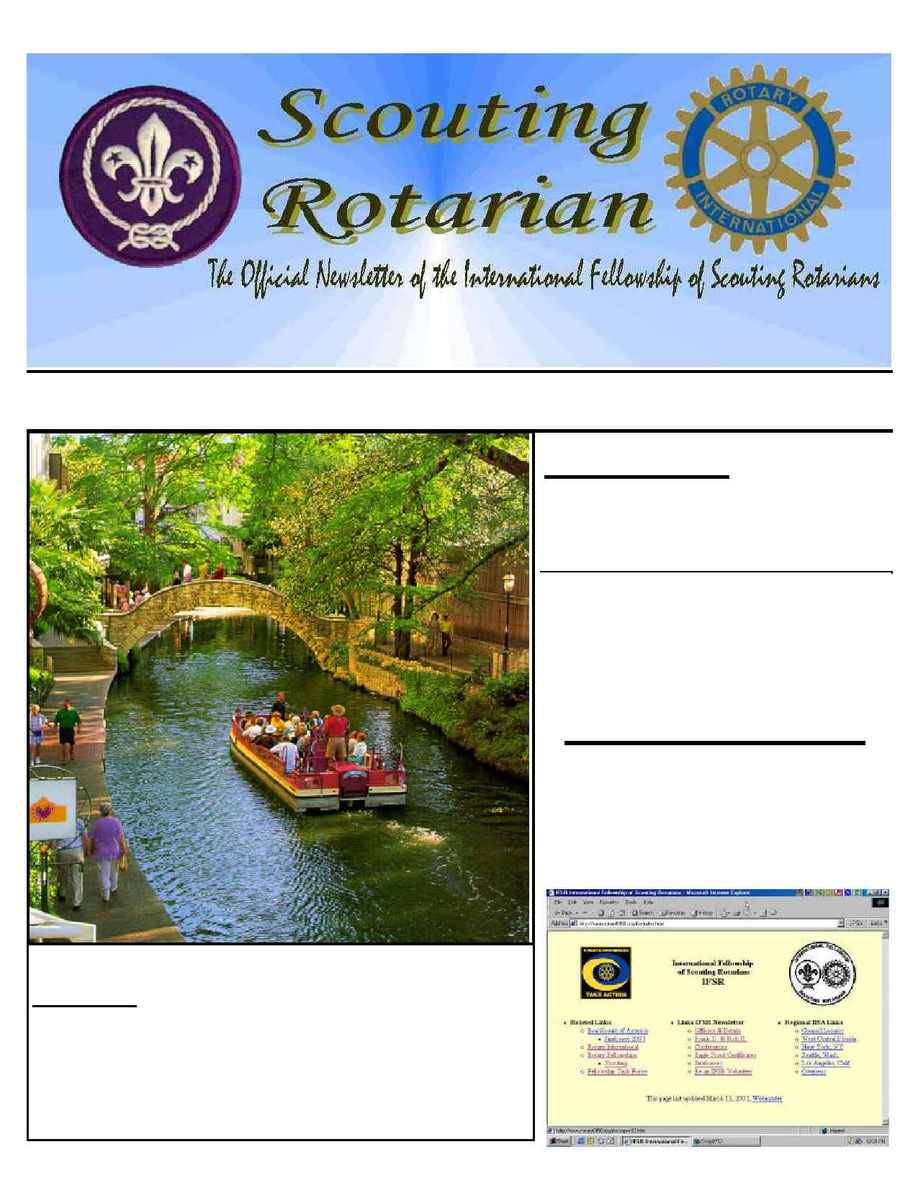 Editor: Del Raby Rotary Year 2000-2001 Page 1
Publisher: Jack Mayo Pre-San Antonio Edition Vol. 8, Issue 2
PHOTO: San Antonio's river walk captures the attention of most visitors. Restaurants and gift shops line the banks of the river
as a small sight-seeing boat circles the historic downtown area. Events on both Saturday and Monday evenings will bring most
Rotarians to this popular part of the city and many of the convention hotels are on the river.
Harold Friend "IFSR Annual General Meeting 3
pm
Monday June 25"
International IFSR Chair Harold Friend requests that all Scouting Rotarians
attending the R.I. San Antonio Convention be present at the fellowship's Annual
General Meeting 3 pm Monday June 25. The location will be posted in the IFSR
booth in the House of Friendship.
Please inform your Region Chair, Section Chair, or send an email to Chairman
Harold indicating your willingness to help staff our booth. It's a really great way
to meet Rotarians involved in scouting.
In this issue:
Rick King: "The boys in my club's troop..."
Harold Friend: AGM 3 pm Mon June 25
Bud Allison: Russian Rotary Scouting
Jack Mayo: "Scouting Liaison" committees
Read this newsletter in full
color on the world wide web
www.rotary6950.org/ifsr
This fellowship's Editor, Publisher & Webmaster seek your
consent, during the June 25 Annual General Meeting, to regard
posting Scouting Rotarian on the web's IFSR news page as
fulfilling the term "published" as used in this fellowship's
Constitution. Newsletter printing and postage consume most
of this fellowship's dues. Eliminating that expense (while put-
ting information where it can be accessed sooner) will permit
the fellowship to enhance its awards program without a dues
increase. If you can not access the www, please notify us.