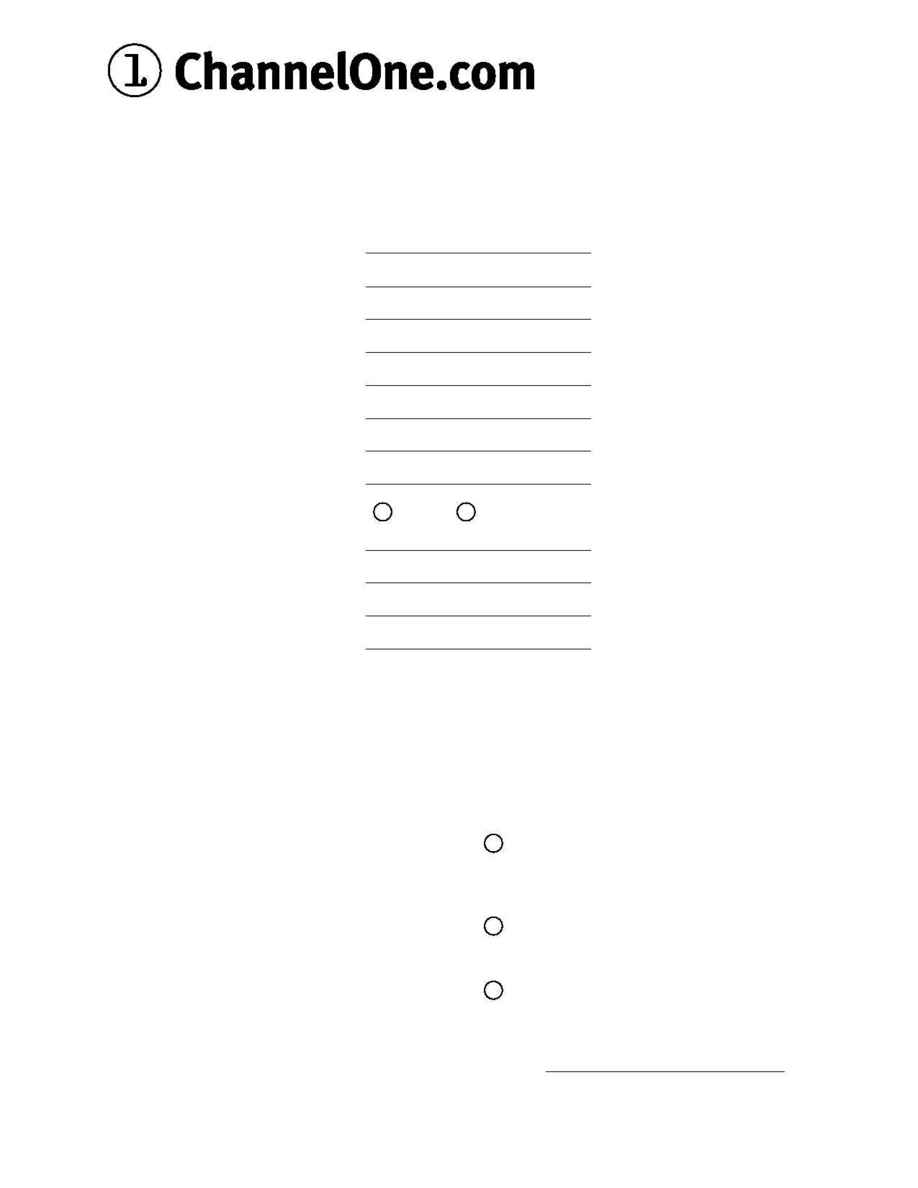 do not use your real name
must be 6-10 characters long
Please print and fill out this form. Why? A federal law called COPPA prohibits the on-line collection of personally
identifying information from people under age 13. Next mail it to:
Community Coordinator, ChannelOne.com, 5300
Melrose, #400 E, Los Angeles, CA 90038
.
Within two weeks we will get your membership set up. You will receive an e-
mail from ChannelOne.com when your account is active.
SPECIAL INSTRUCTIONS
FOR USERS UNDER AGE 13
What's your mom's maiden name?
What's your school mascot?
What street do you live on?
I agree I will not post: full names, addresses,
e-mail addresses, Instant Messenger handles,
phone numbers or other clearly identifying
information - my own or anyone else's.
I agree I will not post: threatening,
discriminatory, violent or sexually explicit
messages.
I will not post solicitations.
ChannelOne.com is a place for members to gather and share their opinions and ideas. That's why we ask all members to agree to the following terms:
I agree to treat other members with respect. I am aware that attacking another ChannelOne.com member is not allowed and that all comments of this nature will be removed,
as will the people who say them.
I agree to the legal notice(s) below:
1. You use ChannelOne.com at your own risk. ChannelOne.com disclaims all
warranties of any kind, whether expressly or implicitly. ChannelOne.com makes no
warranties that it will meet your requirements or that the service will be
uninterrupted, timely, secure or error-free. We cannot guarantee the accountability
or reliability of any information obtained through ChannelOne.com.
2. Text, images and sounds transmitted on or through ChannelOne.com may be
subject to proprietary rights (such as patents, trademarks or copyrights); in that
case, you may need express authorization from the holder of those rights to
distribute that Content on ChannelOne.com. By submitting or emailing Content to
any part of ChannelOne.com or to the ChannelOne.com staff, you automatically
grant -- or warrant that the owner of such Content has expressly granted --
ChannelOne.com a royalty-free, perpetual, irrevocable, worldwide, non-exclusive
right and license to use, reproduce, modify, adapt, publish, translate, create
derivative works from, distribute, perform, transmit and display such Content (in
whole or part) and/or to incorporate it in other works in any form, media or
technology now known or later developed for the full term of any Rights that may
exist in such Content.
3. To the full extent permissible under the applicable law, ChannelOne.com shall not
be liable for any direct, indirect, incidental, special or consequential damages
resulting from the use or inability to use ChannelOne.com. You understand and
agree that any content downloaded or otherwise obtained through the use of
ChannelOne.com is done at your own discretion and risk and that you will be solely
responsible for any damages to your computer system or loss of data that results in
the download of such data content.
4. We reserve the right to modify, change, add or remove portions of this agreement
at any time. Please come back and check the Terms anf Conditions page for
changes. Your continued use of ChannelOne.com will mean you accept any and all
changes made to this agreement.