Cini-Little Design Mass. General Hospital Page 1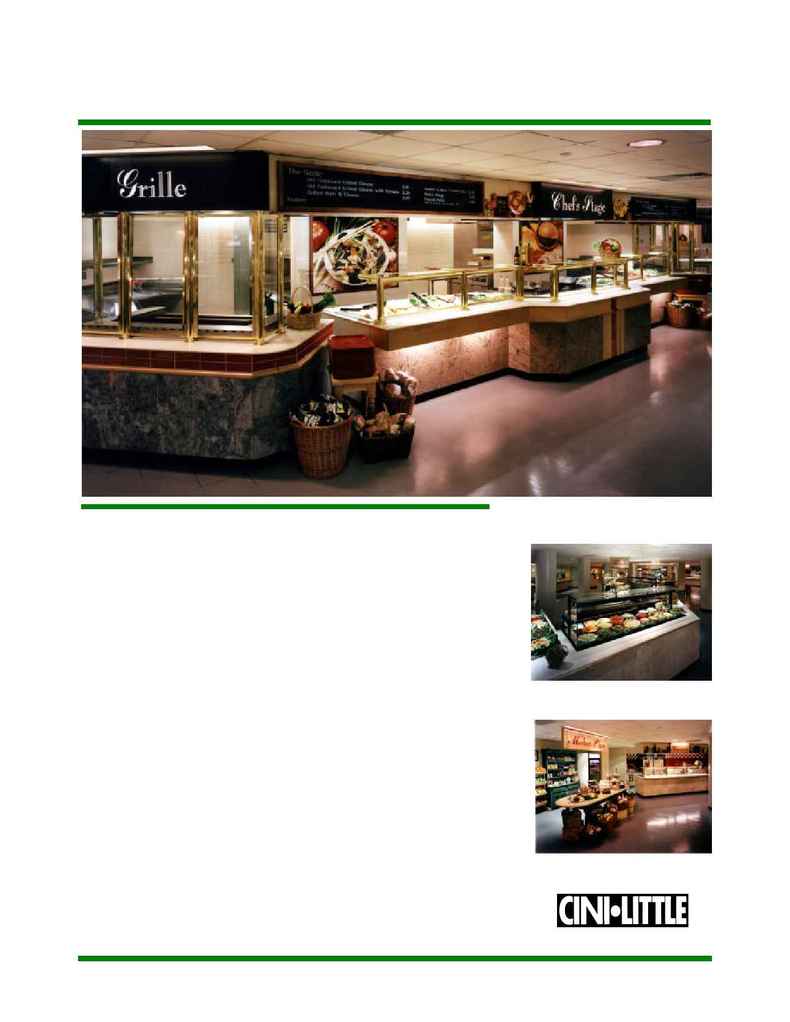 Massachusetts General Hospital
Massachusetts General Hospital, founded in 1811, today is one of the country's
largest private teaching hospitals. This facility has 10,000 employees, and 17,000
visitors and outpatients walk through its doors daily. This marketplace-style
foodservice facility, located in the basements of the new Ellison Building and
adjacent White Building, is truly a world-class eatery. However it was not always
such an appealing dining location.
In 1982, when Helen Doherty joined the staff as Director of the Dietetic Department,
the foodservice facility was 38 years old with original equipment. The facility
included three separate kitchens with no space for expanding. While introducing
innovative food management tools to help cope with the outdated facility, Doherty's
dream was to create a new, revamped foodservice establishment. Her opportunity
came as a new building was scheduled to be built adjoining the existing White
Building kitchen at the basement level.
Cini·Little International, Inc. was called in to insure that Doherty's dream became a
reality. Senior Vice President Ron Kooser noted early in the project that speed of
service was a key factor, since large numbers of people had to be able to move
through the facility quickly. This is a major issue in healthcare, where re-engineering
has meant fewer staff and shorter lunches, and where take-out is an important option.
Babcock & Schmid Associates, Inc. helped design the concept and created renderings
of the proposed friendlier, less institutional facility.
The "Chef's Stage" is the focal point of the completed servery. It boasts exhibition
style cooking with three chefs preparing meals before the hungry patrons. The
facility also features a fresh salad bar, Pizza and Pasta station, and Market Place deli
station. The new facility collectively called Eat Street Café serves 13,000 customers
daily and is expected to ring up more than $9.5 million in revenue this year. In its
former state, revenues were about $2 million annually.
Cini·Little developed a customer responsive, labor-cost sensitive foodservice
program and designed the temporary and replacement foodservice facilities.