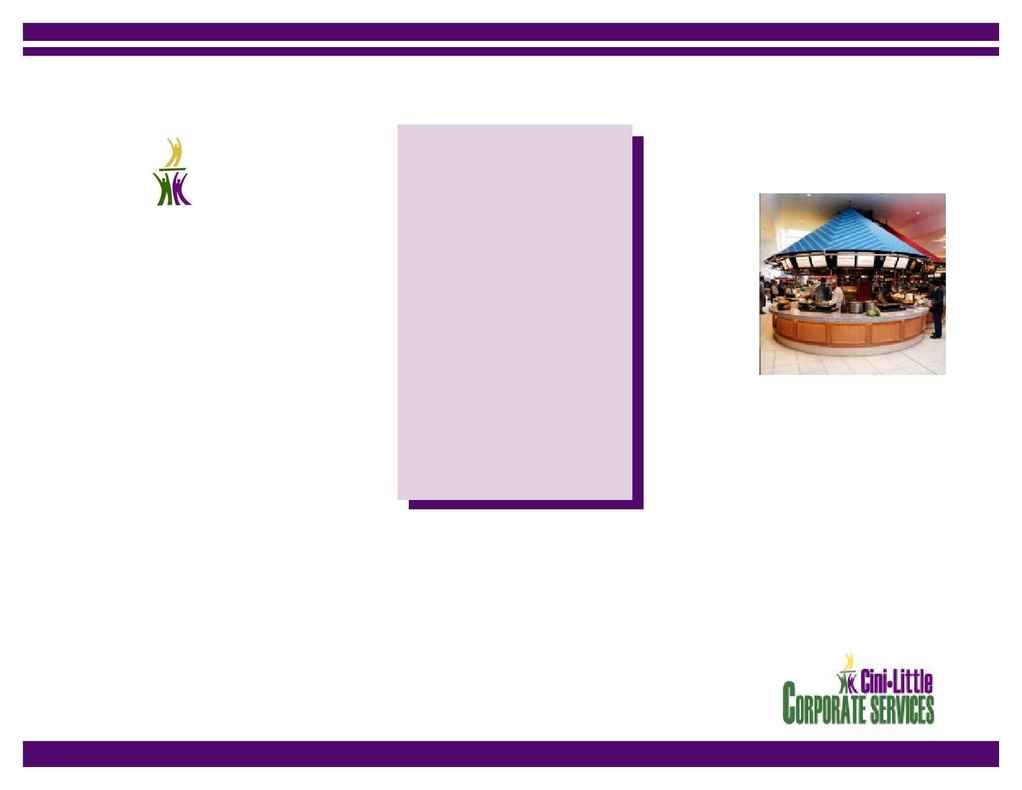 OPERATIONAL CONSULTING
and
FACILITY PLANNING
Representative Projects
"I feel we would have been lost without your
impressive knowledge and expertise. You
made a complicated process much easier for
us to manage and we appreciate that."
James J. Gemino
Director of Office Services
Debevoise & Plimpton
"Cini·Little has once again proven that their
services are best in class."
Matt Mundok
Assistant Vice President
Dining & Hospitality Services
MBNA America
"You and your team provided excellence to
Owens Corning from the inception to design
and build of the kitchen and servery in our
Nancy Puccetti
Manager - Conference & Food Services
Owens Corning World Headquarters
20250 Century Boulevard, Ste. 100
Germantown, MD 20874-1114 USA
3Com
Alza Corporation
Amazon.com
American Express
Credit Suisse/First Boston
Debevoise & Plimpton
Discover Financial Services
Electronics for Imaging
Hewlett-Packard
Honda of America
International Monetary Fund
Lehman Brothers
MBNA America
New York Life Insurance
Oracle Corporation
Owens Corning
Pioneer Hi-Bred
Principal Financial Group
QVC
Sherman & Sterling
The World Bank
Toys R Us
UnitedHeath Group
US Patent & Trademark Office
Satisfy customers
Attract employees
Generate more revenue
Make the most of limited space
Create a "Sense of Place"
Increase or Retain Participation in Foodservice
Improve Materials Cycle Flow and Control
Costs
Cini·Little Corporate Services
www.cinilittle.com