Total Sports Asia TV MAIN CATALOGUE (05092005) Page 7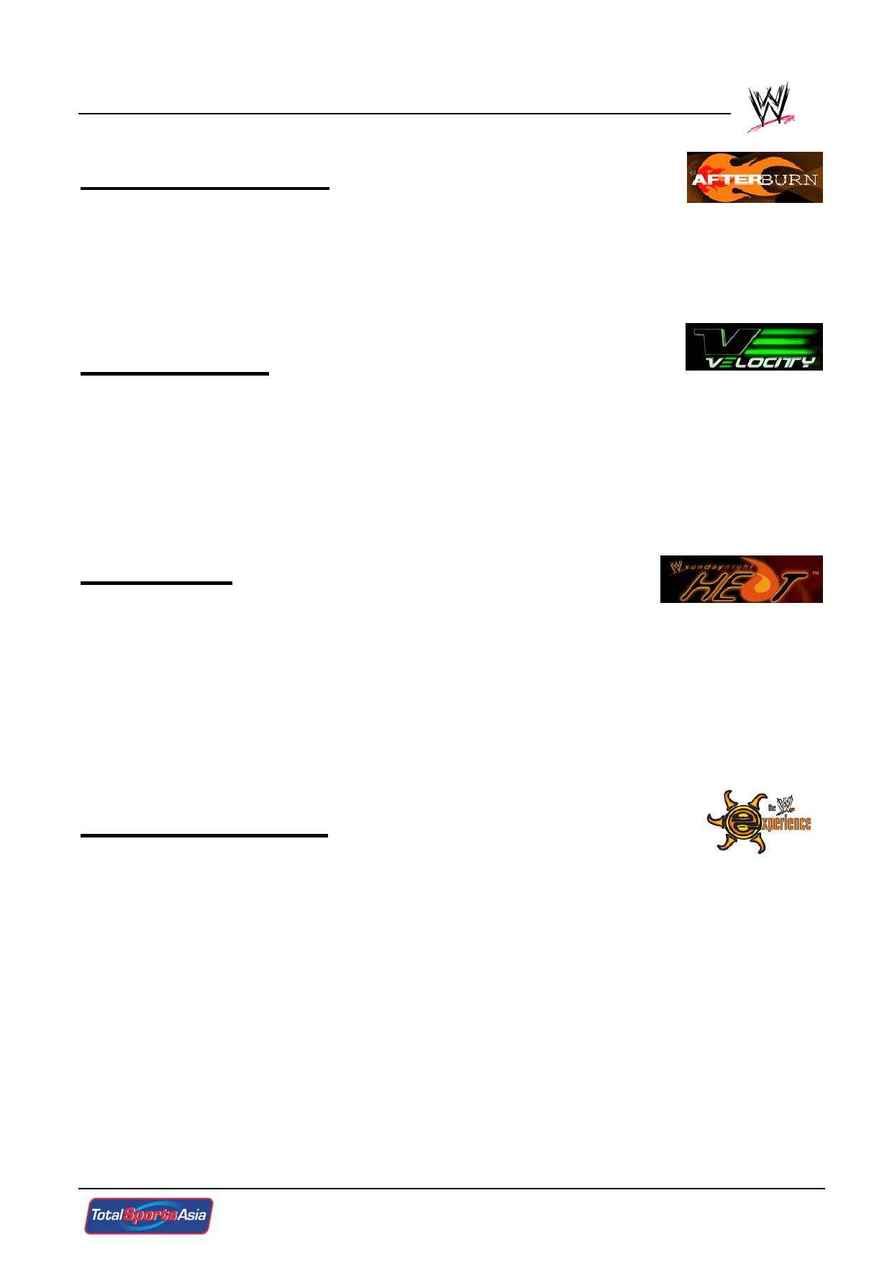 W
W
W
W
E
E
TM
WWE AFTER BURNTM
52 x 1 hr
Provides a break down of the week that was in WWE SmackDown! TM.
Offers highlight matches and interviews from WWE SmackDown!TM as well as behind the scenes
with WWE SmackDown!TM Superstars
WWE VELOCITYTM
52 x 1 hr
A one-hour live event show featuring WWE SmackDown! TM Superstars
Features original matches and highlights from the likes of Big Show, Eddie Guerrero,
Undertaker, Chris Benoit and many others
Hosted by Al Snow and Marc Lloyd
WWE HEAT®
52 x 1 hr
Live event show featuring the hottest mat action from WWE Raw® superstars like Undertaker,
Rob Van Dam, Kane, Ric Flair and many more.
Hosted by Raven and The Coach
Once a month WWE Heat® broadcasts "live" from the site of WWETM Pay Per View Spectaculars
where RavenTM and The CoachTM bring you last minute details and behind the scenes information
from backstage.
WWE EXPERIENCETM
52 x 1 hr
The WWE Experience is the first step in a multi-faceted campaign, by the WWE, directed at
attracting younger viewers to the WWE brand.
The one-hour TV-PG program, hosted by Todd Grisham and WWE Diva, IvoryTM, features weekly
edited wrap-ups of the action and storylines from both of WWE's flagship programs, RAW® and
WWE SmackDown!TM. The program also takes a behind-the-scenes look at the activities of the
WWE Superstars, giving kids an idea what happens on and off stage.
The WWE Experience will appeal to wrestling fans of all age as it is the only place you can see
the entire line-up of WWE Superstars on one program.
It is the key point-of-entry for a new generation of wrestling fans, and will serve as the foundation
for several initiatives that will appeal specifically to WWE's younger viewers.