Total Sports Asia TV MAIN CATALOGUE (05092005) Page 6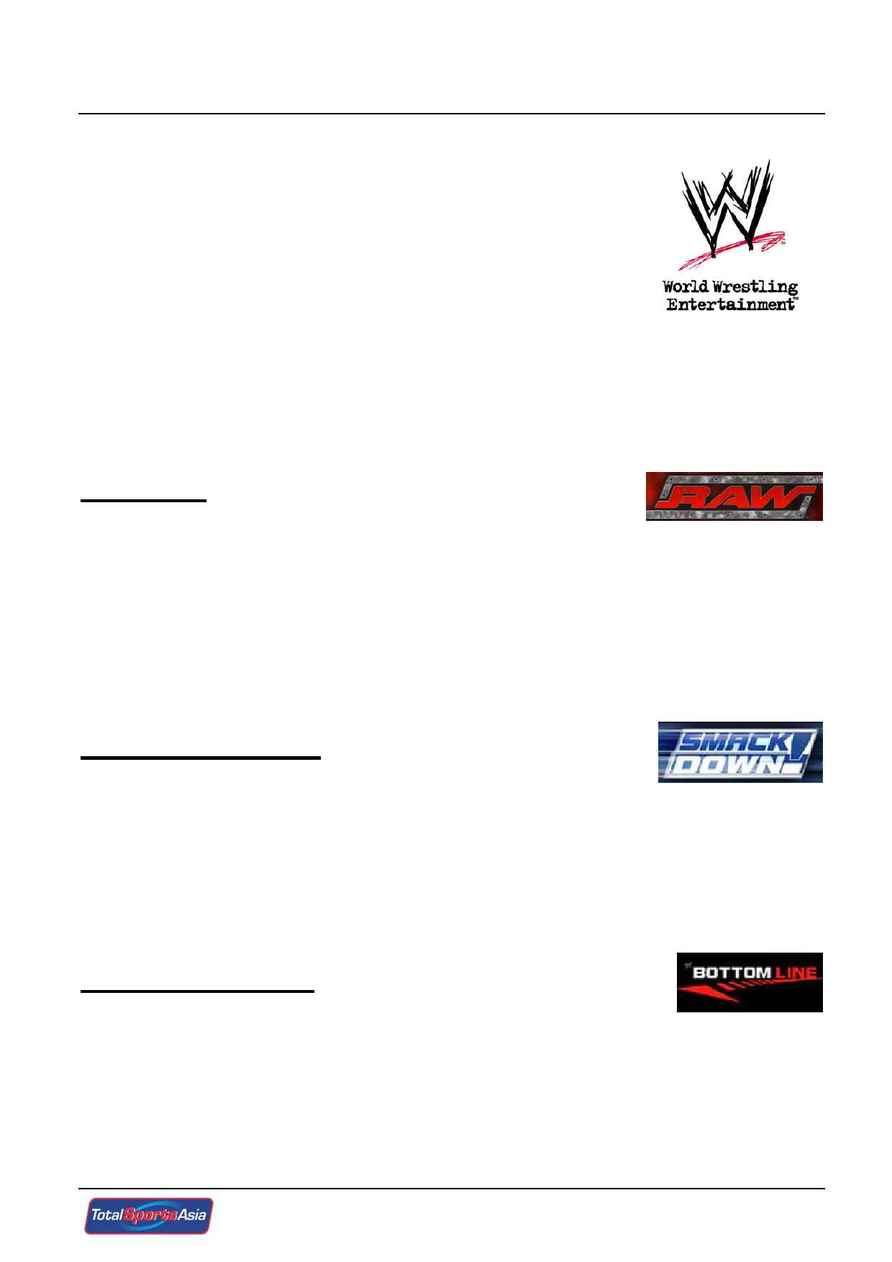 W
W
O
O
R
R
L
L
D
D
W
W
R
R
E
E
S
S
T
T
L
L
I
I
N
N
G
G
E
E
N
N
T
T
E
E
R
R
T
T
A
A
I
I
N
N
M
M
E
E
N
N
T
T
TM (
W
W
W
W
E
E
)
)


There's no denying that WWE programming has taken the world by storm.
It is seen in more than 150 countries in over 10 languages. In 1999, WWE
programming generated over 1.6 billion domestic TV impressions!
Wrestlemania 2001 made TV history by becoming the biggest selling non-
boxing Pay-Per-View event of all time!

Now that the World Wrestling Entertainment has taken over the WCW,
viewers will be treated to more drama and more action as top tier WCW
Superstars are incorporated into WWE's weekly programs and specials.


WWETM produces 6 weekly programs catered to the different groups of WWETM fans. This includes
youth targeted shows, prime time and late night shows. Listed below are the weekly programs
according to chronological order of broadcast:



WWE RAW®
52 x 2 hrs (1 hr version also available)
Prime time 2-hr program, top-rated program on US cable TV, each week offers fresh, hardcore
drama and unprecedented action where anything can happen.
Flagship program of WWETM.
Led by Eric Bischoff and featuring Shawn Michaels, Kane, Chris Jericho, Ric Flair, Randy Orton,
Chris Benoit, Stacy Keibler, Trish Stratus and many more (please see page 6 for FULL list)
WWE SMACKDOWN! TM
52 x 2 hrs (1hr version also available)
Prime time show, No. 1 sports program in the US (Males 12-34).
Also a flagship program of WWETM featuring full match action.
Superstars include Big Show, Booker T, Eddie Guerrero, Rey Mysterio, John Cena, Torrie Wilson
and many more (please see page 7 for FULL list)
WWE BOTTOM LINETM
52 x 1 hr
This magazine style show analyzes what went down on WWE Raw® and WWE Sunday Night
Heat® as well as showcases WWE Raw® Superstars like you've never seen them before.