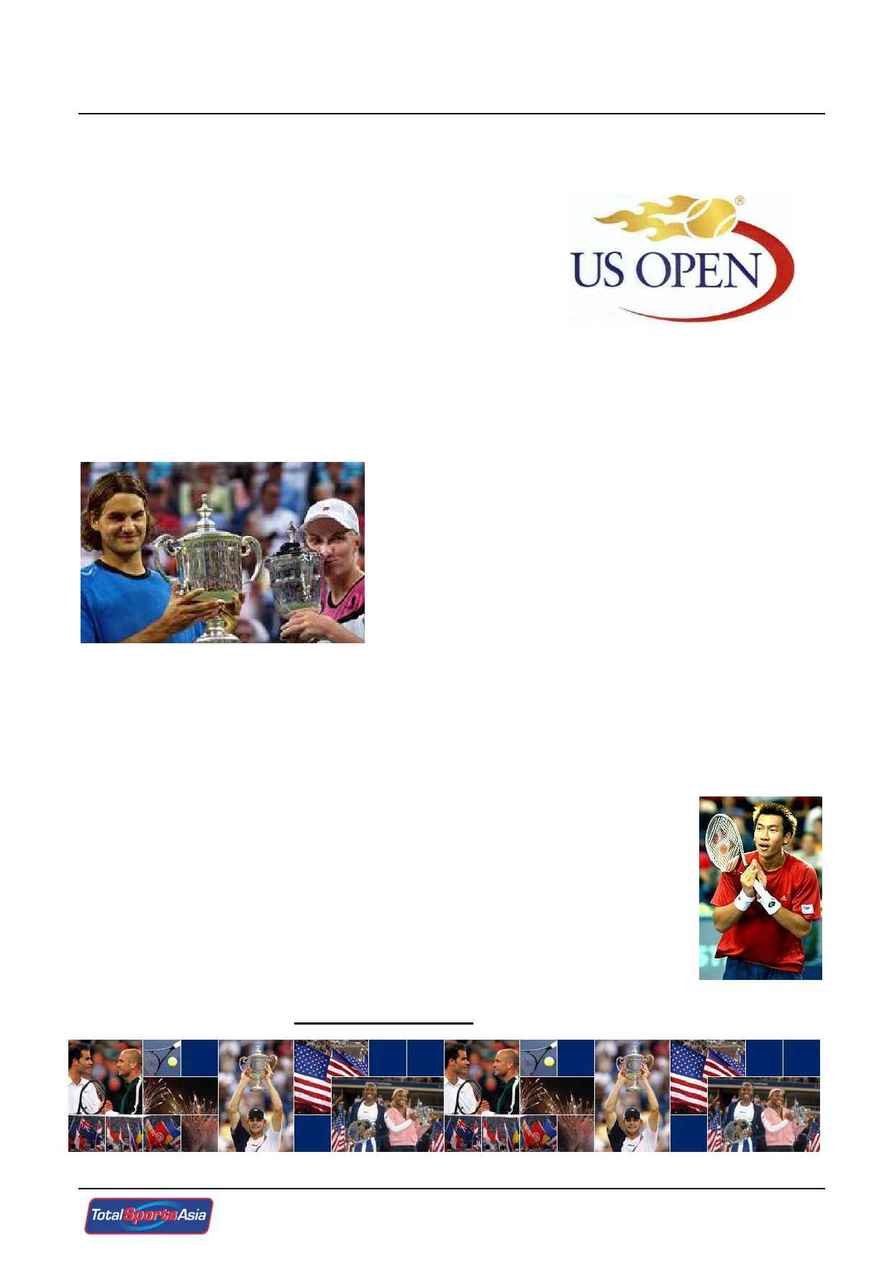 U
U
S
S
O
O
P
P
E
E
N
N
T
T
E
E
N
N
N
N
I
I
S
S
C
C
H
H
A
A
M
M
P
P
I
I
O
O
N
N
S
S
H
H
I
I
P
P
S
S
2
2
0
0
0
0
5
5


Event Date
: 29

Rights Availability : All TV, broadband & mobile, available
across Asia (excluding in Japan)

Programme
: Daily World Feed LIVE
100hrs of Classic matches, home videos
Delivery Method
: Via satellite or tape delayed

Screener/Promo
: Available on DVD, VHS

Sponsors
:
Citizen, IBM, JPMorganChase, MassMutual, Olympus, American Express,
Continental Airlines, Heineken, Canon, Evian, Fila, George Foreman, Wilson
For two weeks in late summer each year, the US Open Is
the focus of the sports and entertainment universe. It's part
sport and part spectacle ­ and all about the toughest tennis
in the world. International athletes perform before worldwide
fans on the game's biggest stage. This year, the US Open
Tennis Championships commences on 29
September 2005 in Flushing Meadows, New York. It is
one of the four major grand slams in tennis and one of the
richest tennis competitions in the world with a record-setting
US$2 million in prize money.

Over 625,000 fans on-site, 90 million television viewers and 15 million website visitors enjoy the thrill
and excitement of the US Open each year. The one-of-a-kind experience, the magnificent grounds at
the USTA National Tennis Centre and breakthrough innovations keep fans coming back for more. At
the US Open, sport, celebrity and entertainment all come together in one of the world's greatest cities
­ New York. It's an entertaining and electrifying showcase for the sport, a true celebration of tennis
and a grand party for those who revel in it.

The resurgence of the game in Asia and general public interest has been
heightened through players such as Paradorn Srichaphan (Thailand), Hyung-Taik
Lee (Korea), Sania Mizra (India), Shuai Peng and Li Na (China). Asian tennis
players are becoming a force to be reckoned with and it is poised only to improve
with newer players making their way through the ranks.

Current US Open Tennis champions are Roger Federer (Men's Singles), Svetlana
Kuznetsova (Women's Singles), Mark Knowles and Daniel Nestor (Men's
Doubles), Virginia Ruano Pascual and Paola Suarez, Bob Bryan and Vera
Zvonereva (Mixed Doubles).

For more information, visit http://www.usopen.org