Total Sports Asia TV MAIN CATALOGUE (05092005) Page 24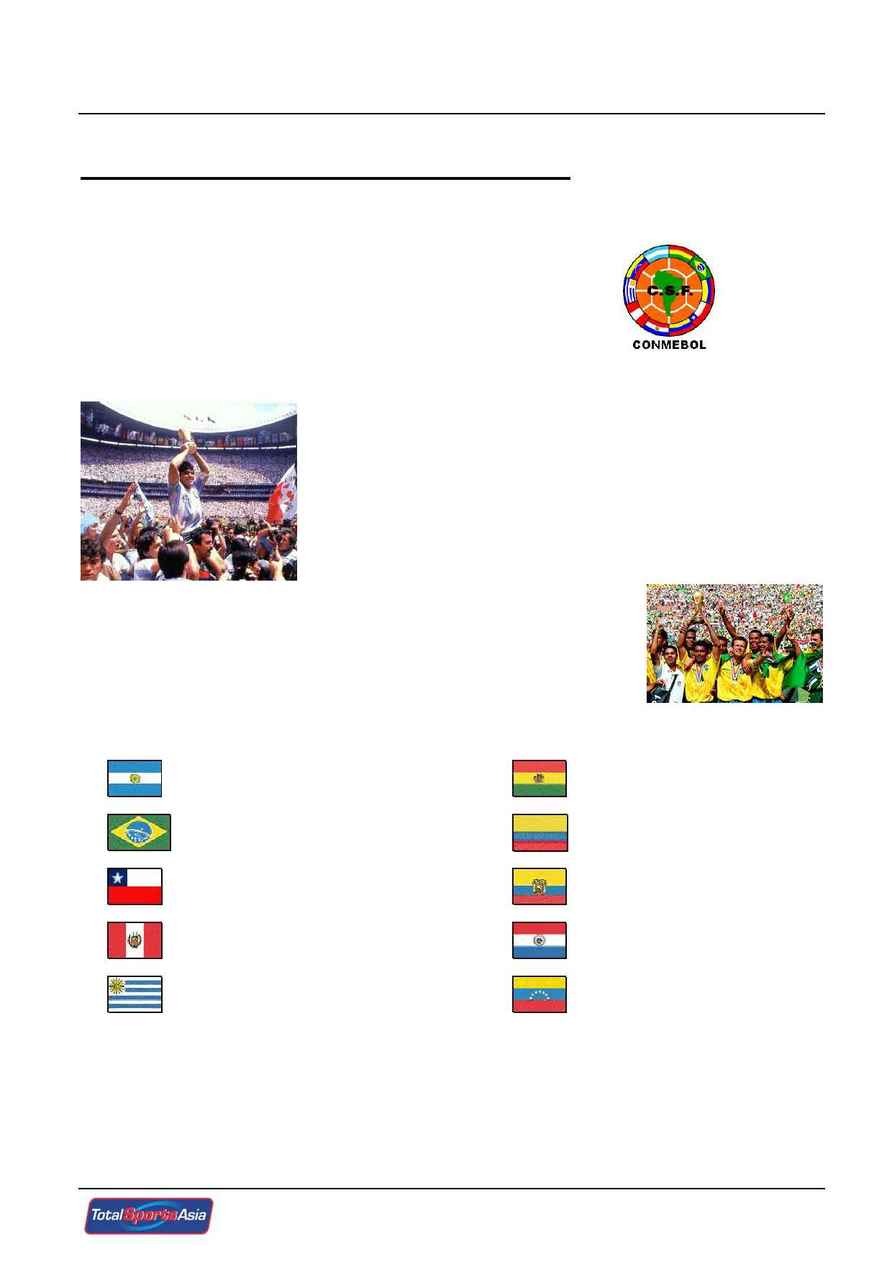 S
S
O
O
U
U
T
T
H
H
A
A
M
M
E
E
R
R
I
I
C
C
A
A
N
N
S
S
O
O
C
C
C
C
E
E
R
R
GERMANY 2006 WORLD CUP QUALIFIERS


Event Date
: On-going

Rights Availability : All platforms, available across Asia

Programme
: Matches available LIVE or Delayed LIVE
Delivery Method
: Via satellite or tape delayed
The World Cup Qualifying competition is the only means for national
teams to qualify for the FIFA World CupTM. It is thus the most
important competition in FIFA's calendar leading up to the World Cup
Competition itself.

No other sporting event captures the world's imagination like the FIFA
World CupTM. Ever since the first tentative competition in Uruguay in
1930, the competition has constantly grown in popularity and prestige.
Since 1930, the tournament has seen only seven different winners,
three of whom are grown on South American soil.

There are ten national teams in South America, all of whom have qualified
for the World Cup Finals at least once. Brazil holds the honour of being the
winningest team in the World Cup with four Cup Wins throughout their
history. The ten national teams that are the pride and joy of South
American soccer are (previous World Cup Championship wins in brackets):



ARGENTINA (1978, 1986)
BOLIVIA
BRAZIL (1958, 1962, 1970, 1994, 2002)
COLOMBIA
CHILE
ECUADOR
PERU
PARAGUAY
URUGUAY (1930, 1950)
VENEZUELA