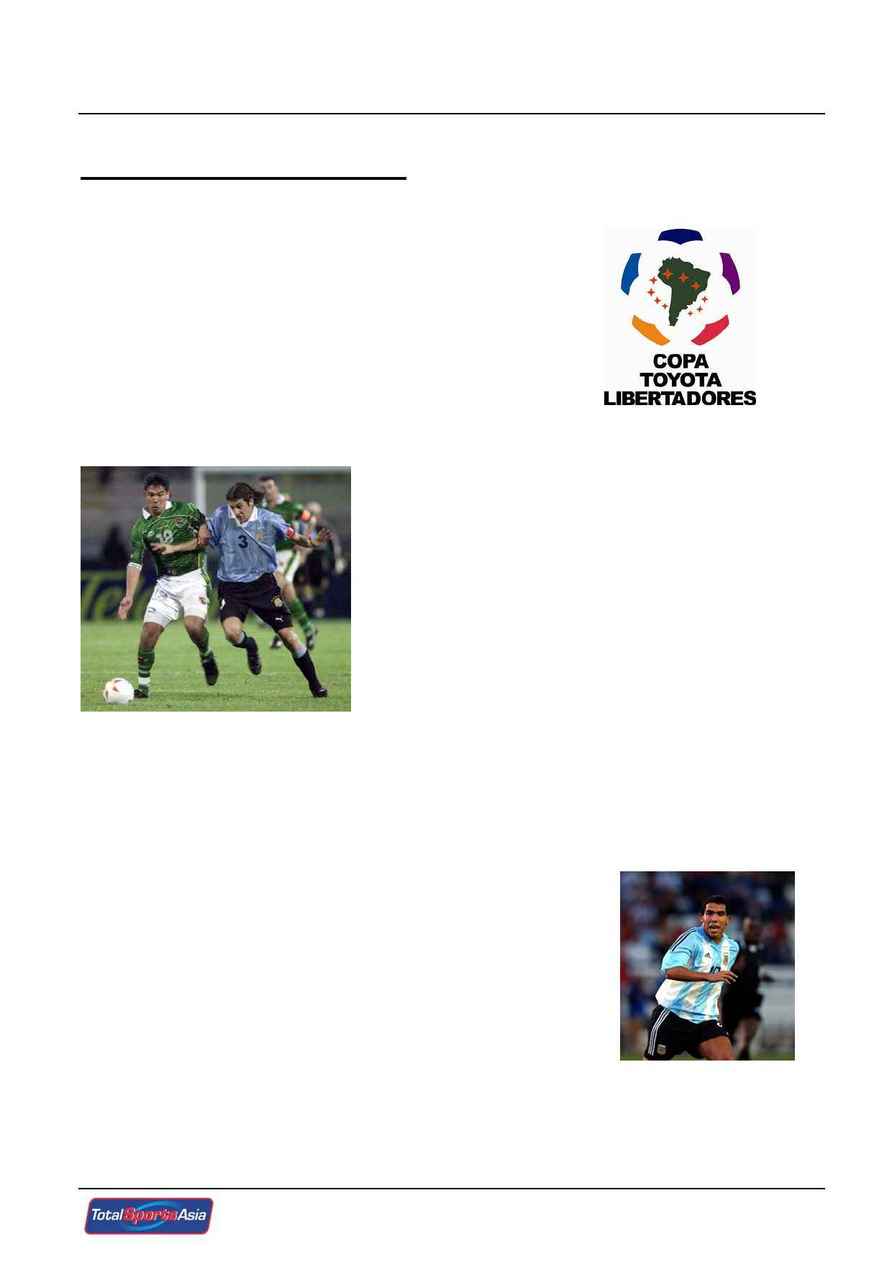 S
S
O
O
U
U
T
T
H
H
A
A
M
M
E
E
R
R
I
I
C
C
A
A
N
N
S
S
O
O
C
C
C
C
E
E
R
R
COPA LIBERTADORES 2005


Event Date
: 2

Rights Availability : All platforms, available across Asia

Programme
: Matches available LIVE or Delayed LIVE
Weekly Highlights also available
Delivery Method
: Via satellite or tape delayed

Screener/Promo
: Available on DVD, VHS
The Copa Libertadores is sometimes also known as the South
American Champions Cup. It is the most important club
championship in South America and its status is equal to that
of the Champions' League in Europe.

The competition gathers the best clubs of each South
American country ­ Argentina, Brazil, Uruguay, Chile, Bolivia,
Colombia, Peru, Ecuador, Paraguay, Venezuela with the
inclusion of Mexico, it truly is the best of the best.
Participanting teams are selected based on successes in their
domestic leagues, making this tournament the most
competitive on the continent.

Played for the first time in 1960, Copa Libertadores has had the privilege of seeing the most stars
from every football generation since the sixties. Pelé was the leading scorer in 1965 with 8 goals,
playing for Santos. Sixteen years later, Zico, playing for Flamengo, was the high scorer with 11 goals.
In the Copa Libertadores 2003/04, it was São Paulo's Luís Fabiano Clemente
making him the top-scorer for the tournament.

Stars from South American countries have marked their name in the
Copa Libertadores including the likes of Teófilo Cubillas, Enzo
Francescoli, Faustino Asparilla, Carlos Valderrama, Ronaldinho,
Ronaldo, Robinho, Carlos Tevez, Norberto Solano and the irrepressible
Diego Maradona.

For most South American players, a good performance in the Copa
Libertadores means aspiring for the highest glory and ultimate honours
on the continent and a passport to high-paying contracts.