Total Sports Asia TV MAIN CATALOGUE (05092005) Page 14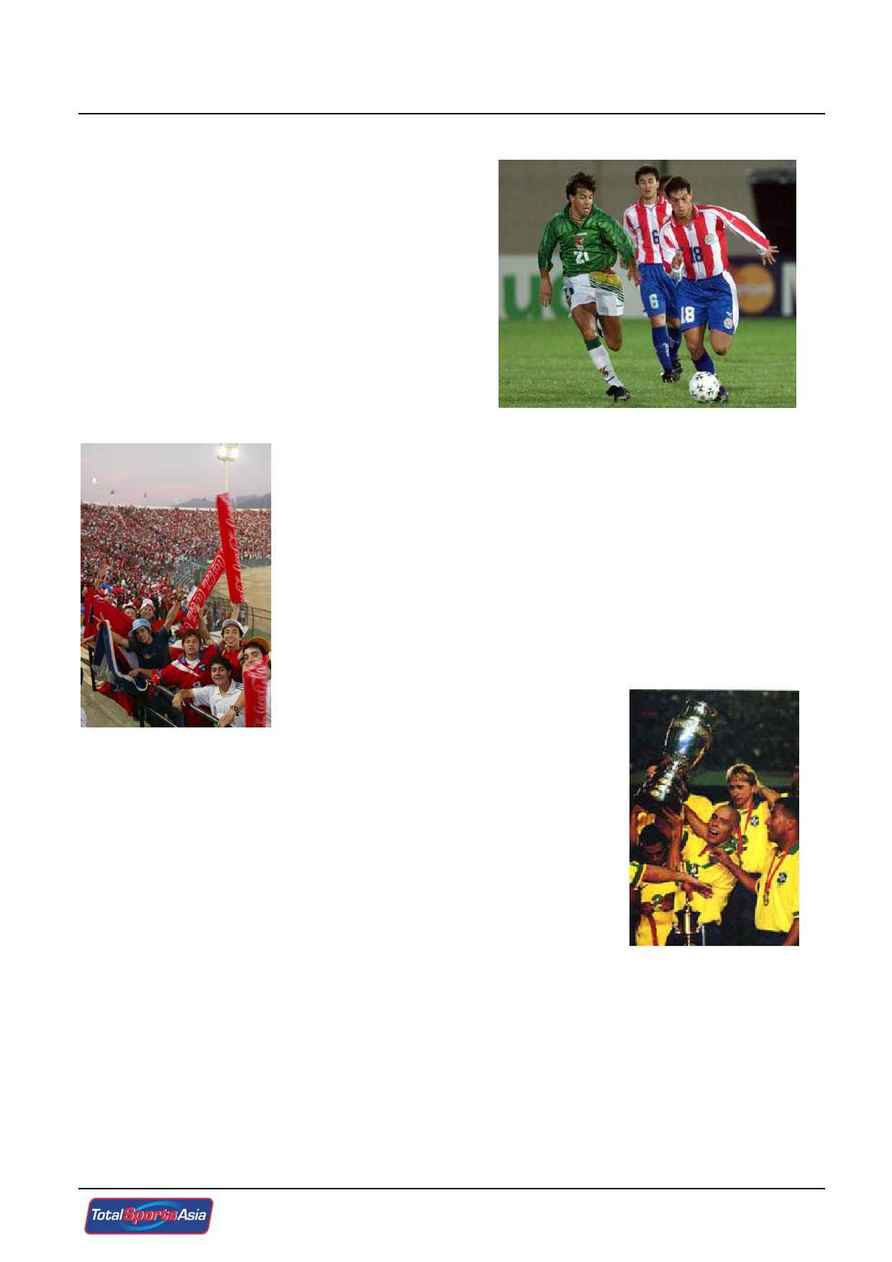 S
S
O
O
U
U
T
T
H
H
A
A
M
M
E
E
R
R
I
I
C
C
A
A
N
N
S
S
O
O
C
C
C
C
E
E
R
R


The most vivid imageries of South America are its
beautiful women, massive Mardi Gras parties and its
Soccer. Soccer in South America is a sport excelled at
by many and watched by practically everyone on a
continent that breeds talent from the back streets to the
boulevards. The fact is, South America is the only
continent to boast of participation in the FIFA World
Cup Finals of every nation on its soil.

South American soccer is indisputably entertaining.
Unparalleled skill and breathtaking flair is what makes
South American soccer a grand spectator sport.
Individual genius and a magical ability to persuade a
football never fail to inspire awe in South America and
beyond. It is the same passion with which they consume their football that infuses deep emotional
attachments. In fact, so impassioned they are by their football that
emotions often boil over and result in brawls and fisticuffs!

South America is traditionally a nursery of some of the most magnificent
footballers in the world. Talent scouts scour the continent in search of
unpolished gems that they hope to groom to be the next Pele, Maradona
or Ronaldinho. Many young players yearn for discovery and the lure of
contracts with high-paying clubs that make them millionaires and
celebrities on a world stage.

Recognizing South American soccer and all its spectacular potential,
efforts have been made to put in place new and improved production
facilities in a bid to extend the enjoyment of
the sport to millions of viewers and fans not
only at home but also in far-reaching corners
beyond the continent. The enhancement of production values and
quality commentaries now makes South American soccer at par with any
international football available today!

Total Sports Asia is a steadfast believer that South American soccer is
set to be the new trend that takes over to become THE football the world
watches. With recent improvements put in place to heighten quality of
broadcast delivery and with the right approach, Total Sports Asia is
confident that South American football will take Asia by storm!