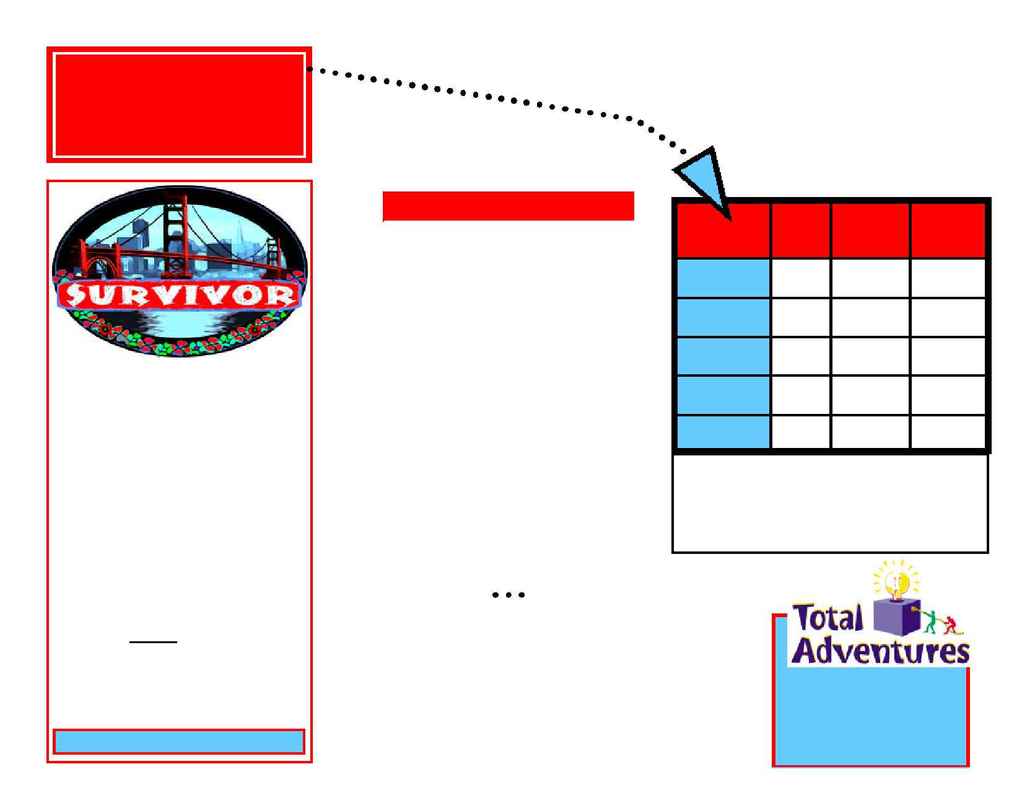 You've been marooned on an uninhab-
ited island. Your tribe has nowhere to
go and there is no way off. Cell phones,
PDA's, and pagers have been confis-
cated. No cappuccinos, no sushi, no
massages and no pampering. Nada! No
one will even hear you scream.
With stimulating challenges for both the
brain and body, a Total Adventure is an
unbelievably exciting addition to any
conference, meeting or retreat. It is also
one of the best ways to get people to-
gether and thinking. Call us today to in-
vest in your people, improve morale
and have a ball.
Island Exploration Photo & GPS
Challenge
Hunt the island for fun and historical photo
challenges and solve riddles using global po-
sitioning satellite receivers.
Crab trapping
Crabs, catapults and mayhem; a recipe for
The Weapons Challenge
On this island, it is kill or be eaten!
Crossing at Impossible River
The ultimate test of agility over a bed of Lava.
Raft Racing
You'd better have a fast raft if you ever want
Tribal Chant and Dance
Go ahead, it's time to strut your stuff.
Teambuilding.
Adventure Challenges.
Rewarding Fun!
Including...
Total Adventures
Group Size and
Pricing Guidelines
Email: info@TotalAdventures.com
Fall/Winter 2001-2002
Once you've determined how many people
are going to participate in your Total Adven-
ture, our pricing guideline is just this simple.
For a complete description of these challenges and
the full list of others available, please refer to our
Looking for some fun to liven up an event? All of
our challenges are available individually, call your
These prices reflect a complete adventure experience in-
cluding: facilitator, staff, PA system, all materials, awards
and team adventure booklets.
For a Survivor Program on Angel Isla
For a Survivor Program on Angel Island, additional
nd, additional
charges apply. Please contact our sales department.
charges apply. Please contact our sales department.