Suzuki Grand Annual Concert Application 2005 Page 1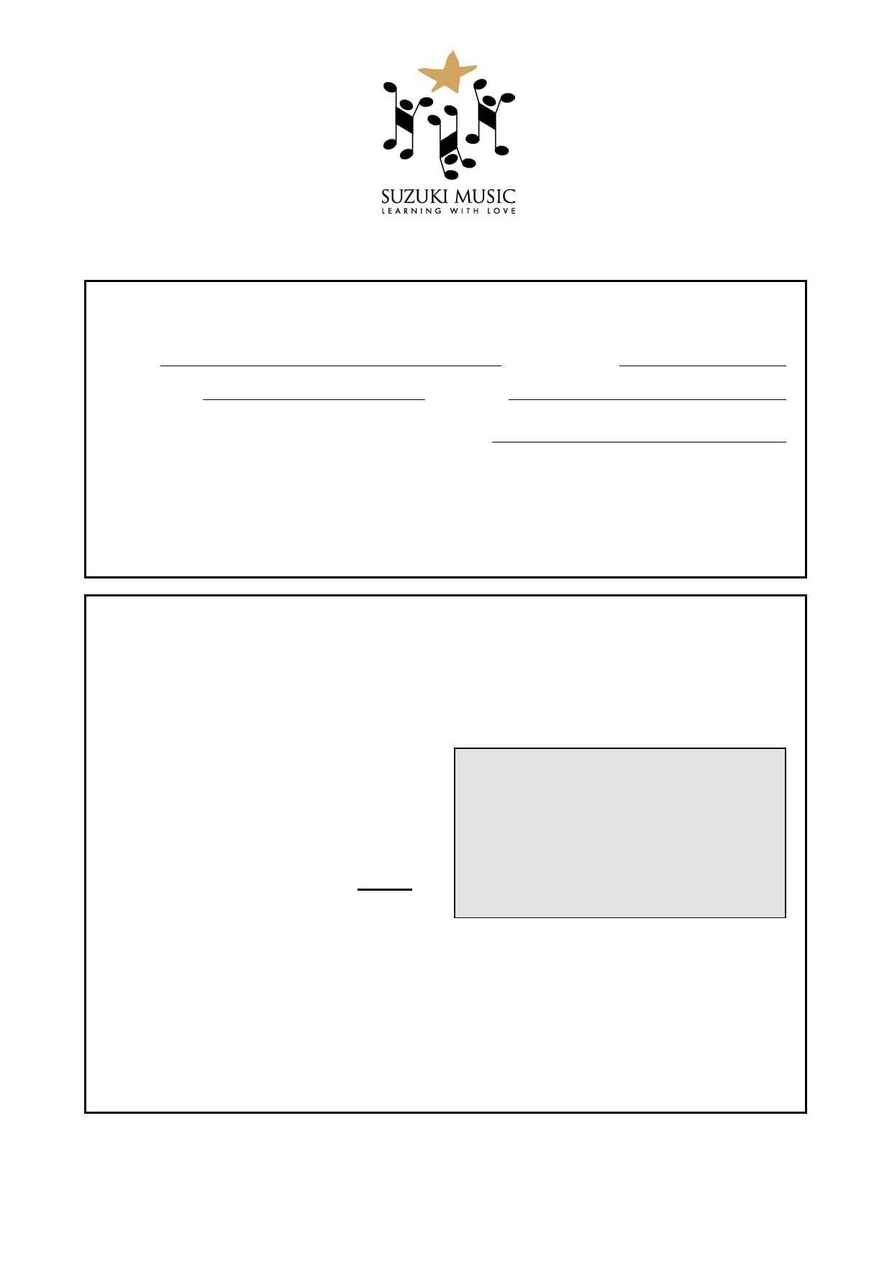 GRAND ANNUAL CONCERT 2005
Yes! I would like to perform at the Grand Annual Concert.
Pianists performing as soloists do NOT need to fill in this form
The most advanced piece I will play at the concert is
(see poster for list of pieces)
If you wish to play two instruments in this concert please discuss with your teacher
Remember - you need to be a current financial member of Suzuki Music to participate.
Please return this slip to the Suzuki Music Office by Friday 19 August
170 Southbank Blvd Southbank VIC 3006 Ph (03) 9681 6933 Fax (03) 9681 6977
Suzuki Talent Education Association of Australia (Vic.) Inc. ABN 14 080 413 955
SUZUKI GRAND ANNUAL CONCERT 2005 ­ TICKET ORDER FORM
Name _______________________________________________________ Phone________________________
Address __________________________________________________________ Postcode_______________
(2 Adults and 2 Children)
(must be registered on form above)
TOTAL
(all prices include GST)
$
______
PAYMENT DETAILS:
Cheque [Payable to Suzuki Music]
Credit Card* VISA/BANKCARD/MASTERCARD
* Credit Card payments will incur an additional 3% surcharge
_ _ _ _ / _ _ _ _ / _ _ _ _ / _ _ _ _
Cardholder's Name ____________________________ Signature_______________________________
Orders received by Monday 29 August will
be mailed to the address given. For orders
received after this date, tickets will be held
at the door for collection on the concert
PLEASE NOTE THAT TICKET ORDERS