Columbia Spectator sports Page 1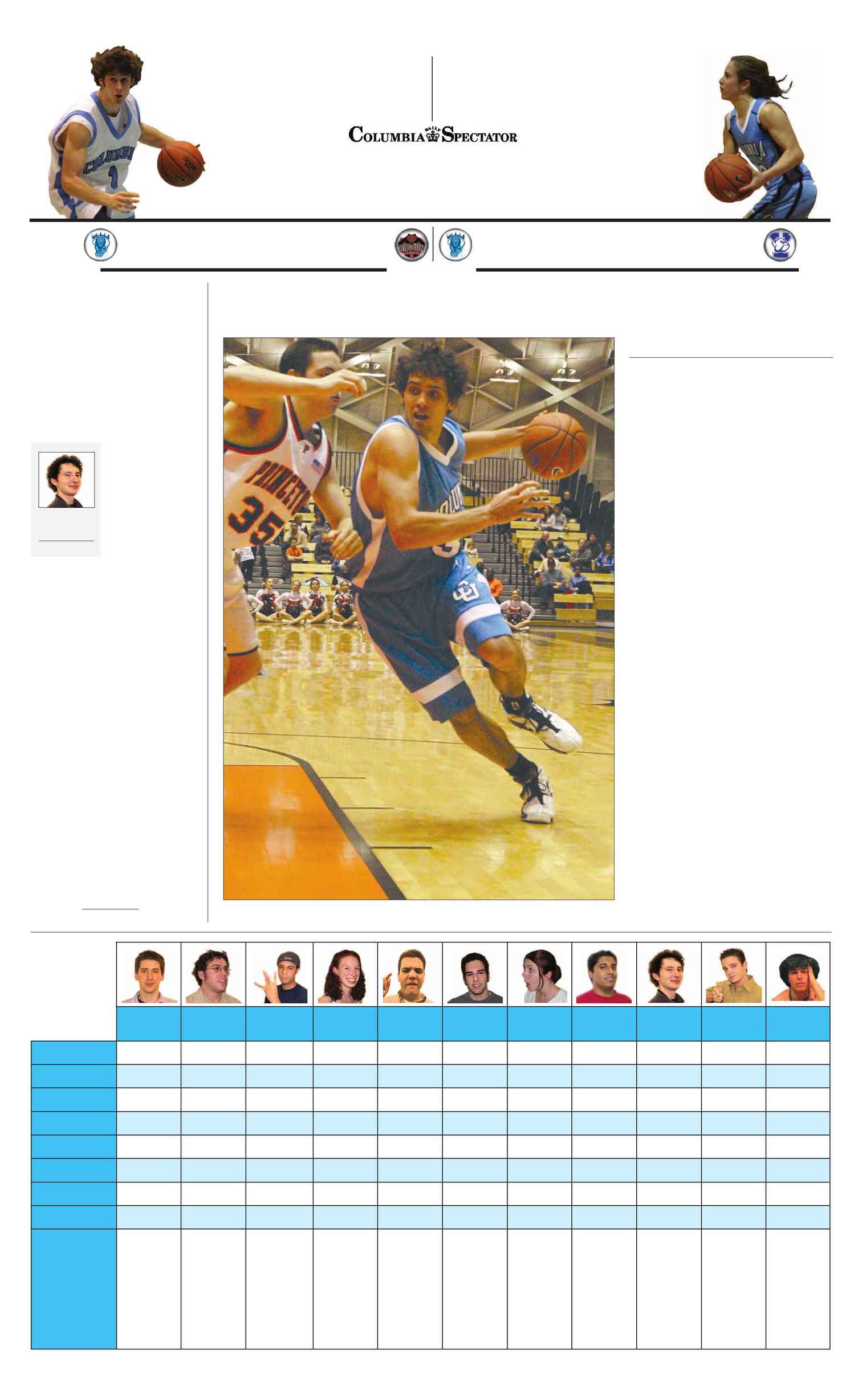 Spectator Senior Staff Writer
When Ivy play began three weeks ago, the Lions knew that
the weekend of Feb. 11 would be a challenging one, and that
they would most likely be playing the team at the top of the
They just didn't expect that team to be the Penn Quakers.
Penn (12-7, 5-0 Ivy) has already distanced itself from the
rest of the League, especially traditional rival Princeton, whom
the Lions will take on at Jadwin Gymnasium on Saturday
night. The Tigers (10-9, 1-4) have stumbled out of the gate
and find themselves in an unfamiliar spot--last place in the
Princeton started the Ivy season as an overwhelming fa-
vorite, boasting a high RPI ranking resulting from its strong
non-conference schedule. The Tigers, however, opened the
campaign with a surprising loss to Brown, casting some doubt
on their chances of capturing the League title. The defending
champs recovered to beat Yale, but a disastrous sweep at the
hands of Harvard and Dartmouth led some to call last Tues-
day's matchup with Penn a do-or-die for the Tigers. For most
of that game, it seemed as though Princeton had managed to
salvage their season, as they led by as many as 18 points. Penn,
though, mounted a miraculous comeback that culminated in a
70-62 overtime victory and prompted a banner in the Palestra
to proclaim, "The Ivy Cellar Now Has a Backdoor."
"They're definitely an improved team," Columbia head
coach Joe Jones said. "They really dominated that game
against Penn for 35, 36 minutes, and it just got away from them
in the last five minutes. They've looked a lot sharper--I think
they're still adjusting, though."
Penn, on the other hand, has utterly dominated its Ivy op-
position. Before their eight-point victory over Princeton, the
Quakers won their first four Ivy games by an average of 20
points. Home for the weekend to take on Columbia and Cor-
nell, Penn is sitting pretty, carrying into the weekend an eight-
game winning streak and status as the clear Ivy favorite.
"We have to play really well to beat them," Jones said.
"They are playing terrific basketball on both ends of the
floor. They've really just played harder than other teams, out-
toughed them. They're the number one defensive team in the
League, we're number two, and we're really going to have to
bring it on defense and execute on the offensive end if we want
The Lions (12-7, 3-3), meanwhile, are reeling from a home
sweep at the hands of Yale and Brown. Against Yale, the Light
Blue ran into a team whose back was against the wall. The
Bulldogs dominated throughout the course of the game, never
letting the Lions close the gap and eventually winning 77-67.
Against Brown, on the other hand, the Lions dominated most
of the contest, even limiting reigning Ivy Player of the Year
Jason Forte to only two first-half points while leading by as
many as 11 points. The Bears, however, mounted a comeback,
and Forte hit an 18-footer with 2.8 seconds remaining to give
the visitors a 54-52 victory.
This weekend will be the Lions' first two-game road trip of
the season, and the "Killer P's" pose a formidable challenge.
"It's always difficult whenever you go on the road, and this
is no different," Jones said. "Penn has a great homecourt en-
vironment, but our guys are experienced and they're really
ready to play well in that environment. We respect Penn, but
we're not afraid of them."
I remember that day like it was yesterday.
The morning I moved onto the eighth floor of
Carman Hall, it was sunny and hot, not a cloud
in the sky. There was excitement in the air. I
lugged boxes up stairs happily, full of energy. I
greeted my three suitemates--football players--
was then. The cold, cyni-
SoCal soul. In those days,
I saw Columbians' lack of
athletic spirit not as a dis-
ease but as an opportunity--an opportunity for
change. I, a revolutionary fan, was going to help
institute that change. Equipped with my bloated
mid-three-peat ego, I entered the Columbia stu-
dent body as an instant fan and joined the ranks
My, how things have changed (or not).
Now it's February 2005--three and a half
years since I first set foot on College Walk.
The snow is falling on a regular basis, the air
is frigid, and the skies are gray. It is around
that time of the year when freshmen begin
to lose that innocence I once had, when the
disenchantment begins. You can almost see it
in their eyes as that glimmer of pre-Columbia
optimism grows fainter with each passing day. I
walk around campus, no longer seeing carefree
Carmanites with that youthful spark but tired,
overworked Butler bookworms. I used to have
that spark; I used to believe in the future of
Lord knows, that was a long time ago.
After four years, I'm tired--tired of the same
routine year after year. First comes the excite-
ment--a new coach, a new batch of recruits;
then the beginning of the season--a few bright
lights, some solid wins; then League play--the
falling short, the heartbreak.
I find myself now at the end of my college
career. I cry about it daily. Every time I pass by
Alma Mater, I give her a high-five. When I see
Bollinger, I yell at the top of my lungs, "Let's go,
Prez-Bo!" It's been a great four years and I have
no regrets. However, there are a couple things
that I wish could have gone a little different-
ly--namely, the course of Columbia athletics.
my shoutout this
week douchebag
you didn't like my
column. Few have
The last thing
Nick needs is
TARA ZABOR--STAFF PHOTOGRAPHER
Matt Preston, fourth in the Ivy League with 14.0 PPG, will close his collegiate career this weekend at Yale and Brown.
A Last Hurrah For Lions Seniors?
LOTERY, page A4
Gameday
See how Columbia's backcourt of Brett Loscalzo and Jeremiah
Boswell stacks up against Yale senior Edwin Draughan and Brown
senior Jason Forte in today's edition of Friday Fast Break.
COLUMBIA (12-13, 3-9) at BROWN (10-15, 3-8)
FRIDAY, Pizzitola Sports Center, 7 P.M.
With wins in their final two games against Brown and Yale,
Columbia's seven seniors can walk out of Levien as part of the
winningest team in the program's Division I history.
Knockin' On
Kevin's Door
MEN'S BASKETBALL
WOMEN'S BASKETBALL
COLUMBIA (12-13, 3-9) at YALE (9-15, 5-6)
SATURDAY, John J. Lee Amphitheater, 7 P.M.
Columbia: Give
Me Reason to
Believe Again