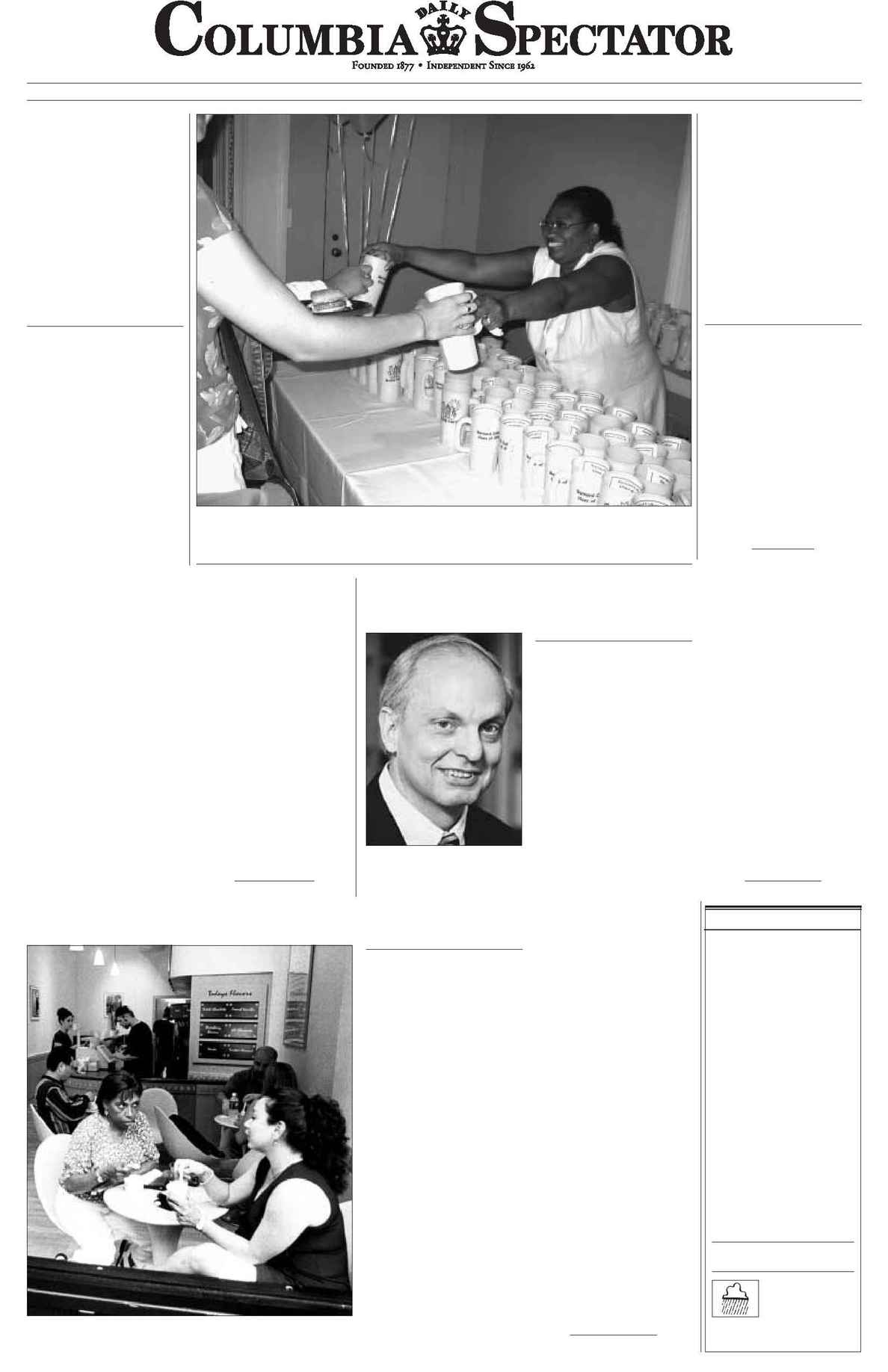 B
Y
J
AMES
R
OMOSER
Spectator News Editor
When Tony Vassilev, CC '04, cre-
ated Dogears.net in the fall of 2001,
it was a little-known web site with a
single mundane purpose: allowing
students to buy and sell used text-
books.
Now, two years and 3,000 regis-
tered users later, it has evolved into
a multifaceted hub of student activi-
ty that includes everything from
classified ads to a student-run mag-
azine.
In the process, Dogears has
become a virtual hot spot among
Columbia students, many of whom
loyally bookmark the site, post on
its message boards, and, of course,
use it to find cheap deals on books.
Vassilev, the inventor and co-
founder of Dogears, calls the web
site "an information exchange"--
and he means information of all
kinds. In addition to the textbook
exchange function that made the
site popular, the current version of
Dogears contains a Columbia
events calendar, 10 different sub-
ject-specific message boards, and a
variety of classified listings.
Its newest feature, called
Student Ink
the summer. It is a biweekly online
magazine where college students
can submit articles or artwork in
digital format. Moreover, because
the Dogears network has expanded
beyond Columbia to colleges
across the country, Student Ink has
a national readership.
Ben Supple, CC '05 and one of
the magazine's editors, called the
project "groundbreaking."
"It makes the site more interac-
tive," he said, "because [other por-
tions of Dogears are] localized to
particular university communities."
With Student Ink, which features
articles of general interest to col-
lege student, "you can have a cross-
campus dialogue," Supple said.
"We're expecting the audience
to get quite big," Vassilev said,
adding that the goal of the maga-
zine is "to give exposure to student
writers and artists."
Indeed, one could say that the
entire Dogears venture, as expan-
sive as it has recently become, is all
about giving exposure to students.
For instance, the events calen-
dar, which was launched at the very
end of last semester, is a convenient
way for student groups to advertise
meetings or auditions. And the clas-
sified ads allow students to do
things as varied as sell their futons
or find apartment rooms.
Whatever it is they use it for,
more and more students are
becoming Dogears regulars. The
site had about 2,000 registered
ASHLEY PUTNAM--ASSOCIATE PHOTO EDITOR
Mugging for the Camera
Sophomore Class Dean Vivian Taylor of Barnard College presents mugs at the annual Block Party
in Lefrak gymnasium, where students were greeted by deans and treated to a barbecue dinner.
V
OL
. CXXVII--N
O
. 83
W
EDNESDAY
, S
EPTEMBER
3, 2003
F
IFTEEN
C
ENTS
Committee
Will Focus
On ESC
Programs
make ESC's initiatives more
accessible to students.
B
Y
C
IEL
H
UNTER
Spectator Associate News Editor
Last year, the Engineering
Student Council spent weeks over-
hauling the fine print behind their
executive board. This year, the
effects of the constitutional review
can finally be seen.
One of the biggest changes in
the review was to redesign the
structure of the council's executive
board, creating a vice president-
internal, a vice president-inter-
group, and a vice president-student
life. The creation of the student life
position has been the catalyst for a
new campaign to spark student
interest in the council and better
meet student needs.
See ESC, page Seven
Dogears.net
Adds New
Services,
Members
site has filled a gap as a
center of student activity.
See D
OGEARS
, page eight
Editorial............ 4-5
A & E..............6
News.................. 7-8
Urbanities.........3
Nation/World....9
Classifieds.........11
Weather: Today: showers,
high 69║, low 67║. Tomorrow:
AM rain, high 78║, low 66║.
Friday: partly cloudy, high 76║,
low 62║.
I
NSIDE
www.columbiaspectator.com
(212) 854-9555
Cows and Angels
With two new ice cream stores
on the block, Columbia has a lot
to munch on late at night.
See page eight
Don't Eat the Pictures
It's hard to resist the urge to
touch the artwork when you visit
the hidden treasures of the Met.
See page six
Ninth Floor First-Years
Carman hallways are full of the
anxious '07 bunch: adjusting is
harder than most would admit.
See page three
Who Needs Reality?
The events of summer showed
that the Republicans aren't so
good with truth.
See page four
Adjunct Law Prof. Dead in U.N. Bombing
B
Y
M
EGAN
G
REENWELL
Spectator Associate News Editor
A Columbia Law School adjunct
professor who spent much of his life
advocating for refugee rights was
among 23 people killed in the Aug.
19 bombing of the United Nations
headquarters in Baghdad.
Arthur Cleveland Helton, 54,
reportedly died instantly in the
attack on the U.N. building. Helton
was in the vicinity of the headquar-
ters to meet with Sergio Vieira de
Mello, the U.N.'s chief envoy to Iraq,
to assess humanitarian concerns in
post-war Iraq. De Mello was also
killed in the bombing.
Helton, CC '71, had served as an
adjunct lecturer at the law school
since 2001, teaching classes primari-
ly on immigration law and policy.
Helton maintained a home in New
York with his wife, while traveling
frequently to Washington, D.C. and
Geneva, Switzerland to discuss
human rights policies and testify
before Congress and the U.N. He
also served as the director of peace
and conflict studies for the Council
on Foreign Relations and as a senior
fellow for refugee studies and pre-
ventive action.
After earning a law degree from
New York University in 1982, Helton
began working with refugees. He
took a position at the Lawyers'
Committee for Human Rights and
soon created the committee's
Refugee Rights Program, which
helps those fleeing from political
and religious persecution win asy-
lum in the United States. Helton
See H
ELTON
, page seven
An advocate for refugee rights,
Arthur Helton gave his efforts
to fighting indifference.
I Scream, You Scream, We All Scream for Heights's Ice Cream
B
Y
Z
ACHARY
B
ENDINER
Spectator Staff Writer
The battle rages on between ice
cream purists and teenage girls
yearning for fat-free indulgences.
Within the last two months, two
new ice cream shops, CremaLita
and Ben and Jerry's, have opened in
Morningside Heights and each has
drawn a distinctly different cus-
tomer base.
Selling itself as the "Lowest
Calorie Ice Cream in New York,"
CremaLita (pronounced creh-mah-
lee-tah) recently opened a new shop
at Broadway and 112th Street, tar-
geting Columbia's health-conscious
college crowd. Its bright peach and
green color scheme evokes a hip
new club. Yet the aerodynamic fur-
niture is reminiscent of the Alice in
Wonderland teacup ride at Disney
World.
Despite the store's busy atmos-
phere, CremaLita employees Colin
Ford and Jamie Wood maintain a
decidedly laid-back manner.
Pushing back his wispy brown hair,
Ford described the atmosphere:
"The owner and interior designer
wanted a warmer tone with the col-
ors to make it a happier store."
And indeed, the workers are
happy. "This is the best job I've ever
had," said Wood, who formerly
worked as a telemarketer dealing
with irate New Yorkers on the wait-
ing list for post-Sept. 11 financial
assistance. "People are a little bit
happier here. It's paradise."
In the corner, a petite boombox
played Elton John's "Crocodile
Rock."
"The radio is an important part of
the store--even if it's just a station
playing," Ford said. "It makes the
store more alive." Ford paused to
turn up the music, drowning out the
hum of the soft-serve machines. "I
usually have it on classic rock, but
we take turns," Ford said. "There
haven't been any fights. We're
mature adults."
At the 104th Street Ben and
Jerry's, soporific new age music
pumped through the mounted
speakers. A clumsy wooden cow
parked itself in the corner amidst
unopened boxes. And the purple
and orange, pseudopsychedelic
color scheme fit with the hippie,
counter-culture image that Ben and
Jerry's has cultivated nationwide.
Beyond the aesthetics of the
scoop shops, though, is an impor-
tant difference in ice cream texture,
See I
CE
C
REAM
, page eight
CremaLita, located at Broadway and 112th Street, has brought
low-calorie ice cream to health-conscious Morningside Heights.
Arthur Helton planned to address humanitarian concerns in post-war Iraq.