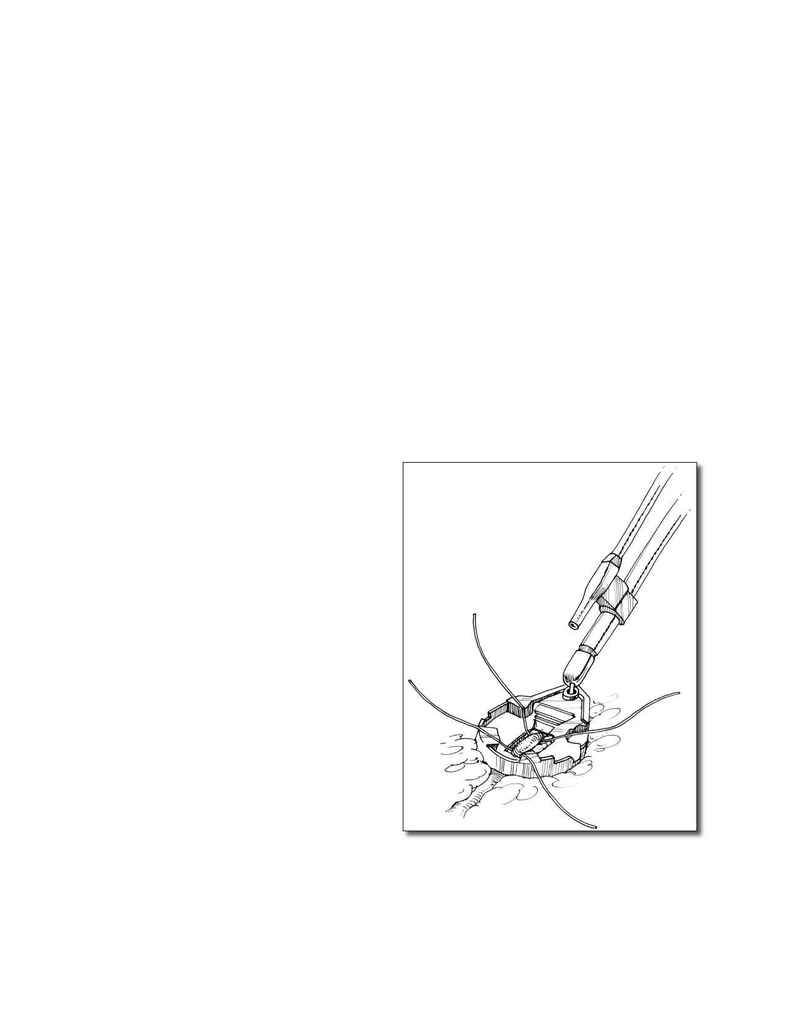 Journal of Long-Term Effects of Medical Implants
A. P. KYPSON ET AL.
458
after discharge, all patients return for a follow-up visit
and a transthoracic echocardiogram.
IV.B. Coronary Artery Bypass Surgery
Patients are intubated with a dual-lumen endotra-
cheal tube, allowing single right-lung ventilation. Th
patient is placed on the operating room table in a
supine position with the left side of the chest elevated
about 30°, with the left arm placed along the body
below the midaxillary line. Th
as the sternal notch, xiphoid, and ribs are marked
for external orientation and port placement. Proper
port placement is essential for initiating endoscopic
mammary artery harvesting. After defl ation of the
left lung, the camera port is placed bluntly in the fi fth
intercostal space on the anterior axillary line. Th
ated with continuous CO at pressures of
5­10 mm Hg to increase the available space between
the heart and sternum. An endoscope is placed into
this port and under visual control; two more port sites
are placed, usually in the third and seventh intercostal
spaces above the anterior axillary line, for both robotic
arms, forming a triangle. Th
the subclavian artery all the way down to the distal
bifurcation with a 30° endoscope. Th
skeletonized with the concomitant veins and fascia
left intact to provide countertraction.
After LIMA harvesting, the patient is placed on
cardiopulmonary bypass through femoral vessel can-
nulation if the procedure is being performed on an
arrested heart. Otherwise, attention is turned to the
pericardium, which is opened. Th
is identifi ed and sharply dissected free. For beating
heart operations, a 1-cm skin incision is created at
the subxiphoid area, and an endoscopic stabilizer is
introduced. Th
is stabilizer resembles conventional off -
pump stabilizers and consists of two arms that contain
special slots for attachment of silastic vessel loops used
for coronary artery occlusion during the creation of
the anastomosis (
). An irrigation tube is attached
to this endo-stabilizer, allowing saline fl ushing for
clear visualization of the desired area. After placing
the stabilizer onto the LAD, blood fl ow through this
vessel is temporarily interrupted using silastic loops.
After incision of the LAD with the robotic system,
the anastomosis is completed on a beating heart using
7-0 polypropylene running suture. After completion
of the procedure, chest tubes are placed through the
camera port and the instrument port.
Currently, the world experience with robotic mitral valve
surgery is mostly anecdotal, retrospective, and noncon-
trolled. Nevertheless, surgical results thus far have been
encouraging and are hastening the way toward a com-
pletely endoscopic, robotic mitral valve operation.
FIGURE 6. Coronary stabilizer placed endoscopically as
used for TECAB. Note the irrigator that provides a clear
view for creation of the anastomosis.