Mice Magazine miaanewsaugsept Page 4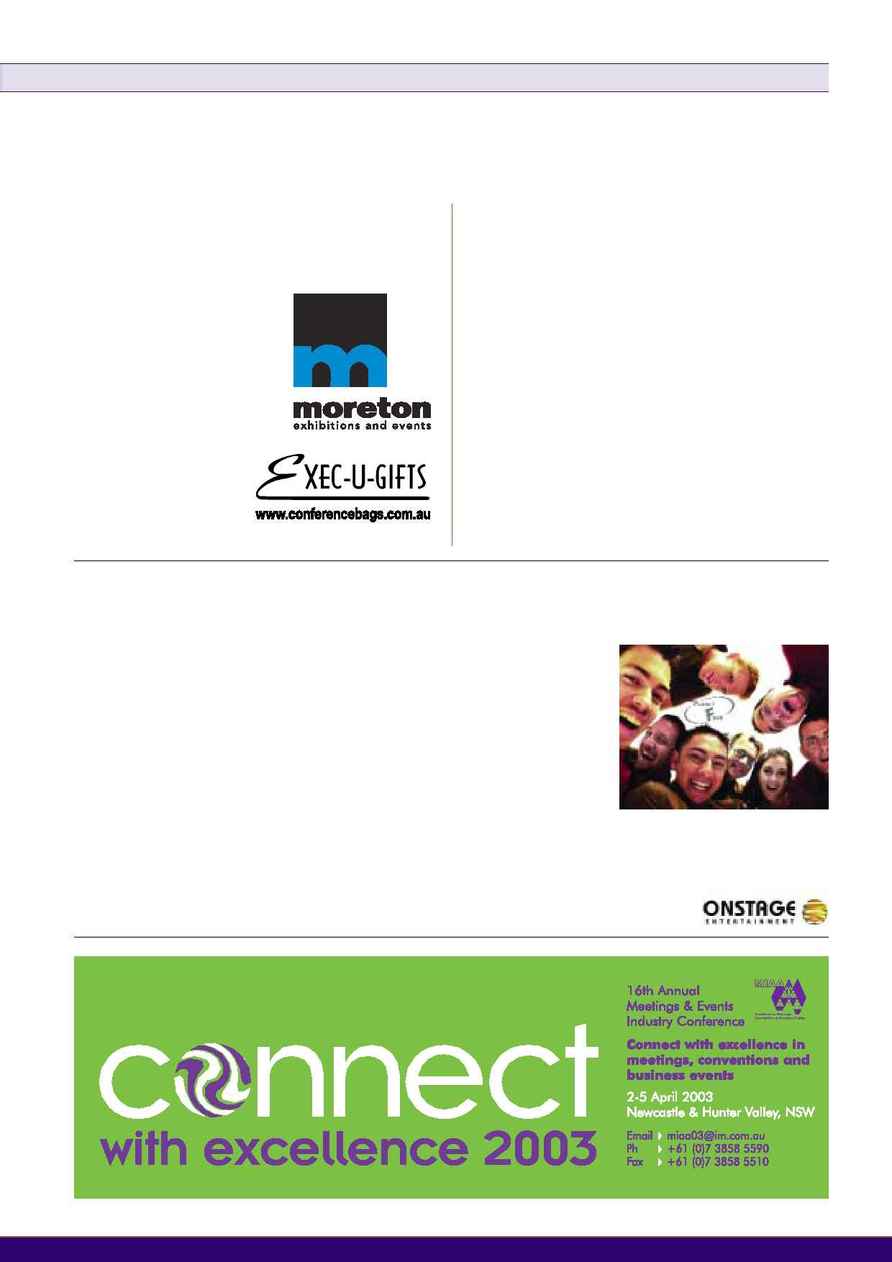 M E M B E R N E W S
MORETON UNVEILS NEW BRAND
On July 1 Moreton (formerly Moreton Hire) launched a new National
brand for the company. Starting with Melbourne in July, the new brand
will be rolled out over this year.
"Moreton" will apply across all
divisions- Design, Signage, Lighting &
Audiovisuals, Project Architecture, Project
Management and Equipment Hire.
The new brand will reinforce
Moreton's role as a single supplier of
Design, Management and Equipment, to
the Exhibitions and Events Markets.
MIAA NATIONAL CONFERENCE
delegates were easily identifiable
with their blue and ice coloured
duffel conference bags provided by
MIAA long time members Exec-U-Gifts. An appropriate bag to carry
delegates necessary conference tools, selected to compliment the
destination as they "Refreshed, Refined and Refocussed" themselves on
the beautiful Hamilton Island.
Exec-U-Gifts are based on the Gold Coast and are committed to
supporting the Association. Cecilia O' Grady, Marketing & Sales Manager
expressed that Exec-U-Gifts are serious players in the MICE Industry.
We strive to work for our clients and provide excellence both in products,
value and our service. Supplying satchels, speakers gifts and those special
gift touches that will further enhance the meetings experience.This is our
business and we work to find the solutions for our clients while they can
channel their time into other important operational details.
The MIAA National conference gives us the opportunity to give
something back to the MICE Industry and a platform to showcase our
Contact details:
Telephone: 07-5529-6811 Fax: 07-5529-6833
Website: www.conferencebags.com.au
When you thought it couldn't get any better, the MIAA National
Conference was closed with an Awards dinner acknowledging our
industry's outstanding achievers, spectacular theming and knock-out
eight piece band PLANET FUNK.
Revellers danced the night away to the tunes, and sometimes antics,
of Planet Funk until the wee hours. The band got some of their own back
on the dance floor at Boheme's Nightclub where they were spotted with
Entertainment is such an important and memorable part of any
event so working with corporate specialists is a must.
performances were coordinated by Onstage Entertainment in 2001
alone, incorporating entertainers from all walks of life and providing
experiences in all facets of the industry.
Recent in-roads into America with well known corporate entertainer
Scott Williams, regular bookings with national artists, and our role as
President of the Queensland
Professional Entertainment
Agents Association ensures
we are fully in touch with
current market trends and
National Awards dinner at
Hamilton Island and the Queensland Awards dinner at Conrad Jupiters is
our thank you for supporting us throughout the year.
www.onstage.com.au
team@onstage.com.au
PH: 61-7 3289 8155
Onstage Entertainment a knockout