Mice Magazine miaanewsaugsept Page 3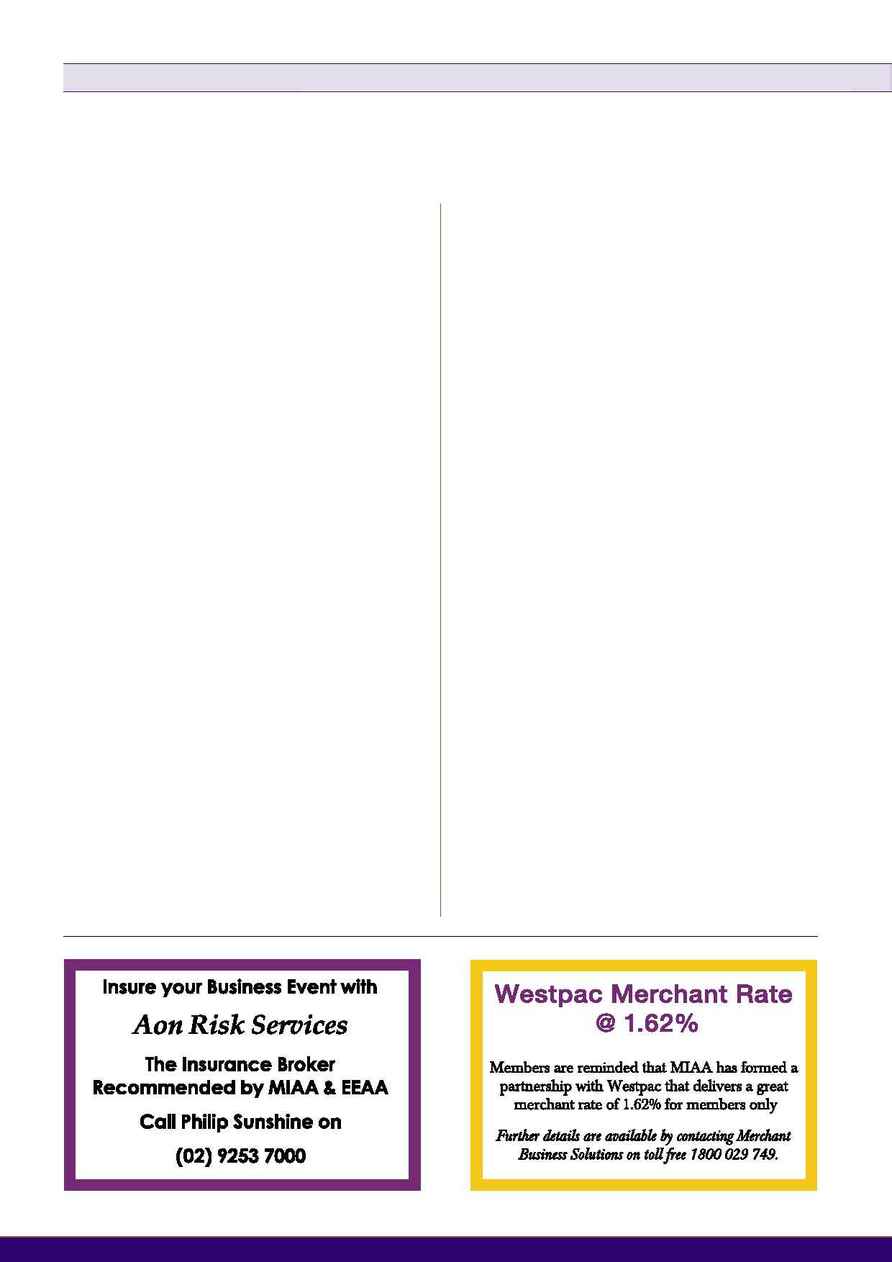 M E M B E R N E W S
Announcing its move to Sydney this year, Gartner said it had chosen
to relocate the event from Brisbane because of Sydney's business and IT
profile and its world-class convention & exhibition facilities.
"Sydney is well positioned to take this event to its next level," said
Gartner Group's Senior Director of Events Asia Pacific Gabrielle Dalsasso.
NEW CAMPAIGN TO BUILD BUSINESS TOURISM
TO AUSTRALIA
Australia's business tourism sector is set to benefit from a new global
advertising campaign launched recently Australian Tourist Commission
(ATC) Managing Director Ken Boundy said. "The new $1 million
campaign will promote Australia around the world as an ideal destination
for business tourism events - from conventions to meetings to incentive
trips," Mr Boundy said. "We want companies and organisations around
the world to consider Australia, not just as a dream holiday destination,
but as the location for their next business event.
"This is the first global `brand' campaign undertaken by the ATC for
the business tourism sector and is based on a new strategy to build
Australia's share of global tourism business.
The new campaign, officially launched by Minister for Small
Business & Tourism, the Hon Joe Hockey in Sydney on 1 July, was funded
by additional resources allocated by the Federal Government.
THE NEW 2002 SYDNEY FACILITIES GUIDE NOW
AVAILABLE
The Sydney Convention & Visitors Bureau (SCVB) released their premier
meeting and event planning publication, the 2002 Sydney Facilities Guide
Karen Bolinger, the SCVB's General Manager Marketing said the
new Guide features more than 550 of Sydney and regional New South
Wales' best business tourism products and services, making it an essential
reference tool for meeting and event planners.
The Guide provides detailed information on products and services
directly related to New South Wales business tourism. The Guide lists:
Sydney Venues and Accommodation, Venues with a Difference, Maritime
Venues, Regional Conferencing, Convention and Exhibition Services,
Leisure Activities and Pre and Post Touring options.
BMA STRENGTHENS MANAGEMENT TEAM
Business Media Australasia (BMA) has recognised the growing need for
professional management structures within event management
companies with the appointment of Silvana La Pegna to the position of
Silvana is well known throughout the events, tourism and hospitality
industry for her change management skills, leadership and client service focus.
ICCA APPOINTS MARTIN SIRK AS NEW CEO
The Board of Directors of the International Congress & Convention
Association (ICCA) has appointed Martin Sirk as the association's new
Chief Executive Officer, taking effect July 2002.
Sirk takes over from Tom Hulton who has served as the association's
chief executive for the past seven years. Hulton is returning to the UK to
pursue further activities within the meetings industry, but intends to
retain close ties with ICCA.
WELCOME TO NEW EXHIBITION MANAGER GHA
Gift and Homewares Australia (GHA) today announced the appointment
of its new Exhibition and Publication Manager, Susan Mahony.
In announcing the appointment, GHA General Manager Warwick
Hough said "Susan has an impressive marketing and event background.
She will be joining us after having spent over three years at Rosehill
Gardens and Canterbury Park Events Centres where she was the Sales
Susan will manage the three Gift and Homewares fairs held each
year by the Association, along with the production of the Buyers Guide
SYDNEY NEW HOME FOR $49 MILLION IT
CONFERENCE
Sydney's progressive information technology and telecommunications
sector and leading exhibition facilities have helped the city win one of the
world's most prestigious IT events -Gartner Symposium/ ITxpo.
The annual event will be held at the Sydney Convention & Exhibition
Centre over the next five years, injecting an estimated $49.4 million into