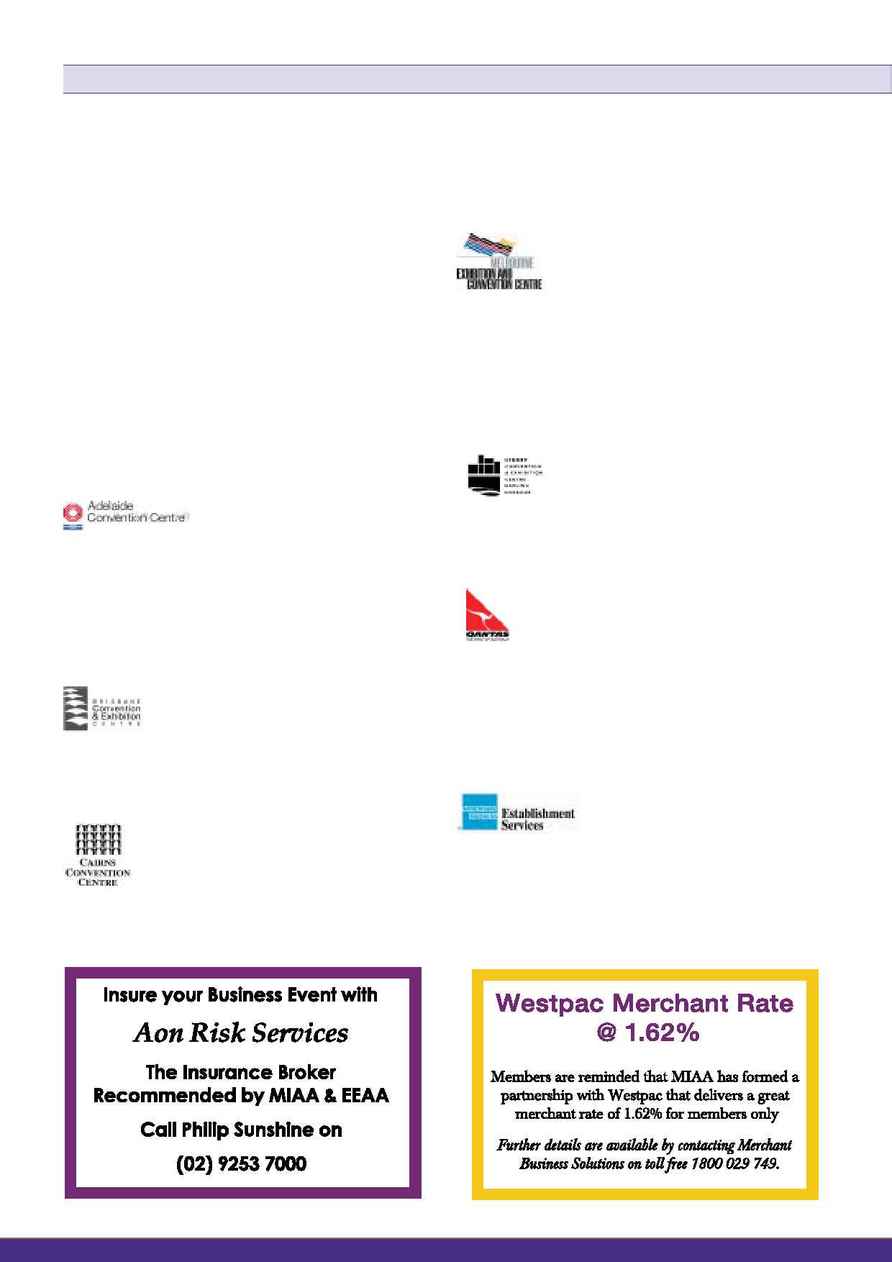 MIAA is delighted to announce our National Supporters for
2002-2003. Our national supporters deliver the most
prominent ongoing support for MIAA. Without the investment
made in MIAA by the national supporters, much of the
research, business advice and general lobbying work we do
would not be possible. This also applies to important benefits
such as accreditation, which continues to be heavily subsidised
by other MIAA activities and revenue from sponsorship. The
major Australian convention centres are prominent in the list of
national supporters, with American Express and QANTAS
adding to the exclusive group of major companies. MIAA
greatly appreciates their contributions and encourages
members to seek their services.
Adelaide Convention Centre
Located in the heart of Adelaide, with the major
hotels within a five minute walk, the Adelaide
Convention Centre offers one of Australia's
most impressive and up-to-date convention centres. The spectacular
extensions to the centre's state-of-the art facilities overlook the picturesque
River Torrens. Designed for total flexibility, the centre can accommodate
conferences, meetings, seminars, exhibitions and banquets for 10-7000
people. Regattas, a classically modern restaurant opens every day from 8am.
Brisbane Convention & Exhibition Centre
One of Australia's premier meetings and exhibitions
facilities with capacity for plenary convention sessions
from 20 to 4000 delegates, a total of 20 meeting rooms
to suit every requirement. Exhibition space totalling 20,000sqm of
column free air-conditioned space, with an additional 4000sqm of
exhibition space available in the Great Hall.
Serious Business in Australia's Most Stunning Location.The
Cairns Convention Centre's world class facilities offer total
flexibility to cater for conventions, trade exhibitions, functions
and special events. For conventions from 10 to 5000 delegates capacity.
Melbourne Exhibition & Convention Centre
Widely recognised as one of the world's best centres,
the Melbourne Exhibition and Convention Centre
(MECC) is a world-class facility equally capable of
satisfying the requirements of both international
conventions and large- scale public and trade exhibitions. With 30,000m2
of pillarless, single floor space it is the largest exhibition centre in
Australia. Three auditoriums seat from 450 - 1500 and over 50 meeting
rooms integrate and adapt for maximum flexibility for national
conferences, smaller corporate meetings and special events.
Sydney Convention & Exhibition Centre
The Sydney Convention and Exhibition Centre at Darling
Harbour is Australia's largest purpose built venue for
conferences, exhibitions and special events.The Centre
is the ideal venue for any event and offers a creative,
flexible and integrated approach. It has 30 meeting rooms which include a
1000 person ballroom, a banquet hall, 2 auditoriums and 6 exhibition halls.
Qantas is a premium international and Australian domestic
airline with a strong focus on reliability and service.
Qantas serves an extensive network covering Australia,
Asia and Pacific, the Americas, UK and Europe and South Africa,
carrying more than 20 million passengers annually to more than 130
destinations in Australia and 31 other countries. As Australia's leading
domestic airline, Qantas operates more than 760 flights a day to all
mainland states and territories.
American Express International Inc
American Express offers MIAA members the
opportunity to significantly increase the
profitability of MICE business through the use
of American Express Cards for payment to your establishment.There are a
large number of merchants that currently welcome the American Express
Card for meetings and events. If you would like to start accepting American
Express Cards, please call 1 300 36 36 14 to arrange for a merchant
account for your establishment.
M E M B E R N E W S