Mice Magazine Sydney Page 1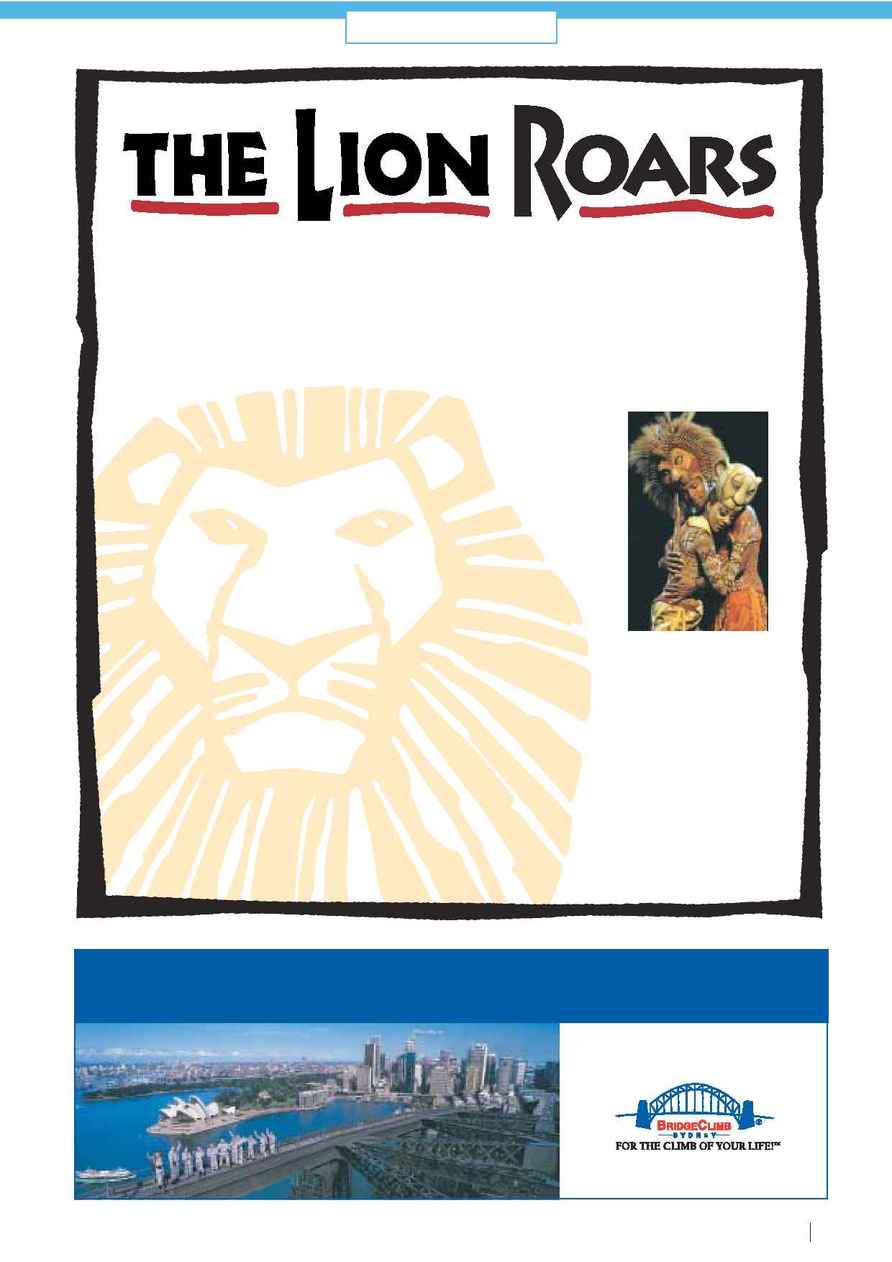 SEND YOUR CLIENTS TO NEW HEIGHTS!
5 CUMBERLAND STREET, THE ROCKS, SYDNEY, 2000
Fax: (02) 9240 1122 Email: admin@bridgeclimb.com
Sydney's most inspiring and motivating adventure.
www.bridgeclimb.com
And you thought Mumma Mia was big.Wait until The Lion King roars in Sydney in October 2003. Organisers
believe the award-winning musical will attract more than 3000 tourists from interstate and overseas each
week.And there is plenty of opportunity to make it a part of your meeting or staff reward program.
THE LION KING MADE A SPECTACULAR
when it opened on Broadway in 1997 and has now
been seen by more than 12 million people worldwide.
Right now it is playing in London, Los Angeles,
Tokyo, and Hamburg, and there are a number of
touring shows on as well. But don't think that The
Lion King has reached saturation point. All things
going well, it could be here for years.
To Australian meeting and incentive planners The
Lion King is certainly a great opportunity to capitalise
on the show's international successes. For meeting
planners, why not factor in a night of culture by
booking your delegates into a performance? For
incentive companies or corporates looking for tailor-
made staff rewards packages, why not treat your high
achievers to a performance of The Lion King followed
by drinks with the stars?
For those wishing to bring people in from
interstate, Qantas Holidays and Accor are offering
complete packages including flights, meals and
accommodation. General sales to the public will open
The official hotel is the Sofitel Wentworth Sydney,
which will re-launch in mid-2003 following a $40
Packages with Qantas Holidays and Accor Hotels
including return economy air travel flying Qantas, two
nights twin share accommodation in Sydney and A
Reserve tickets to The Lion King start from:
Group VIP tickets will be available from April 1
and will cost $160.00 (including a $10 booking fee
and a $3 booking transaction per ticket). The VIP
A box of 12 limited edition `Lion King' note cards
Limited edition chocolates
A voucher for a glass of champagne at interval
A limited edition 2004 calendar
Telephone 1300 650 300 for details.