Mice Magazine Melbourne Page 1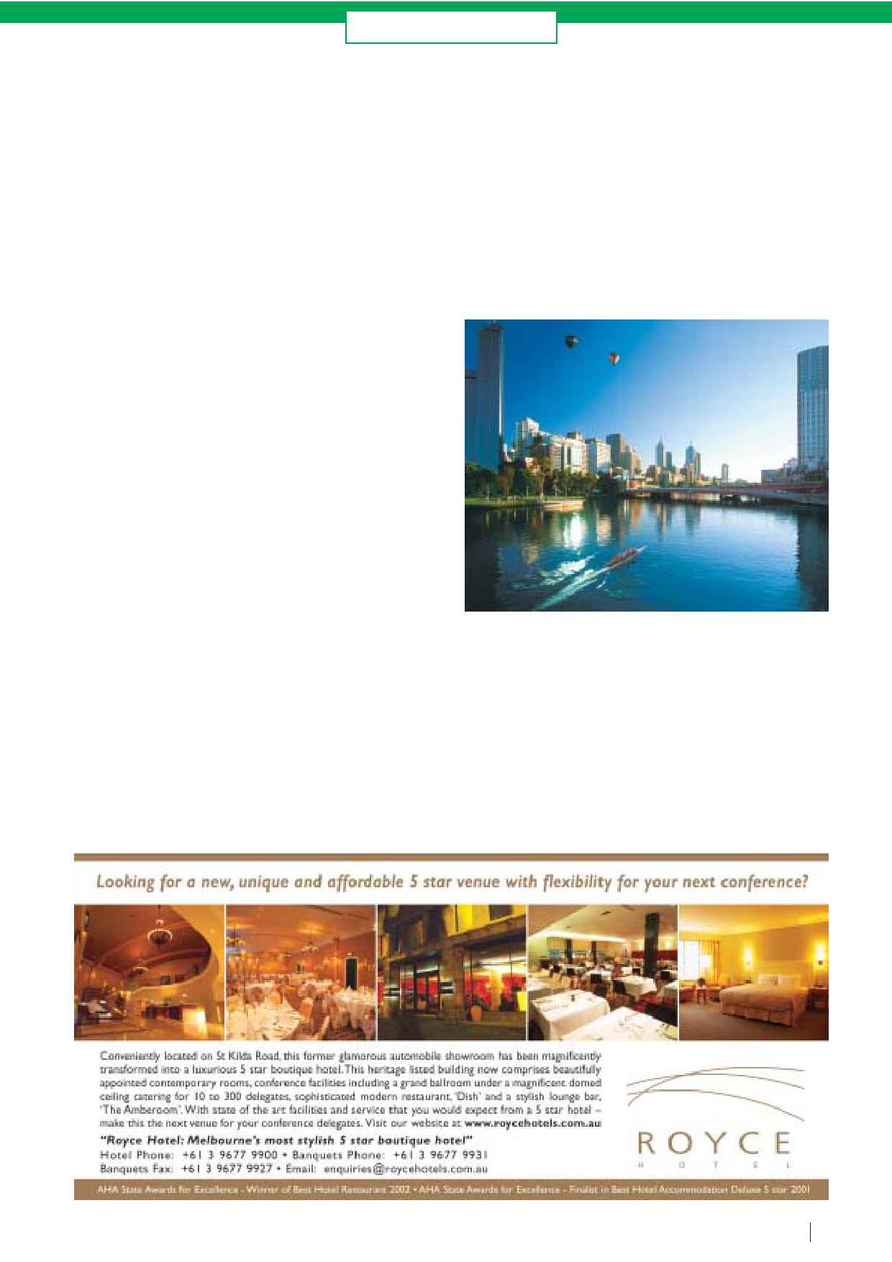 T H E FAC E O F M E L B O U R N E H A S A LT E R E D
dramatically over the past 12 months with the long awaited
unveiling of Federation Square and the opening late last year of
NewQuay within the Docklands development.
Federation Square significantly boosts the city's cultural
offerings with Melbourne's new art gallery, the Ian Potter
Centre: NGV Australia and the Centre for the Moving Image,
now online. The opening of New Quay within Docklands
meanwhile gives the city a new restaurant precinct and injects
fresh life into Melbourne's long neglected harborside.
Indeed, Melbourne continues to undergo unprecedented
change with over $8 billion of new developments planned in
the lead up to the Commonwealth Games in 2006.
Melbourne Convention and Visitors Bureau (MCVB) CEO
Gary Grimmer says the redevelopment of the 220 hectare
Docklands project is significant as it will essentially double
Melbourne's central business district over the next two decades.
"We say that Melbourne is a purpose built convention city
because we have the Melbourne Exhibition and Convention
Centre (MECC) right in the heart of the city surrounded by
hotels and connected by one of the world's best ground
transportation systems," he says.
"Docklands is right in the middle of that mix so now
delegates, in addition to going into the city or dining alongside
Southbank, can experience a whole new precinct."
Room capacity within Melbourne has also surged ahead
with the opening of the 179-room Ramada Melbourne late last
year and the 469 room Crown Promenade Hotel scheduled to
open in the last quarter of 2003.
Mr Grimmer says Crown Casino's second hotel, the Crown
Promenade, will boost Melbourne's ability to host large scale
meetings. Built as part of the Crown Entertainment Complex,
the Crown Promenade Hotel has been designed as a purpose
built facility for the MICE market, incorporating a dedicated
conference facility named the Crown Conference Centre.The
It's been rated the best city in the world to call home* and with Federation Square, Docklands, new room inventory and slick
new function spaces now online, Melbourne's ability to attract meetings business has just stepped up a gear.