Mice Magazine Melbourne Page 4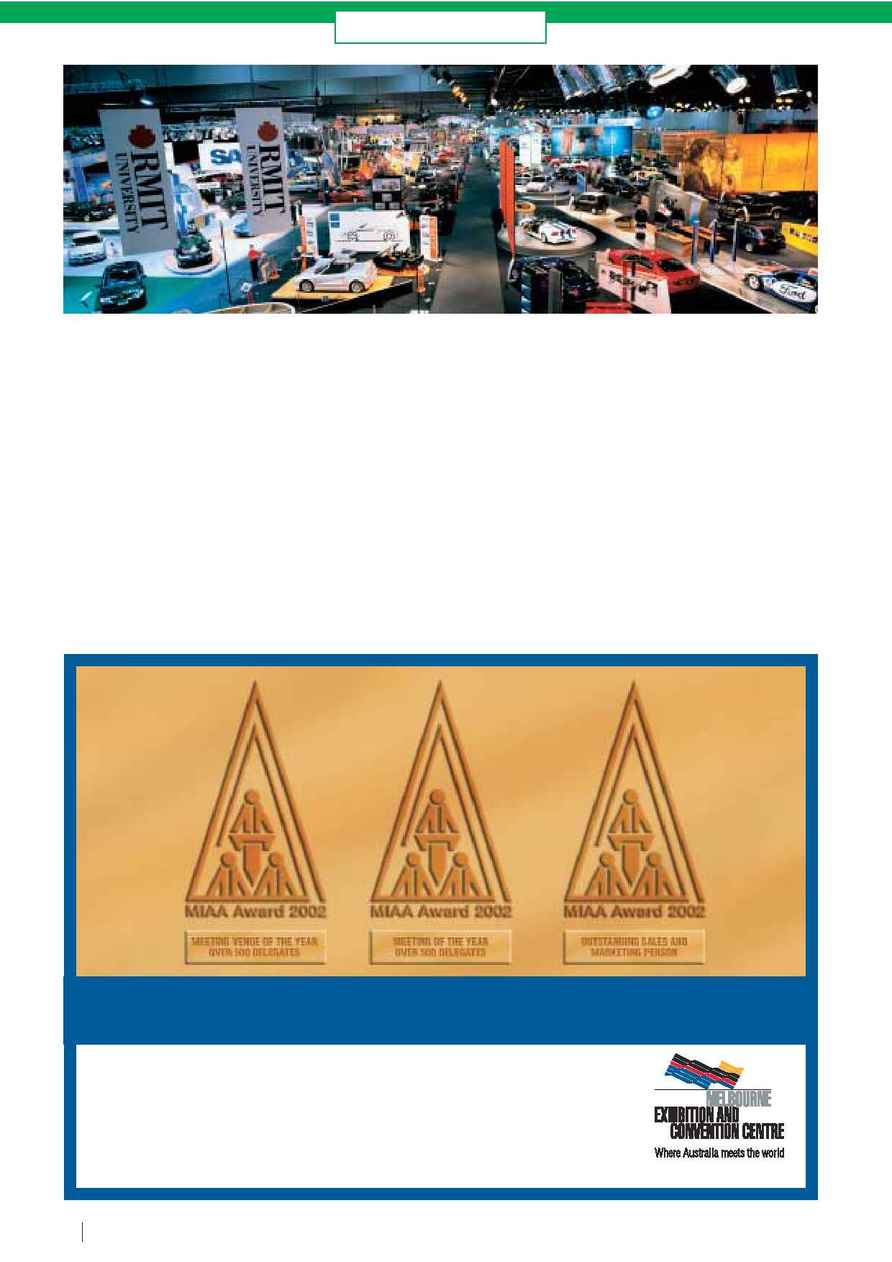 THE Melbourne Exhibition and Convention Centre (MECC)
has gained an additional 5000 squares of much needed exhibition
space after taking over the lease on the former Mazda site.
MECC chief executive Leigh Harry said the new space,
which is being refitted and rebranded Bay 21, will give the
centre 35,000 square metres of space ­ the largest single
exhibition space in the southern hemisphere.
The MECC took over the lease on the former warehouse
on December 1 last year. Mr Harry said the new building was
in the process of being repainted and fitted out with new
services in time for its first tenant, the Motor Show, next month.
The MECC has taken out a lease indefinitely on the site
while it waits on a decision on a proposed 5000 seat plenary
and expansion of the current exhibition facility by 12,000-
15,000 square metres. The state government is currently
conducting a feasibility study into the proposal, due for
"Until we get a government decision, Bay 21 adds an
additional 5000-5500 square metres of exhibition space
immediately adjacent to the back of the current building," Mr
Apart from the Motor Show, organisers of the Gift Show,
Fishing and 4WD Show and Ausplace had expressed interest in
using the additional space to expand their shows.
"We have substantial periods now when we can't fit all the
events in and many organisers have been waiting for years to
At the Melbourne Exhibition and Convention Centre, award success is not seen as simply repeating the achievements of
previous years. Our goal is always to push the boundaries, and prove new points of excellence.
At the 2001 National Meetings and Events Industry Awards, we became the first Centre ever to win `Best Catering and
Banqueting'. Now at the recent Victorian Awards, we put three different aspects of our operation to the test. Taking out top
honours in all three categories: `Meeting Venue of the Year ­ over 500 delegates', `Meeting of the Year ­ over 500
delegates' for the 6th World Congress of Chemical Engineering and `Outstanding Sales and Marketing Person'.
To judge our commitment to your success, please call us on (03) 9235 8800.
MECC WINS THREE, IN ANOTHER FIRST.