Mice Magazine Melbourne Page 3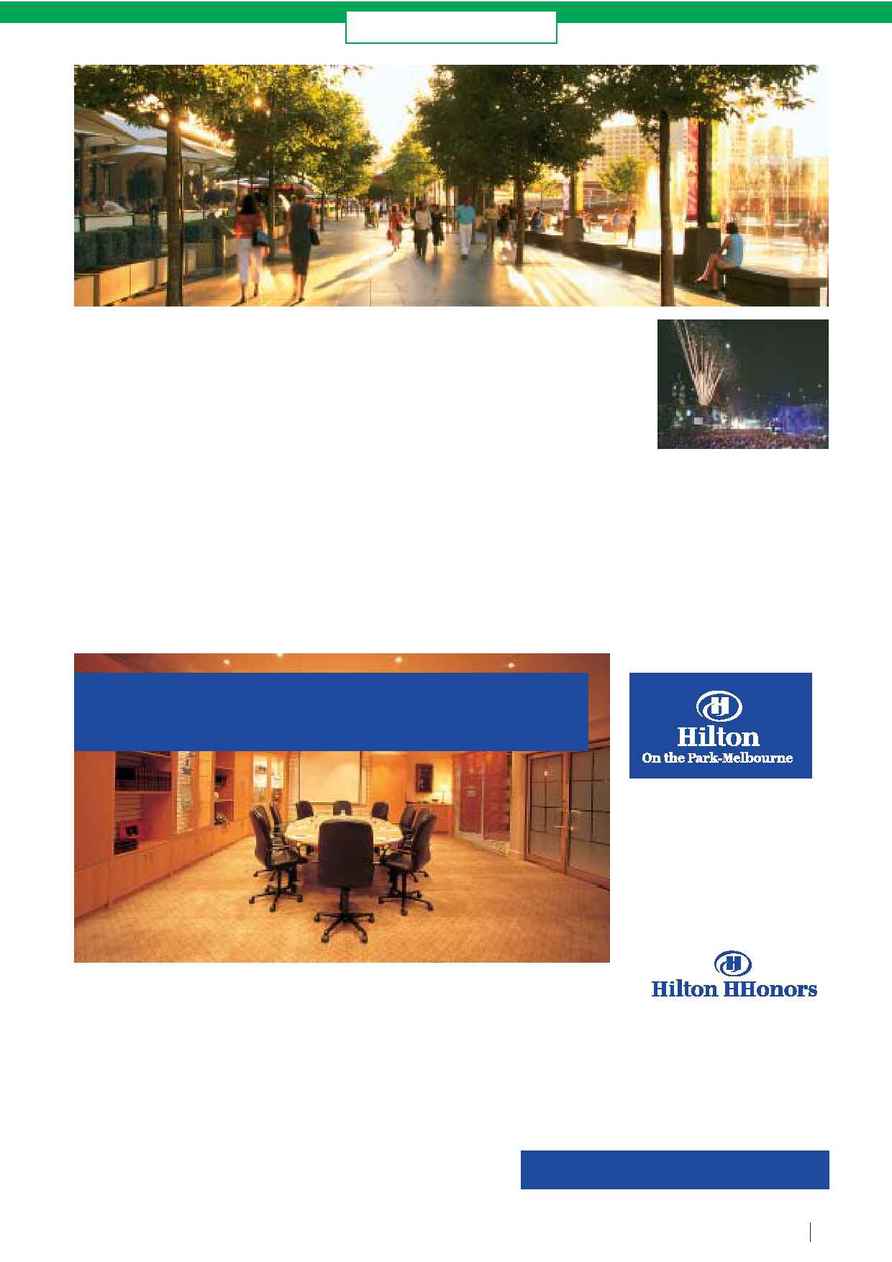 new hotel will provide the city with nearly 1000 hotel rooms -
making it Australia's largest convention hotel and differentiating
it from other state capitals.
Mr Grimmer says Melbourne remains strong in attracting
MICE business from virtually every market segment
(Melbourne is currently ranked 13th in the world by ICCA)
but its overriding strength is its ability to attract business from
the high tech, medical and bio tech industries.
"Part of the reason why we're holding the International
Congress of Genetics in July is because much of the world's
leading genetic research is taking place here. We've been
designated by the federal government as the centre for stem cell
research, while our cancer research programs are also strong.
"Melbourne is a world leader in medical research and as a
result we do well in attracting those types of conventions."
Other conventions, festivals
and meetings earmarked for
Melbourne this year include the
first Melbourne International
Music and Blues Festival this
month, featuring international
music legends, Bob Dylan, Ray
Charles and Wilson Pickett, the 13th Commonwealth Law
Conference, Vinitech Australia in July and the Billy Graham
Evangelistic Association National Conference in September.
*According to a survey by London based Economist Intelligence
Unit (EIU), the business information arm of the Economist
Group.The survey assessed the level of hardship for expatriates in
130 cities and rated Melbourne equal first with Vancouver.
You know the brand, you may know
our great location, but do you know...
Hilton Reservations Worldwide
sales_melbourne@hilton.com
. . .Why your next event should be held at Hilton on the Park.
Situated in elegant East Melbourne, flanked on one side by the glorious Fitzroy Gardens and directly opposite the Hotel, is
the famous MCG, home to both AFL and Cricket fans, not to mention the excitement of tennis being played
at the nearby Rod Laver Arena. If you haven't visited for a while we welcome you to be pleasantly surprised by our;
· 404 guest rooms, offering charm and elegance of a bygone era whilst still offering the modern comforts.
· Sixteen (16) function rooms, unique in charm and versatility.
· Video Conferencing facilities
· Rejuvenators Health Spa offering beauty and therapeutic treatments
· Heated outdoor pool and large indoor spa, gymnasium, sauna and steam rooms
· The Gallery Restaurant and Park Lounge
· Competitive daily delegate packages and residential conference package rates
It happens at the Hilton.
· You can earn big bonuses just for
holding your qualifying events at
participating HHonors Hotels
Worldwide. Holding a meeting,
planning a wedding, organising
an impressive event, check out our
Event and Meeting Planner
program before you go any further.