Mice Magazine Victoria Page 1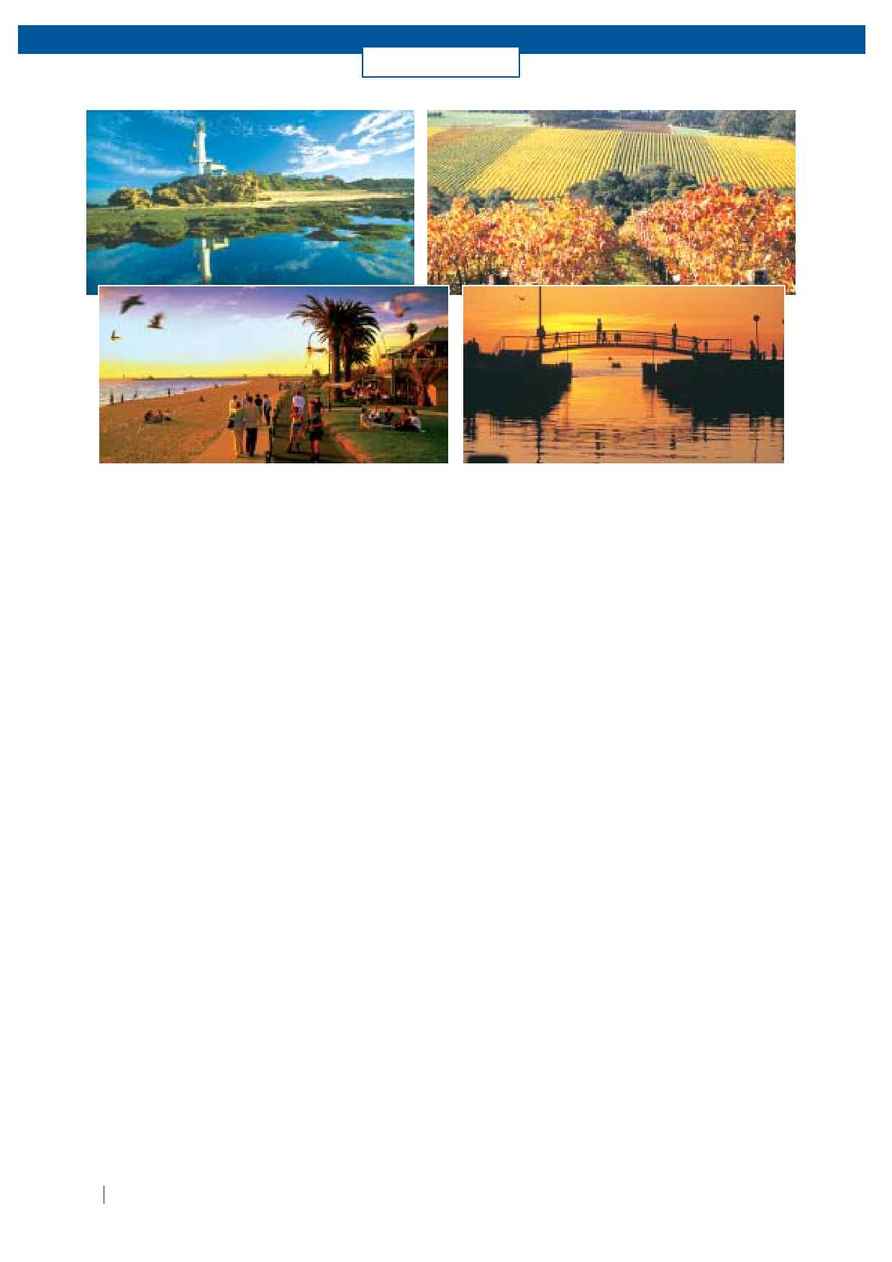 P O S S I B LY T H E H A R D E S T D E C I S I O N A N Y M E E T I N G
planner has when it comes to conferencing in Regional
Victoria is deciding where to go.At last count Tourism Victoria
divided Regional Victoria into 12 regions.These include:
Bays and Peninsulas eg. Mornington, Red Hill
Yarra Valley, Dandenong and the Ranges
eg. Marysville,Yarra Glen
Macedon Ranges & Spa Country eg.Woodend, Hepburn Springs
Goldfields eg. Bendigo, Ballarat
The Grampians eg. Halls Gap, Horsham
The Great Ocean Road eg. Geelong, Apollo Bay
Goulburn Murray Waters eg. Echuca, Shepparton
Legends,Wine & High Country eg. Albury,Wangaratta
Phillip Island & Gippsland Discovery eg.Warragul, Morwell
Murray Outback eg. Mildura, Swan Hill
Lakes & Wilderness eg. Bairnsdale, Lakes Entrance
Melbourne City and Melbourne Metropolitan
What isn't difficult or shouldn't be for the meetings market
is getting to any of these regions. For Melbourne-based
companies Regional Victoria is just a short drive out of town -
less than 20 minutes at its closest point. For those coming from
interstate, it is also easily accessible, particularly to areas such as
Geelong and the Macedon Ranges and Spa Country.You can
depart your plane and in less than 10 minutes from the airport
are in Regional Victoria, with an abundance of first rate
facilities seemingly at every turn.
This ease of access is one reason why the Victorian
Government, the Melbourne Convention & Visitors Bureau
and the Regional Victoria Conference Group believe their new
initiative - the Victoria Meetings & Events Service - is going to
prove to be so successful (see story page 69). The compact
nature of Regional Victoria, coupled with the wonderful
meetings facilities, the wineries, the championship golf courses,
the spas, and the incredible array of activities available to
delegates, are all set to combine to boost business.
Many facilities, for example, are relatively small, such as
Glen Erin Retreat where the Victoria Meetings & Events
Service was launched. But rather than being a negative for
meeting planners this should be seen as very positive indeed,
because it allows small to medium groups to have the complete
run of entire properties. Not only does this afford a certain
amount of privacy for groups - especially those involved in
corporate think-tanks or re-engineering retreats, but it gives
delegates (and meeting planners) a feeling of recognition that
Smart corporate meeting planners and association executives have been sending their
troops out to Regional Victoria for years. Now, with a new Government-led initiative, those who haven't
are set to experience the facilities for themselves.