Mice Magazine ACFBAA Page 5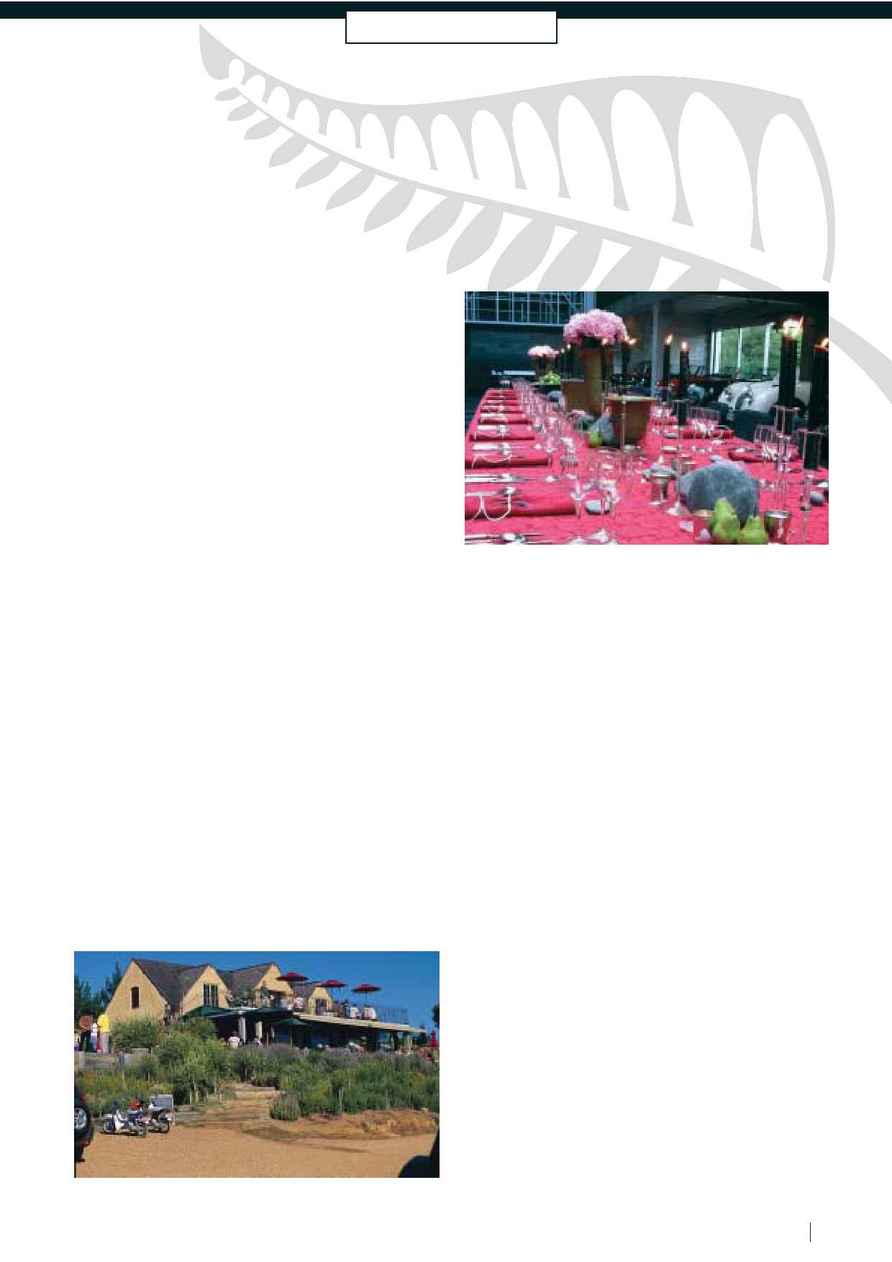 THE 45-STRONG FOUR-DAY MEETING OF TOP ING
Investment Management executives from around the world was
held at the Auckland Hilton.
"The conference is not like a sales incentive.They go there to
work, and it's pretty full on during the day," Ms Curran explains.
"In the evening we go off-site and do different things -
taking them away from where they're working all day as well as
showcasing a bit of the country that they're in.
"On our welcome night we had a cocktail function at the
Memorial Museum on top of the hill. When you first go into
that museum the first feature behind the main foyer is a Maori
village replica and so we went in there and had a Maori
traditional welcome which they (the delegates) all loved.Then
we went upstairs a couple of floors to Centennial Street which
is like a replica of a street in Auckland in the 1800s where we
had our cocktail function."
She said a last-minute urgent video-conference link-up on
the second day to an ING European office - organised
extremely efficiently by Hilton Auckland considering the short
notice - put the group behind for the second evening's event,
held at the nearby Wintergarden Pavilion.
Ms Curren adds that this was not a problem for the venue,
which was hosting the group for a casual dinner, made all the
more interesting by discussions emanating from the content of
"The next night we had lots of fun. Patsy from Ab-Fab
came to the hotel and then we all got in an old London double
decker bus, with Patsy coming along for the ride, and drove to
the Classic Car Museum at Epsom which is privately owned.
"It's fantastic for functions, especially for groups of our size.
It's like an old Shell Garage on a corner. Inside was a long table
down the centre, either side of which are rows of classic cars -
all fantastic Jaguars and Astin Martins and Austin Healeys...all
sorts of different wonderful cars. They (the delegates) were in
heaven.And then Austin Powers appeared, which was also great.
Even I'm not a car person but I thought it was pretty great.
"The catering company we used was Austin's Catering and
"On the last day we finished around three in the afternoon and
took a luxury cruiser called Yamishira and had some canapès
and drinks on that on our way to Wahiki Island. When we
arrived at Wahiki Island we got on a bus and did a little tour of
the island, complete with a commentary by the local eccentric
artist Alex.Then we came back to Mud Brick Vineyard, which
overlooks the harbour back across to Auckland. It's a bit like being
at Doyle's in Watson Bay and looking back towards the city."
Ms Curren said all the events and the host venue were great.
"We employed a local hospitality assistant, Jackie Brooke, in
Auckland to help with the ground operations while we were
there. And she did wonderfully well.
"We went across in January for a familiarisation and saw
loads and loads of venues. It was brilliant being able to do that.
Some of the venues I received information from on paper
sounded like they were wonderful but when I saw them I didn't
think they suited. Others didn't sound as wonderful but when I
got there I thought wow, we have to use that.
"There were so many great venues, and New Zealand is
such a great place to go in terms of price that we were way
below budget. In fact, we actually came in quite below budget
on our conference this year.
"The delegates fell in love with Auckland.They had a really
ING Investment Management's Jackie Curran says a site inspection prior to the start of the company's Auckland
management meeting produced a bevy of off-site attractions and venues. Choosing which ones to use for the four day
meeting was the hard part.
ING found the Classic Car Museum at Epsom a perfect unique venue
for their group.
Just a short boat ride away is the Mud Brick Vineyard.